Just Another Fad?
Randall Balmer's excellent piece of journalism on Pastor Stan White, "Why the Bishops Went to Valdosta" [Sept. 24] was more affirming than surprising. My family and I have been worshiping in an Episcopal church after 21 years in fundamentalist evangelical churches. I can relate to what White described as unexplainable restlessness and where his pilgrimage ultimately led him.
Tom Howard, Peter Gillquist, Robert Webber, and Richard John Neuhaus may be ahead of their time. It is conceivable that evangelicals will move in substantial numbers to liturgical churches in the 1990s. The sad thing would be if liturgical worship became another evangelical fad.
Nelson H. Keener
Reston, Va.
I am a bit confused by the article. Was it reporting or advocacy? Several statements lead me to believe the latter.
I have no quarrel with what happened in Valdosta, and no quarrel with CT reporting on such a remarkable move from classical Pentecostalism to traditional liturgy by a former Assemblies of God minister. Just be sure the reporting is not a subtle endorsement for others to follow.
James R. Braddy
Country Centre Church
Sacramento, Calif.
It seems to me that CT should be, above all things, a magazine of integrity and honesty. Balmer's article left a great deal to be desired relative to accuracy. The ecclesiastical leadership in the Georgia District of the Assemblies of God could have given a clearer picture of White's "journey … from the Pentecostalism of Evangel Assembly to the charismatic fervor of Church of the King." It was not nearly as "long and gradual" as Balmer was led to believe.
J. M. Ashburn, Th.D.
Assembly of God Church
Woodstock, Ill.
Over the course of our childhood, adolescence, and young adulthood, my husband and I have attended regularly or been members of no less than 12 denominations in an attempt to find the full expression of experience in worship we have tasted in portions in the various liturgical, evangelical, mainline, and Pentecostal churches. It seems each only provides a piece of the whole. Reading about Church of the King reinforced my belief that our dream can be lived out!
Joanie R. F. Gruber
Cincinnati, Ohio
Calling Boomers To Repentance
Thanks to James Engel for sounding the alarm in "We Are the World" [Sept. 24]. His clear analysis of missions giving among baby boomers has sharpened my thoughts and prayers. As I read, with my baby-boomer outlook, the article greatly distressed me. While Engel was gentle with us as a group, and offered some helpful insights for stimulating our interest in missions, his approach was so affirming that he never hinted at an application that screamed at me from his basic data: God's global purpose will not be accomplished by the leftovers of a generation living for comfort in this world.
If Engel's analysis is correct (and I believe it is), the most obvious application would be a call to repentance among believers of this generation. We need to be on our faces in tears at the dual plight of thousands perishing daily with no word of Christ, and professing Christians supremely motivated by personal comfort. This is the only hope for our generation, and our only prospect for substantially touching the world.
Pastor Dave Coles
Koinonia Church
Potsdam, N.Y.
What would Jesus say to the baby boomers? Might he not say the same thing he did to the rich young ruler? Sooner or later the boomers, like all other generations, will find out as Solomon did that life focused on one's self will end up empty and in vain.
Rick Latherwood
Rehabath, N.Mex.
A Little Guilt for the Gobblers
Each Thanksgiving Day it falls to me, the designated patriarch of our extended family, to lead a time of reflection, which follows a time of ingestion and, if a certain relative does the cooking, precedes a time of induh—excuse me—indigestion.
I use this yearly opportunity to practice what has, to my chagrin, become a lost art among Christians—the art of manipulating through guilt. (If it was good enough for Jonathan Edwards, it's good enough for me.) If a little guilt is good, it seems to me, a lot must be better. Manipulating through guilt is one of the few things in life I truly enjoy.
I specialize in generalized guilt. It's no challenge to make people feel bad about getting fat in front of the TV while the rest of the world goes hungry. So I try to make them feel indiscriminately remorseful about everything they ever ate or owned or will eat or own.
My success at guilt-mongering can be measured in quarters. That is, how long into the Lions' football game can my comments keep everyone from going back to the kitchen for pumpkin pie? If it's after the first quarter, I know I've failed. At halftime, I know my efforts have been so-so. But if I can keep them from the pie until after the game, I know I've succeeded.
Guilt rarely lasts more than four quarters, so I'll probably never match my 1986 performance when they skipped dessert altogether. Of course, it was probably unfair of me, given the upbeat nature of the holiday, to read aloud from Foxe's Book of Martyrs.
There is one drawback, however, to my having a good year. As patriarch, I get to take home the leftover pie. And that makes me feel—well—guilty.
EUTYCHUS
Dr. Oden's Spiritual Journey
I am greatly encouraged by the interview with Dr. Thomas Oden [Sept. 24]. I was a student at Perkins Seminary in the midsixties when Oden was waxing eloquent with his "beyond Bultmann" expositions, and I found it hard to swallow. My faith in the omnipotence of God is once more encouraged as I read of his journey out of a dying theological persuasion into a simple focus of life in Jesus as Lord. Like so many of us, his encounter with the writings of the church fathers has been life-and-faith renewing.
Thank you for this interview, and please invite Dr. Oden to write more about his spiritual journey.
Larry Bjorklund, Ph.D.
The Little Church in the Pines
Bass Lake, Calif.
Shielding The Innocent?
Your editorial "Heard It Through the Grapevine" [Sept. 24] is a terrific argument in paragraphs two through seven against the decision that you made in paragraph one. Think of it: If you could persuade all journalists to follow your example, Jimmy Bakker would still be a successful evangelist, and Richard Nixon would be a revered former two-term President.
Readers can only wonder what else the CT editors have chosen to keep from our pristine eyes.
Mark Fackler, Ph.D.
Wheaton College
Wheaton, Ill.
The Only Sure Measure
Although reasonably pleased by the performance of George Bush thus far, I am not surprised to read of the tempering of his conservativism in the editorial "Am-Bushed?" [Sept. 24]. We evangelicals are accustomed to believing words spoken in tones of hot enthusiasm and momentary passion—from politicians and preachers alike—only to be disillusioned when the steam dissipates. Whether President or Supreme Court nominee, the only sure measure of discernment should be a leader's record and past performance on vital issues. Politicians have no less difficulty practicing what they preach than preachers.
Timothy Schultz.
Somers Point, N.J.
Iv Board Not In Indianapolis
Your September 24 news report on this summer's Congress on the Holy Spirit and World Evangelism in Indianapolis noted that InterVarsity had a booth in the exposition hall. Several of our staff were there recruiting students to attend Urbana 90 in December. They also attended this congress to observe how another group conducts a large conference such as ours.
Your reporter said Vinson Synan, the congress chairman, noted the "board of InterVarsity Christian Fellowship was attending a portion of the congress as a group." Please be informed that this is not an accurate statement. There was no official representation from the InterVarsity board to this congress, nor has this congress ever been discussed in any InterVarsity board meeting.
InterVarsity is supportive of Christian groups from a variety of traditions but does not specifically endorse one over the others. We share the concern for evangelism expressed by those attending this congress.
James W. Kay, Chairman of the Board
InterVarsity Christian Fellowship
Madison, Wis.
More In Common
Please explain to me why such a generous article as William Bentley Ball wrote ["Why Can't We Work Together?" July 16] should draw such churlish responses from your readers. He only proposed a certain social/political common cause among Protestants and Catholics, not theological unity. Why should that revive all the old polemics about "false believers"?
The fact of the matter is that on nearly every level, whether we realize it or not, Protestants and Catholics have more in common than we have dividing us.
Craig Kellogg Galer
Lansing, Mich.
I am sorry my article about Catholics and evangelicals brought the negative responses you published. I am happy that my own mail brought a number of responses from evangelicals who said they were pleased with what I had to say. It is the latter which I shall choose gratefully to remember. And I hope that most of your readers will note that I had no harsh or unkind words about the faith of evangelicals, but came to them, in my article, full of appreciation and gratitude for those I have known and with whom I have worked. I can only repeat that the way our society is shaping up, people of good will had better resist together than try to do it separately.
William B. Ball
Harrisburg, Pa.
Those Canadian Health Benefits
Thank you for the CT Institute dealing with America's health-care crisis [Sept. 10]. I appreciated Dr. C. Everett Koop's comments on the nation's health-care policies ("How Shall We Then Heal?"), but I was disappointed with his somewhat cavalier dismissal of our publicly funded Canadian health-care system, which some of my poorly informed American evangelical friends contemptuously label "socialized medicine."
During recent lengthy treatment in the Mayo-operated hospitals in Rochester, Minnesota, I had many opportunities to contrast my own satisfying experience in the publicly funded system with the horror stories fellow patients shared concerning their treatment in the hands of private insurers.
Koop concedes, "We [Americans] need to restructure the health-care system," then hauls out the AMA bogey-man ("socialized medicine") to dismiss the contention of the American College of Physicians that the nation needs an overhaul of its health-care system. I will not hold my breath as we await the unveiling of a health-care program the AMA might support. In the meantime, millions of my fellow Canadians and I will thank God for our national health-care system, work for its improvement, and thankfully benefit from its coverage.
Leslie K. Tarr
Scarborough, Ont., Canada
Letters are welcome. Brevity is preferred, and all are subject to condensation. Write to Eutychus, CHRISTIANITY TODAY, 465 Gundersen Drive, Carol Stream, Illinois 60188.
Have something to add about this? See something we missed? Share your feedback here.
Our digital archives are a work in progress. Let us know if corrections need to be made.
This article is from the November 19 1990 issue.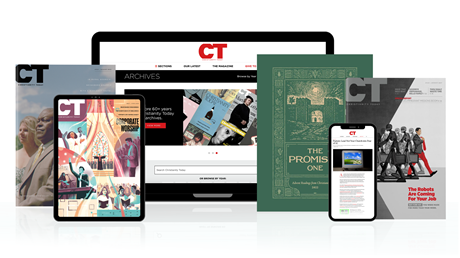 Subscribe to Christianity Today and get access to this article plus 65+ years of archives.
Home delivery of CT magazine
Complete access to articles on ChristianityToday.com
Over 120 years of magazine archives plus full access to all of CT's online archives
Subscribe Now
Letters/Eutychus: November 19, 1990
Letters/Eutychus: November 19, 1990