The Whole Prayer Catalog
Prayer: Finding the Heart's True Home,by Richard J. Foster (HarperSan-Francisco, 256 pp; $17.00, hardcover). Reviewed by Timothy Tones.
According to historian Martin Marty, the remarkable rise of interest in spirituality is an "event of our era." Small, congregational prayer groups are flourishing. Even a casual look at religious and secular publishers' booklists show that spirituality promises to be a buzz word for the nineties.
While the appearance of marginally Christian "spiritualities" makes the wave of interest a mixed blessing, many evangelicals have recognized that they, too, are spiritually thirsty. In 1978, Richard Foster's Celebration of Discipline spawned something of a revival in the use of spiritual disciplines among evangelicals. Now Foster is back, again pioneering the way for us to learn from our forebears about the most basic of Christian disciplines—prayer.
Prayer, Foster confesses in the preface, was a long time coming. To write a comprehensive book on praying any sooner, he felt, would have been 'to commit the sin of presumption." While claiming to be a "novice" on the subject, Foster now feels the "divine nod of approval."
An Encyclopedic Survey
Foster disclaims that this is a book about mere methods and techniques, saying instead that it is about "an enduring, continuing, growing love relationship with the great God of the universe." But the accent throughout is on cataloguing the many-splendored repertoire of prayers available to the believer. Twenty-one chapters, each focused on a different aspect or way of praying, constitute Foster's encyclopedic survey.
There is, for example, "simple prayer," which "involves ordinary people bringing ordinary concerns to a loving and compassionate Father." Or the "prayer of examen [examination]," wherein we sift through daily events and the stirrings of conscience for the Lord's voice. One moment Foster is talking about the "prayer of tears" (being" 'cut to the heart'over our distance and offense to the goodness of God") only to pick up later the "prayer of adoration," where the climate is supercharged with praise and saturated with thanksgiving. He dips into the spirituality of the desert fathers and into the scriptural language of "Sabbath rest" only to follow later with a chapter on "authoritative prayer," a way of praying that reverently but boldly calls "forth the will of the Father upon the earth … not so much speaking to God as speaking for God."
In typical Foster style, the book brims with Scripture and selections from church history's gallery of spiritual mentors. Insights and quotations from evangelical standbys such as E. M. Bounds, C. S. Lewis, A. W. Tozer, Richard Baxter, and John Calvin take their place next to the Eastern Orthodox Anthony Bloom and Timothy Ware, and the classical writers Thomas à Kempis and Brother Lawrence. Modern Catholics such as Thomas Merton or Henri Nouwen appear alongside Thomas Kelly and Elton Trueblood, who represent Foster's own Quaker heritage.
Learning from the Pentecostals, Foster describes how the "charism of glossolalia" one day "came forth quite naturally as an ordinary part of my ongoing prayer life." In ways that sometimes elude those drawn to "spiritual" things, Foster resists spiritual escapism to include careful discussion of what John Wesley called "social holiness": "We speak to God about the bruised and broken, the helpless and homeless. We speak to others as well. Our spiritual defiance leads to firm, aggressive action against all injustice and oppression." Such praying leads the believer to outrage when someone is thrown into prison at the whim of an unjust ruler or when the child down the street is abused.
Foster demonstrates that the Christian life can be both contemplative and prophetic, both open to deeply personal experience and grounded in orthodox belief, both rooted in God's grace and concerned about everyday holiness. That is perhaps Prayer's greatest accomplishment. It also points to the wider significance of the book: Foster models how evangelicals can glean insights from centuries of biblical and Christian reflection, while never departing from an orthodox Christian framework.
Christian Wisdom Of The Ages
Will Prayer become the "contemporary classic" for the nineties that Celebration of Discipline was for the eighties? Celebration initially met with little fanfare, and early sales were sluggish. As word spread, however, the book confounded those who predicted that a book on spiritual disciplines would never sell in a decade known for its self-indulgence.
This book from a more mature, seasoned Foster will speak to many people. No book is perfect, of course. Foster could have explored more rigorously the sources for a distinctly evangelical spirituality. And while the book draws on abundant anecdotes, some will find a steadiness in writing style that sometimes lacks passion. And for all the helpful exploration of prayer's many facets, Foster could have done more with the question of how all the diversity becomes a unified whole in a person's prayer life.
Nevertheless, few recent evangelical books on prayer are as ambitious or wide ranging. In an age hungry for an authentic relationship with God that can be found only in Christ, this book holds promise for grounding our praying in the Christian wisdom of the ages.
Spiritual Fads And Evangelistic Opportunities
After years of teaching, writing, and speaking, Richard Foster felt called by God to step back and be quiet, which he did for 18 months. During that time he received an idea for forming an organization that would work for the renewal of the church. He named it Renovare, which is Latin for "to give new life." Now he devotes much of his time to providing guidance, teaching, and curriculum for the hundreds of spiritual-formation groups spread across the country. His goal is "to fan the flames of renewal everywhere we find them."
We caught up with Richard Foster in Dallas at the Christian Booksellers Association convention last July. We asked him about the renewed interest in spiritual disciplines as well as the other religious fads preoccupying the church.
Why are spiritual disciplines important?
When Paul said to Timothy, "Exercise yourself unto godliness," the background was the Greek gymnasium where athletes would train. In fact, the early Christians called themselves the athletia dei, the athletes of God. They saw themselves in a training program before God. Today many people try, but they do not train.
I play a little tennis. If by some miracle I were dropped into Wimbledon and played John McEnroe, I would love to win. But it is not in me. It is not in my muscles. It is not in my head. It is not, because I do not train.
The Bible is clear that there are ways of training in the spiritual life. And those ways are the classical disciplines that God has given as means of grace to bring us into the way of Christ. To me the common disciplines are the bare-bones commitment of a person who wants to follow Jesus.
Some fear that practicing the disciplines will turn into a form of legalism.
In the New Testament you see that precise danger. But at the same time, Paul, James, Peter, and all the New Testament writers took the risk. Paul was very specific about what it meant to exercise yourself unto godliness: It involved a life of prayer, fasting, studying, solitude. This has been believed all through the centuries of the church, until our century. We have dropped the tradition.
We see a lot of interest lately in spirituality. Is it healthy?
The interest is healthy. But a hunger and thirst does not mean people will get satisfied in the right ways. A lot of spirits are out there, and they are not all good.
For Christians, the culture's massive spiritual hunger is a rare opportunity. It is a window through which we can bring the gospel of Jesus and a Christian understanding of the spiritual life, rather than competing approaches which leave people, in my opinion, still lost and hungry. But we need to take advantage of that by tapping into the great traditions. The Christian faith is full, both biblically and historically, of wonderful sources for spirituality.
This is an evangelistic opportunity, the likes of which we have not had for 50 or 60 years. Now, a lot of the interest in spirituality ends up in faddishness. But whenever you have incredible life beginning to emerge, you get craziness that goes with it.
Like New Age spirituality?
That is faddishness to the nth degree. Most of it is just silly. But the way we handle it is by giving them the real stuff. Let us give them Jesus, who is alive and here to teach his people. Jesus has not contracted laryngitis. He does speak to us. He is the true shepherd. His sheep can know his voice. We need to let people know that they can really have a life with God through Christ and in the power of the Holy Spirit. That is life giving. That is spirituality in its fullest.
So you see Christian spiritual disciplines as evangelistic.
That is right. Evangelism in America, or in the Western world today, has reached the level of diminishing returns. People do not see anything to be converted to. They look around at these Christians telling them to agree to these little statements and say the enclosed prayer. They say, "But you aren't any different from anybody else. So, what am I supposed to be converted to?"
We have to see changed lives, and that is the theology of growth. As we are transformed by the Spirit through the disciplines, we will become people for whom, as Paul said, righteousness, peace, and joy in the Holy Spirit becomes a regular characteristic of their lives; people who cannot be bought; people who simply tell the truth without embellishment. Now, Christian spirituality leads us in that direction. When people see that, they want to be a part of it. That is evangelism.
What do you think of the renewed interest among Christians in the work of demons and Satan?
The good thing about the interest in spiritual warfare is at least it takes the spiritual world seriously. Yet there is little reflection, little theology, accompanying this fascination. We need to provide balance. While we should not go hunting for a demon behind every bush, we must recognize that great spiritual battles are going on. We want to be on the team that comes out in the end and take up, as Paul said in Ephesians 6, the armor of God, which includes prayer as one of the chief weapons.
What do you think about the signs and wonders movement in the church?
Signs and wonders are in the Bible, and I am all for them. But we must understand that in the New Testament these kinds of things were a normal part of ordinary Christian living. The Bible also tells of activities that are prior to and more important than signs and wonders. For example, a life of simple goodness; the ministry of small things. As we undertake a life of service to others, then we understand what is really the big deal in the kingdom of God. I am all for the spectacular stuff, like resurrections from the dead, but there is a sense in which that is not a big deal. A big deal is whether or not I can love my neighbor, whether I will rake his leaves if he is unable to. Or whether I will babysit his kids.
When it is right, when it is good, when it needs to be done, a sign is given, a miracle is provided. The purpose is to bless people, to bring them into the life of the kingdom. So those will come along. We will not make a big deal of it.
Interview by Michael G. Maudlin.
Church Smilers And News Magazines In The Pew
The Ultimate Church,by Tom Raabe (Zondervan, 172 pp.; $8.95, paper). Reviewed by John A. Baird, Jr., adviser to the president, Eastern College in Saint Davids, Pennsylvania.
Few authors today use the biblical genre of satirical hyperbole to get their message across—and given the present state of Christian humor, that is probably fortunate. But a few brave souls, like Tom Raabe, dare to attempt to make us laugh as we learn. In The Ultimate Church, he aims his lampooning pen at big targets: church-growth techniques and megachurches.
He begins with a tour of First Ultra-Church of Southern California, where liturgy is described as "stagnating redundance." There we meet the church's minister, "Rev. Dr. Roy (Solomon in a Leisure Suit) Dude," as well as greeter "Glibface" and singer "Goodpipes."
Certain chapters stand out for satirical excellence. Lest church-growth momentum lag, Raabe gives the reader a chapter titled "Breaking the Shackles of Tradition," which features techniques to further stimulate "the ministry of membership count": news magazines in the pews; teams of church smilers to augment traditional greeters; and large, personalized name tags for each attender.
"Nineteen Tips for Small Group Survival" provides another memorable section with special attention paid to learning the lingo of cell-group patois called "Christianese." Success in this area comes from steering a careful course between frequent use of such words as just, as in "We just thank and praise you, Lord," and treating "fellowship" as a verb.
Some may think the hilarity gets out of hand in the section "Church Growth in Historical Perspective," where Raabe presents the apostle Paul, Silas, and Timothy handing out T-shirts as love-gift souvenirs on a Roman TV program set in A.D. 61.
A serious strain lies beneath the exaggeration and comedy. Raabe, a writer from Colorado, is obviously upset about the superficial quality of many church-growth techniques and frustrated with let-us-entertain-you orientation of so many of today's megachurches. The reader is forced to reflect on what has been lost in our pursuit of quantitative success. The Ultimate Church may not be the best-argued critique of the church-growth movement, but it is certainly the most entertaining.
Hope For The Disillusi Oned And Disappointed
Cages of Pain: Healing for Disillusioned Christians,by Gordon Aeschliman. (Word, 186 pp.; $9.99, paper). Reviewed by Arthur P. Boers, author of Lord, Teach Us to Pray (Herald) and Justice that Heals (Faith and Life).
I well remember my first experience of disillusionment. As a young Christian, my faith was rocked by a tragedy in my family. During my struggles, I felt judged and abandoned by fellow Christians. I will never forget the feeling of aching loneliness.
It is this kind of experience that Gordon Aeschliman addresses in Cages of Pain. Aeschliman is searingly honest, writing of people victimized by Christians and church institutions and of those persecuted for living according to their conscience or rejected because of vulnerabilities and weaknesses. As it turns out, disillusionment is not an uncommon experience for Christians.
Aeschliman rejects "simple answers and mindless rehearsal of Bible verses that so easily flow from the mouths of those who have not slogged through the vulnerable territory." He walks with others who suffer and gives readers permission to own their pain without fear of judgment.
As one who has walked those paths, I found Aeschliman helpful. His approach toward health involves affirming one's own dignity, accepting God's love, identifying hurts, taking charge of one's life, working for reconciliation, and pursuing a wholesome life. The goal is simple: "I pray that you and I will become providers of tenderness, … ministers of dignity, messengers of hope and courage."
Aeschliman helps readers avoid allowing disillusion to deteriorate into cynicism. The book fulfills an important role and deserves wide use.
Have something to add about this? See something we missed? Share your feedback here.
Our digital archives are a work in progress. Let us know if corrections need to be made.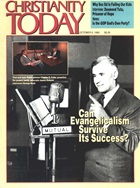 This article is from the October 5 1992 issue.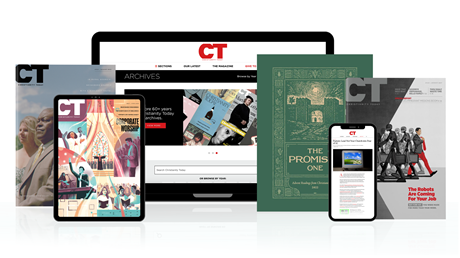 Annual & Monthly subscriptions available.
Print & Digital Issues of CT magazine
Complete access to every article on ChristianityToday.com
Unlimited access to 65+ years of CT's online archives
Member-only special issues
Subscribe
Read These Next
Trending

American Christians Should Stand with Israel under Attack

While we pray for peace, we need moral clarity about this war.

From the Magazine

Frozen Embryos Are the New Orphan Crisis

More than a million unused IVF embryos are in cryostorage. Are they the next pro-life frontier?

Português

Editor's Pick

Don't Miss These African Christmas Hits

Jam out this season to highlife, Afrobeats, jazz, a cappella, R & B, rap, dance, and hip-hop artists from Nigeria, South Africa, and more.
The Whole Prayer Catalog
The Whole Prayer Catalog