I had succumbed to a professional gag rule: Don't say anything to arouse a sense of shame.
When Sharon Sheehan's article first came in, we were all excited. Here was a fresh perspective on teen sexuality that did not descend into simple moralism. And then Sharon called. It seemed Newsweek was also interested is this "fresh perspective" for their My Turn column in their July 13 issue. Fine, we said. Better to have a million people from the general public read her valuable insights. Perhaps we could run it later. Since Sharon was not wholly satisfied with how Newsweek deleted her article of its religious content, she thought running the restored version would be a good idea. We agree.
It was my first job in my career track. A master's degree in public health qualified me for a position with the Riverside County Public Health Department in Southern California. My task was to "do something" about the county's high rate of teenage pregnancy. Puzzled as to where to begin, I was happy to attend a training seminar in San Francisco conducted by acknowledged experts in the field.
A few dozen public-health workers from around the state met in a windowless room not far from the Golden Gate Bridge and wrestled with the growing problem of one million teenage pregnancies a year in the U.S. Our discussions quickly centered on how to convince teenagers to use birth control. The fundamental origin of the problem—teenagers' premarital sexual activity—was accepted as a given.
Still, this group of experts was baffled. Despite tremendous efforts to disseminate information about birth control, an irritating obstacle remained. In the minds of teenagers, the decision to be sexually active was an embarrassment. Few girls wanted to march into a family-planning clinic and declare that they were planning to lose their virginity. Instead, teens would not plan—and then be swept away by the passion of the moment.
So what were we to do?
Our Planned Parenthood leader neatly summed up our mission: Eradicate the sense of shame associated with premarital sexual activity.
Eradicate shame? I was stunned. This was not simply fixing a public-health problem. This was wholesale restructuring of the human personality.
Not one murmur of dissent was voiced. Maybe we were too ashamed to speak up. Perhaps the surface logic convinced us: Teenage pregnancy is a problem; birth control is the solution; shame is a barrier to applying the solution; therefore, eliminate shame in order to solve the problem.
But taking a young person's sense of modesty and giving her a pill or him a 25-cent condom didn't seem like a fair trade. Now I was divided. What I personally believed to be right and true contradicted the professional opinion of what was healthy and good.
Nonetheless, I proceeded to talk to hundreds of teenagers about various methods of birth control. Professionally, I had succumbed to the obligatory gag rule: Don't say anything that could arouse a sense of shame. In practice, then, I was compelled to imply that all sexual choices were morally neutral. Everything that I had learned from my parents' marriage and from my own marriage was off-limits. Everything I believed about how people form meaningful and lasting relationships was now irrelevant and counterproductive.
I wasn't convinced that I was helping the teenagers I talked with. I began to realize that that one comment about shame was the tip of an iceberg that no condom could ever cover.
Congratulations On Your Condom
The new sexual ideology protects teenagers from shame by saying, "If you feel like you are ready, then it's OK." Ready for what? Ready to build a life together? Ready for conquest? Ready to feel like a slut? Ready to bring new life into the world?
The media barrage on safe sex makes it simple: being "ready" means having a condom. In one role-playing vignette on the recent ABC news special "Growing Up in the Age of AIDS," the fathers of America are instructed on how to talk to their sons about sex. Upon inadvertently discovering a condom in his son's pocket, the father is supposed to say, "I want to congratulate you on this. I am so proud of you."
The next vignette showed a girl crumbling under the realization that her gorgeous, perfect boyfriend has been shooting up drugs and does not really care about her. She's afraid to confide in her friends for fear that they'll think she is a slut. The moral of the story was supposed to be that he should have used a condom. But does anyone really believe that she would have felt less betrayed, less rejected, if he had whipped a condom out of his pocket? Should he have then been congratulated?
Shame is a powerful word that explodes off in many directions. Shame can be cruel and destructive—controlling people by shaming them into silence or self-loathing or compliance, for example. But shame also prevents us from treating others in a despicable fashion. And it protects us.
In his book The Meaning of Persons, Swiss counselor Paul Tournier reflects on a young person's innate sense of modesty: "The appearance of this sense of shame is, in fact, the sign of the birth of a person. And later the supreme affirmation of the person, the great engagement of life, will be marked by the handing over of the secret, the gift of the self, the disappearance of shame."
Adult Fantasies, Teenage Realities
Recently I returned to that high school and talked at length with several students. We discussed how they see themselves and what they dare to hope for. The poignant, articulate expressions of their ideals and intentions belied the stereotypes that the relentless statistics construct in our minds.
Many are offended by the adult assumption that most teens are sexually active. One girl was so uncomfortable that she felt obliged to tell her "Living Skills" teacher that she was not sleeping with her boyfriend. Students have also been persuaded to think this of each other. "Now if you see a couple together, everyone says, 'Oh, they are.' "Another commented, "It's like the adult world invading our world."
And yet, when it comes to what matters, they feel that they are left to learn it all on their own. They care about questions like: "What should I look for in a guy?" "How do I know if it's morally right?" "How will I feel afterward?"
When asked surface questions, they give the "correct" value-free answers. But behind the façade lurks a deep sense of loss. They lament the lack of guidelines and moral structure. "It used to be that kids wouldn't want to disappoint themselves or each other," a boy remarked.
It is as if the gap between sex and marriage has opened up in them a huge, empty hole in which there is "no real sure thing."
One girl described it this way: "It used to be that people got married and then they had sex. Then when the baby came there was a place all prepared for it. Now technology has taken away the worry of having children. That leaves sex to float around in everyone's life when there's no guy who's going to stick around."
"I think it's really lonely," said one boy. "It's sad."
A loving, secure, and nurturing relationship that lasts: Hasn't that always been the goal and bottom line? Isn't the real C-word for sex education commit ment, not condoms?
Public-health and family-planning experts have managed to dictate the terms of sex education and reduce them to a narrow line of thinking that is impersonal, dishonest, and defeatist. Young people are suffocating under this brand of realism, and they want something higher.
Jesus said, "Which of you, if his son asks for bread, will give him a stone? Or if he asks for a fish, will give him a snake?" (NIV). When kids are asking for help to build a life with someone they love, how can we simply hand them a condom?
We have a great resource in thousands of couples who have been happily married for 20 to 50 years. We need to give these couples equal access to sex-education classrooms. One boy told me, "I'd like to hear more stories: how they met, how they kept the love alive.…" Information alone cannot give young people hope or meaning, but living examples can.
If you have loved and lasted, if you have built a marriage and family the "old-fashioned" way, be proud of your story. Go to a junior-high or high-school classroom. Share the wisdom you have gained. Let students ask the questions they care about the most. You are needed by today's teenagers far more than you think.
In coming face to face with another human being, how much do we value the self that we glimpse through their eyes, that flutters past in a gesture or a smile? Sex education is about nothing less than how and when we hand over this astonishing gift of the self.
Yes, there are many temptations and dangers that could cause the dream to go awry. But that is no justification for giving it up. It is no excuse for accepting less for young people when they themselves long to expect the best.
Have something to add about this? See something we missed? Share your feedback here.
Our digital archives are a work in progress. Let us know if corrections need to be made.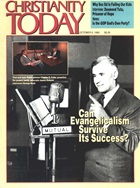 This article is from the October 5 1992 issue.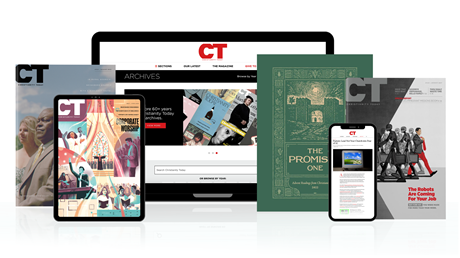 Annual & Monthly subscriptions available.
Print & Digital Issues of CT magazine
Complete access to every article on ChristianityToday.com
Unlimited access to 65+ years of CT's online archives
Member-only special issues
Subscribe
Read These Next
Trending

American Christians Should Stand with Israel under Attack

While we pray for peace, we need moral clarity about this war.

From the Magazine

The Unusual Epistle that Helps Me Counsel on Sexuality

Jude has strong words for immorality in the church. Yet he advocates for mercy for those who doubt.

Editor's Pick

Don't Miss These African Christmas Hits

Jam out this season to highlife, Afrobeats, jazz, a cappella, R & B, rap, dance, and hip-hop artists from Nigeria, South Africa, and more.
Why Sex Ed Is Failing Our Kids
Why Sex Ed Is Failing Our Kids