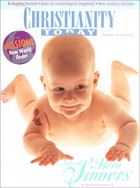 This article is from the November 14 1994 issue. Subscribers can read all of CT's digital archives.
In Haiti, an old Creole saying warns: "Behind this mountain is another mountain."
With the avoidance of a violent U.S. military invasion, the exit of the dictators, and last month's triumphant return of exiled President Jean-Bertrand Aristide, optimism is running high that democracy and peace may finally take hold in impoverished Haiti.
Despite the initial euphoria, the arduous challenges of rebuilding a nation remain.
For months, Haitian churches have been praying and fasting about the situation facing their nation. And despite the positive direction of recent events, Haitian Christians acknowledge that the terrain ahead is anything but smooth.
"The Haitian people do not believe only in promises; they believe in reality for their life," says Jean Rigaud A. Antoine, general secretary of the Council of Evangelical Churches of Haiti. "They have been suffering too long."
For Antoine-and indeed, for virtually all Haitians-among the most important challenges facing Aristide and his American supporters will be dramatic improvement of the devastated economy. Three years of harsh international economic sanctions (CT, Oct. 24, 1994, p. 87) have crippled Haiti, already the poorest nation in the Western Hemisphere.
"If the U.S. government doesn't do something quickly to help re-establish the economy of Haiti in order to provide jobs for the people, the same crowd who welcomed the U.S. military troops to Haiti will stand strongly against them," Antoine says. "President Aristide will be blamed and criticized by the Haitian historians and [his own] enemies."
The presence and influence of the Americans remains controversial. This summer, Christian Haitian leaders expressed grave concern about a U.S. military invasion and feared it would result ...
1
Our digital archives are a work in progress. Let us know if corrections need to be made.
Christians in Haiti Seek Help from World Churches
Christians in Haiti Seek Help from World Churches