Growing up in Argentina, Luis Palau did not feel much like an evangelist, as he was merely doing "what everyone else in [his] church was doing": winning people to Christ. But when he was 18 years old, he heard a young preacher named Billy Graham on the radio and prayed that he, too, would become an evangelist one day.
More than 40 years and 300-plus crusades later, Palau now hopes to fulfill another vision: the further development of his ministry in the U.S. with his current "Say Yes Chicago" crusade. He has already made his presence well known in Central and South America, as well as in Europe and elsewhere, through crusades that use his bilingual ability and sensitivity to a multitude of cultures.As he prepared for this April campaign, Palau spoke with CHRISTIANITY TODAY about evangelism, crusades, and American Christianity.
WHY DO YOU FEEL EVANGELISM IS THE CHURCH'S NUMBER-ONE PRIORITY?
If there is no evangelism, there is no church to deal with the other priorities. Discipleship is obviously a strong, ongoing church priority; but there's no one to disciple if you haven't evangelized in the first place. When Jesus went to heaven, the uppermost command on his mind was "Go into all the world and make disciples." Yes, the church exists for the glory of God. But in practice, evangelism should never leave a Christian's mind. The church is always one generation away from extinction. Why are you able to worship? Because God rescued you through the work of someone who evangelized you.
HAVE OTHER CHRISTIANS OPPOSED YOU ON THIS ISSUE?
I find that the people who most argue against evangelism as a priority haven't won a soul to Christ in decades. They are afraid of the nonbeliever. In almost every case, they stay within their closed circles. We scream at the world with our magazines and our microphones, but we don't mingle with the people in the world to bring them to Jesus Christ.
Sometimes we hide behind theological statements that go beyond Scripture. Sometimes we hide by saying, "I'm just much too busy carrying on my gift." And we forget that witnessing is not an option. We are all supposed to be witnesses.
WHAT ARE SOME OF THE PRIORITIES AMERICAN CHURCHES HAVE PUT IN PLACE OF EVANGELISM?
We see some Christian circles replacing evangelism with only social action. Now, I'm committed to social action, but when it so absorbs us that we have no time for rescuing the perishing, then we have replaced the priority. After all, evangelism is social action. It is the most fundamental social action in history—the most profound and real act of love there is. And that's why it's so strange that we hold back from practicing it.
WHAT ARE YOUR OPINIONS ABOUT CHRISTIANS BEING INVOLVED IN POLITICS?
Those who are called to enter the political arena should take it as a ministry from the Lord. I don't care if he or she is left wing, right wing, an atheist, or a religious leader; I always tell politicians, "Your position is a delegated authority from God, and you are a minister of God" (Rom. 13). So I encourage them to think of justice and righteousness, and to defend the poor and the needy. That's the role of a politician.
I think that Paul, if he were here, would encourage young people to be the salt and the light in public places. But politics has its limits. Don't expect from politics what politics cannot deliver. Don't confuse the kingdom of God with party politics.
WOULD YOU CONSIDER CHRISTIANS WITHOUT THE GIFT OF EVANGELISM DISOBEDIENT IF THEY WERE TO SPEND MORE TIME DEVELOPING THEIR OWN SPIRITUAL GIFTS?
While only some have the gift of evangelism and will do things like speak at mass crusades, all of us should be witnessing continually. This doesn't mean we're always giving out the gospel, but it does mean we are endlessly seeking open doors, pushing the doors that seem open, taking advantage of opportunities—not obsessively, but consciously—while saying, "I am to witness to the gospel as much as I can with the Holy Spirit's power."
SO WHEN YOU SAY "EVANGELISM," YOU'RE NOT MERELY THINKING OF LIVING OUT THE LOVE OF CHRIST IN PRACTICAL WAYS. YOU MEAN SPECIFICALLY SHARING THE GOSPEL.
You have not been a true witness to Jesus Christ until you have openly, clearly, lovingly presented the message of John 3:16. Witnessing to Jesus Christ is done through one's life, but the life has no meaning if the lips do not speak. Until you've done that, you have not been a full witness to Jesus Christ. People cannot guess why you're such a good neighbor unless you openly, clearly express your faith in Christ.
DO YOU FEEL THAT AMERICAN CHRISTIANS HAVE LOST A SENSE OF EVANGELISTIC FERVOR?
When I was in Chicago doing launch rallies for "Say Yes Chicago," a taxi driver took me to a press conference at Grant Park. The driver was a Muslim from Sudan, very talkative and eager to make me a Muslim. He was trying to convert me in the course of a ten-minute drive. I told him I was a Christian, which began a quick discussion about Jesus Christ. After a few minutes, he said, "Islam is going to win in America. And we're going to win in the world. You Christians do not really believe Jesus Christ is the only answer and the only One."
I said, "Of course we believe that." He said, "No, you don't. I've been here for six years, and I've hardly met a single American that believes Jesus is the only One and the only way and the only answer."
I was amazed, moved, rebuked, and ashamed. Here was a foreigner in America unashamedly trying to convert me in ten minutes. And meanwhile, we Christians beat around the bush. We are not convinced that people without Christ are truly, truly lost forever. If we did, we wouldn't be able to rest. We would jump at the chance to be part of a citywide crusade. If we believed that people were irrevocably lost without Christ, we would take advantage of every chance to preach the gospel.
WITH REGARD TO EVANGELISM, WHAT'S MISSING IN AMERICAN CHURCHES COMPARED TO CHURCHES IN OTHER CULTURES?
The passion has been lost only in the Western nations—Western Europe, America, and Canada. The rest of the world, at this time, is fired up.
On the whole, Christians outside Western Europe and North America are utterly convinced that Jesus is the only way, that the greater good is more important than minor peculiarities, and that the unsaved are condemned to a Christless eternity.
But they also demonstrate a greater obedience and a practical conviction that the Bible is the inspired and inerrant Word of God. As people begin to disobey Scripture, they begin to doubt its authority.
HOW DOES CRUSADE EVANGELISM IN AMERICA DIFFER FROM CRUSADE EVANGELISM ELSEWHERE IN THE WORLD?
Interestingly enough, America is the toughest country in the world to get denominations to work together. America talks up the "one nation under God" theme, but it's pure theory. The major work in a citywide crusade is not touching the nonconverted. It is bringing the churches together to touch the unconverted.
We Christians forget that if we don't evangelize America, we have lost the nation. We have lost our children and grandchildren. Conversion is seldom talked about today. We are being so careful, so proper, we forget that, unless people are converted, they will not enter the kingdom of God.
HOW WOULD YOU RESPOND TO THOSE WHO SAY CRUSADES ARE NOT EFFECTIVE IN REACHING UNCHURCHED PEOPLE?
Critics may be right that some crusade evangelism is not well-aimed at non-Christians. But our hope is that every person in the city or the nation we're in will hear the clear message of Jesus Christ.
Crusade evangelism isn't just the meetings at the stadium, not in our definition. We have luncheons, breakfasts, and dinners where much of the time 60 percent of those attending are nonconverted people. We use secular television; we work with the secular press in advance to get our message into the papers.
You always wish more unbelievers were at the stadium. But in this generation, the stadium is not the number-one vehicle for leading people to Christ. People like to stay home nights and be comfortable. But without the stadium, we wouldn't have the affinity groups, the luncheons, breakfasts, dinners. It would be much more difficult to buy television time, or to grab the attention of the media, or to attract the youth, if we didn't have the stadium events. But that the gospel is heard by nonbelievers is unquestionable.
Have something to add about this? See something we missed? Share your feedback here.
Our digital archives are a work in progress. Let us know if corrections need to be made.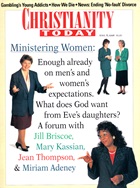 This article is from the April 8 1996 issue.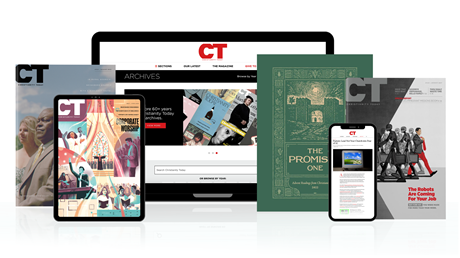 Subscribe to Christianity Today and get access to this article plus 65+ years of archives.
Home delivery of CT magazine
Complete access to articles on ChristianityToday.com
Over 120 years of magazine archives plus full access to all of CT's online archives
Subscribe Now
CONVERSATIONS: Whatever Happened to Evangelism?
CONVERSATIONS: Whatever Happened to Evangelism?