Two years ago, if someone had said we could get government money to help run our ministry, I would have said, 'You've got to be crazy. We are not touching government money with a ten-foot pole.' " So says Amy Sherman of Abundant Life Ministries, a church-based organization located in Charlottesville, Virginia.
A lot can change in two years. Sherman recently met with a representative about community development block grant funds. "I'm 80 percent sure that we'll move forward to apply for that money," Sherman says. "We are far more confident today that, as a religious social service provider, we will be able to negotiate a relationship with government that in no way compromises our religious identity."
For Abundant Life Ministries—and potentially for thousands of other churches and faith-based social service providers—two words have made all the difference. Those words are charitable choice.
Charitable choice is shorthand for section 104 of the Personal Responsibility and Work Opportunity Reconciliation Act of 1996, the historic welfare reform adopted last August that turns the administration of welfare programs over to state governments. An important feature of the new legislation is its support for cooperation between states and faith-based charities that serve needy people. Opponents of charitable choice contend that it will lead to unconstitutional entanglement of church and state.
Two premises undergird the development and implementation of the charitable-choice concept. The first is that faith-based service programs are in many cases far more efficient and successful than their government-run counterparts. Proponents of charitable choice concede that much of the evidence for this contention is anecdotal. Yet, reputable studies have documented the success rate of Teen Challenge's spiritual approach to drug treatment—nearly 70 percent, compared to secular programs judged anywhere from 1 to 15 percent successful.
Other studies have suggested that prison inmates who are active in Bible studies and Christian fellowship are more likely to be model prisoners and less likely to become repeat offenders. This translates into such societal benefits as less crime and lower costs of maintaining prisons.
The second premise is that faith-based organizations have in the past been mistreated, having been obligated to suppress their religious identities too much in order to qualify for government funds. Proponents say this discrimination is rooted in misunderstanding of what the Constitution actually says about church-state relations.
CHARITABLE CHOICE ORIGINS: The language of charitable choice has its roots in an academic paper developed four years ago by legal scholar Carl Esbeck, a law professor at the University of Missouri in Columbia. The paper focused on the regulation of religious organizations that had accepted government benefits. As an appendix to the paper, Esbeck wrote proposed legislation that addressed the problem of religious groups compromising their principles in order to receive government funds.
Esbeck forwarded his paper to a former law student who served on the staff of newly elected U.S. Sen. John Ashcroft (R-Mo.). Ashcroft spearheaded the political effort on Capitol Hill to move charitable choice from a concept to legal reality.
The legislation's self-stated purpose is to allow states to contract with religious organizations—or to allow religious organizations to accept vouchers or other forms of state-sponsored reimbursement—"on the same basis as any other non-governmental provider without impairing the religious character of such organizations, and without diminishing the religious freedom of beneficiaries" of the service provided. According to the legislation, delivery of aid may not be influenced by beneficiaries' religious beliefs or their "refusal to actively participate in a religious practice."
Because the legislation had to pass muster with lawmakers less friendly toward the idea of charitable choice, section 104 also states that no funds given to religious organizations "shall be expended for sectarian worship, instruction, or proselytization."
AMBIGUITIES: Some observers maintain that the language restricting sectarian instruction may, for some ministries, be incompatible with the language allowing religious organizations to be what they are. Virtually all would agree that access to food and shelter should not be contingent, for example, on beneficiaries' converting to Islam or Christianity. But what about the rescue mission that requires visitors to attend a worship service before sitting down to eat a meal? And what about organizations such as Teen Challenge, whose drug counseling methods are inextricably tied to promoting personal faith in Christ?
Esbeck maintains that concerns with the restrictive language are easily surmountable. For example, the language regarding sectarian instruction applies only to organizations that have entered into contracts with state governments to deliver social services. If states choose to set up voucher programs and recipients redeem vouchers to receive services from faith-based organizations, the restrictions do not apply.
Even in cases where faith-based groups enter into contracts, Esbeck says they can steer clear of potential controversy by making sure that funds received from the government are applied only toward programs and activities that are not even remotely religious. That approach would be nothing new. Organizations such as the Salvation Army and Catholic Charities have long accepted government aid for service programs that are secular in nature.
According to Salvation Army Lt. Col. Paul Bollwahn, the denomination has at least 60 kinds of contracts with local, state, and federal governments. What the Salvation Army is permitted to do varies from state to state. "Some groups are focusing more on the inhibitions than on possibilities," Bollwahn says.
Many lesser-known organizations, though motivated by Christian principles, would have no trouble abiding by even the most restrictive interpretation of charitable choice. "We're incorporated as a secular organization," explains William Devlin, executive director of the Philadelphia Family Policy Council (PFPC), which accepts government money to promote sexual abstinence among teens. Because 80 percent of its presentations are in public schools, pfpc must promote abstinence without promoting Christianity. "We talk about health issues, relationships, and the best interests of teenagers," Devlin says. "We wouldn't do anything differently under charitable choice."
LEGISLATION'S POTENTIAL: Esbeck and other charitable-choice supporters maintain, however, that the major contribution of the new legislation will be greater freedom for religious groups that are in partnership with government.
Esbeck emphasized the importance of the word purpose in the bill. "To the extent that there are potential ambiguities, judges should read and resolve those problems in light of the overriding goal," Esbeck says. "The clear purpose of this bill is to allow religious organizations to serve the public good without compromising their identity or character."
But some Christian groups are hesitant. For instance, the International Union of Gospel Missions (IUGM) regards the restrictive language as a stumbling block. "We sat down with people from Senator Ashcroft's office," says Phil Rydman, IUGM's director of communications. "We support what they're trying to do, but we're not sure it's completely accomplished as yet."
Rydman says IUGM has informed its 250 member missions about the charitable choice provisions, but he suspects few will act on them. "The courts still interpret how the law is enacted," he says. "And, generally, rescue missions are skeptical about getting involved with government, because they don't want to worry about the strings that may be attached."
CHARITABLE CHOICE'S SIGNIFICANCE: It would be a mistake, however, to conclude from the skepticism and concern about some of the bill's language that nothing important has changed. While religious organizations have enjoyed successful partnerships with various state and local governments in the past, often these have been based on special arrangements or gentlemen's agreements.
In contrast, charitable choice, according to Stanley Carlson-Thies of the Annapolis, Maryland-based Center for Public Justice (CPJ), "puts things on firmer statutory ground." He adds, "It also represents a more aggressive push that says this is something we ought to do."
Sherman agrees. "It's important not to overestimate the tensions," she says. "This was a remarkable effort, and the climate really has changed. If you talk with government people, you'll find that a lot of them are pleased with this new direction because they know that faith-based organizations often are the only ones who are making any difference."
According to Sherman, the new legislation provides faith-based groups with negotiating power to construct acceptable contracts or to renegotiate existing arrangements in light of the greater freedoms afforded by charitable choice.
"This is definitely a time for ministries to be in dialogue with their administrators and policymakers," says Carlson-Thies.
RELIGIOUS CONCERNS: Perhaps the best indication of the significance of charitable choice is the forcefulness with which it is being opposed in some circles. "This is a gigantic step in the wrong direction," says Barry Lynn, executive director of Americans United for the Separation of Church and State. "It's a step that ultimately isn't healthy for churches or the government."
Lynn is concerned that, in practice, charitable choice will result in people feeling compelled to participate in religion as a condition for accepting social services. However, the legislation requires that if a potential beneficiary objects to the religious character of a social service provider, the state must locate an alternative—and presumably secular—provider.
Lynn maintains, however, that such provisions will be virtually impossible to monitor and enforce. "There is no guarantee of how a person will be notified of alternative sources for the receipt of services, and no guarantee that the alternative services will be convenient for people," he says. "The legislation promises something that is not likely to be realized by the average recipient."
J. Brent Walker, general counsel for the Baptist Joint Committee, also opposes charitable choice. "While the law's supporters claim it is good for religion," he says, "it actually violates the Constitution and jeopardizes the healthy neutrality between government and religion."
CONSTITUTIONAL NEUTRALITY: Lynn and Walker view neutrality in terms of strict separation between church and state. Supporters of charitable choice, however, maintain that the constitutional standard for neutrality is not government's disengagement from religion, but its equal treatment of all religious and nonreligious people and organizations.
Based on that standard, Steve McFarland, executive director of the Center for Law and Religious Freedom, concludes that requiring religious organizations to compromise their character in order to receive government money for social services constitutes discrimination against religion. "Religion up to now has been forced to take a seat at the back of the bus," he says.
Walker contends that charitable choice "violates the religious liberty of citizens whose taxes are used to pay for the advancement of someone else's religion."
McFarland responds, "We're all taxed for things that go against our conscience. Given that reality, the question is how to maximize government neutrality in religious and nonreligious choices."
Esbeck argues that strict church-state separationists typically place the First Amendment's establishment clause, which prohibits government from establishing religion, in tension with its free exercise clause, which guarantees the right of religious expression. Esbeck says the charitable choice legislation is "based on the neutrality principle, which erases the tension by honoring both the free exercise and the establishment clauses."
Charitable choice could have implications beyond the social service arena to education. "The theory behind this is intended to be the same theory under which school vouchers are initiated," Lynn says.
McFarland says, "That's why the folks on the Left are so rabid in their opposition to this and why you will undoubtedly see the teachers unions funding test-case litigation at the earliest possible moment."
Legal action is inevitable. The primary questions that remain are who will initiate court action and when. And most important, which side will emerge victorious.
Have something to add about this? See something we missed? Share your feedback here.
Our digital archives are a work in progress. Let us know if corrections need to be made.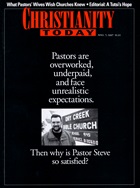 This article is from the April 7 1997 issue.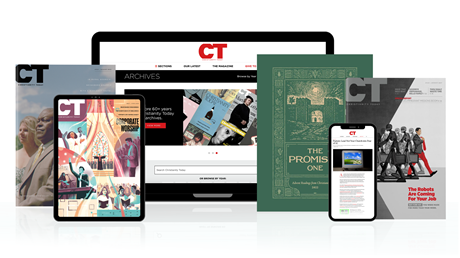 Annual & Monthly subscriptions available.
Print & Digital Issues of CT magazine
Complete access to every article on ChristianityToday.com
Unlimited access to 65+ years of CT's online archives
Member-only special issues
Subscribe
Welfare Reform: God in a Box?
Welfare Reform: God in a Box?