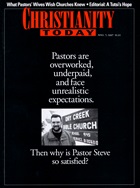 This article is from the April 7 1997 issue. Subscribers can read all of CT's digital archives.
Two years ago, if someone had said we could get government money to help run our ministry, I would have said, 'You've got to be crazy. We are not touching government money with a ten-foot pole.' " So says Amy Sherman of Abundant Life Ministries, a church-based organization located in Charlottesville, Virginia.
A lot can change in two years. Sherman recently met with a representative about community development block grant funds. "I'm 80 percent sure that we'll move forward to apply for that money," Sherman says. "We are far more confident today that, as a religious social service provider, we will be able to negotiate a relationship with government that in no way compromises our religious identity."
For Abundant Life Ministries—and potentially for thousands of other churches and faith-based social service providers—two words have made all the difference. Those words are charitable choice.
Charitable choice is shorthand for section 104 of the Personal Responsibility and Work Opportunity Reconciliation Act of 1996, the historic welfare reform adopted last August that turns the administration of welfare programs over to state governments. An important feature of the new legislation is its support for cooperation between states and faith-based charities that serve needy people. Opponents of charitable choice contend that it will lead to unconstitutional entanglement of church and state.
Two premises undergird the development and implementation of the charitable-choice concept. The first is that faith-based service programs are in many cases far more efficient and successful than their government-run counterparts. Proponents of charitable choice concede that much of the evidence for this contention is anecdotal. Yet, ...
1
Our digital archives are a work in progress. Let us know if corrections need to be made.
Welfare Reform: God in a Box?
Welfare Reform: God in a Box?