In the story of Cinderella, domineering stepsisters force a young girl to do the lowliest work in the house—until, that is, Cinderella's true beauty is discovered by the king's son. Her sisters are left dumbfounded. They had never dreamed that others might find Cinderella beautiful, much less that the prince would seek her hand.
This fairy tale came to my mind recently as I watched journalist Bill Moyers lead a discussion on the story of Cain and Abel on the pbs television series Genesis: A Living Conversation. It was one of ten free-wheeling discussions carried on by an eclectic group of noted authors, artists, clergy, and scholars that included Muslims, a Buddhist, a Hindu, Jews, agnostics, Catholics, and Protestants. While several later segments included evangelicals, there were none in this episode, titled "The First Murder."
As I watched it, it occurred to me that, as evangelicals, the Bible may be our Cinderella. We have opened our homes to her, but we have relegated her to washing our dishes and scrubbing our floors. We have used her to make our lives theologically comfortable; and she, never one to complain, has remained faithful. But we have been blind to her true loveliness and oblivious to the possibility that others might see real beauty in her. As the series clearly showed, our Cinderella has been to the ball, and the glass slipper has been found. The king's men are now knocking at our door, searching for the beauty they have seen in "our" Scriptures.
Old story, new perspective
Before the series was broadcast, I was prepared to dislike it, anticipating it to be another exercise in the postmodernist deconstruction of our sacred text. To some extent, it was. The participants seemed to read their own agendas into the text while seeking to unite around some nebulous "core religious experience" as reflected in the biblical narratives.
But there was something in the discussion for which I was not prepared—at least, not emotionally. Like evangelicals, they took these stories at face value and saw themselves reflected in the narratives. But they also pressed further for what these stories said to others besides themselves. They were not satisfied until they had thrust upon these texts the full weight of what the story of Cain and Abel meant to all of humanity—especially those who had never, or would never, read it. They wanted to understand the characters in the story, not as believers or saints, but as outsiders, rebels, adversaries.
How differently this familiar story sounded from their perspective! They agonized over the tragic fate of Abel. He did everything right, they noted, but in spite of that, he was killed. That, they insisted, was more troubling than the ostensible brutality of Cain. God shows mercy to Cain, who goes on to build our first city. But Abel is dead. So what hope does the story leave for those like Abel?
I was also struck by how seriously they treated the stories. They fought hard to make sense of them and to seek from them some broader meaning for their lives. On the one hand, that made me feel strangely proud of "my" Bible. It was as if something I had cherished all my life had finally been given its due appreciation. But on the other hand, I felt disturbed: Why hadn't the evangelical community, with all its attention to television and media, ever produced such a program? Why did we wait for pbs to present us with a serious, penetrating look at the Book of Genesis?
The answer in part, I believe, is that we evangelicals have become adept at defending the Bible from its adversaries; we have produced a formidable and effective body of literature supporting our case. In the process, however, we have forgotten to ask seriously what it all means. Perhaps we mistakenly assumed that because no one was interested in the stories of the Bible, the stories themselves were uninteresting.
This series challenges Christians like me to a fresh and engaging reading of Scripture. We must look our Cinderella in the face and see her beauty. We must be willing to take her on her own terms—to live in her world, to see our lives as part of her world, and to seek to live according to it. We must not call on her solely to do the menial, and often demeaning, tasks of making our lives apologetically comfortable.
The lens of faith
For me, watching Bill Moyers's conversation was like watching my daughter go off on her first date. While I might have wanted to go with her and hold her hand, I needed to trust her to be her true self. Likewise, when I see the Bible in the hands of unbelievers and agnostics and want to tag along and hold its hand, I must trust the Bible to be itself. As they read it seriously, they open themselves to the inspired Word of God.
If we, in turn, read the same texts with the same liveliness, we will be ready to engage unbelievers in their conversations, bringing to those discussions the clarity of the lens of faith. (The plight of Abel remains unanswerable—unless, of course, a later chapter contains a resurrection and a Heel striking the serpent's head.) Are we ready to read the stories of the Bible with utter seriousness, to think deeply about what they say to us about God and ourselves in a troubled world? Ironically, this is a lesson we can learn a great deal about from Moyers and his friends.
John H. Sailhamer is scholar in residence at Northwestern College, Roseville, Minnesota, and author ofseveral books, including Genesis Unbound: A Provocative New Look at the Creation Account (Multnomah, 1996).
Have something to add about this? See something we missed? Share your feedback here.
Our digital archives are a work in progress. Let us know if corrections need to be made.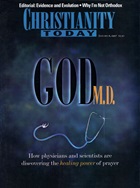 This article is from the January 6 1997 issue.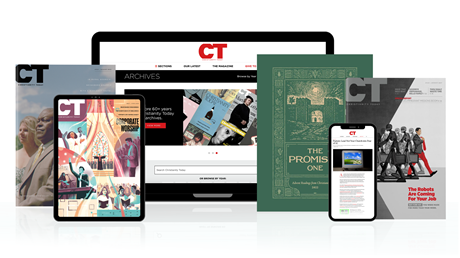 Annual & Monthly subscriptions available.
Print & Digital Issues of CT magazine
Complete access to every article on ChristianityToday.com
Unlimited access to 65+ years of CT's online archives
Member-only special issues
Subscribe
What Have They Done to My Genesis?
What Have They Done to My Genesis?