Squeezed into the rear of the six-seater Helio Courier float plane, I gazed out the small window at the shimmering surface of Lake Yarinacocha—our "runway"—in the Amazon jungle near Pucallpa, Peru. My husband, Bob, and I had been invited to attend the dedication ceremony of the Sharanahua (pronounced Sha-dah-nah-wah ) New Testament recently completed by Wycliffe Bible translators Gene ("Scotty") and Marie Scott. Ours was the last of four small planes taking off from Wycliffe's translation center, also called Yarinacocha, bound for the village of Gasta Bala.
With engines roaring, our pilot, Pete, skimmed the lake, and after the windows cleared of the spray, I saw the saltbox shanties of Pucallpa become a distant shadow.
A thick carpet of rain forest soon subsumed all evidences of civilization. There were no roads, no houses, no power lines. Only the snaking brown Ucayali River offered any contrast to the sea of green below.
Gasta Bala is home to about 150 of the 450 members of the Sharanahua tribe. The only way to get there is to fly two and a half hours into the heart of the jungle. (One tour book offered little information about this part of Peru, citing "inaccessibility.")
Gene and Marie Scott first entered this jungle as newlyweds in 1958. Forty years later—and four children, raised alternatively between the jungle and Yarinacocha; a fire that consumed all their work; a flood that washed away their village; and Scotty's five-year bout with chronic fatigue syndrome—Scotty, now 69, was hand-carrying the only copy of the leather-bound Sharanahua New Testament that he could secure. The other 499 copies were stalled in customs at the airport in Lima. He kept the New Testament in a Ziploc bag to protect it against the rain-forest humidity. He called it "a pearl of great price."
For good reason. Apart from the transcendent value of this newly completed translation, the monetary cost alone of such an undertaking gives one pause. The Scotts estimate that their support when they were raising their kids on the field (30-some years ago) fell somewhere between $1,500 and $2,000 a month (and they never had enough to put aside funds for their children's college education). That figure can be easily doubled today. The work associated with translating one language often requires decades of effort by at least two people.
So the obvious question is, as one journalist put it: "Is taking some of the brightest recruits, training them and sending them to spend 20-30 years translating the Bible into a language that in some cases is only spoken by 100 to 150 people and, in many—if not most—cases, is a dying language, the best use of the church's resources?" Or, to put this into the context of the Scotts' work: Is 40 years of work for 500 copies of the New Testament—sold for about $2.00 each (giving the books value so that the delicate pages won't be used as toilet paper)—with only plastic bags separating them from jungle rot, worth the monetary and human cost?
Wycliffe's strategy has been challenged for other reasons in anthropological circles. In his book Fishers of Men or Founders of Empire? David Stoll charged that the missionary enterprise has introduced Western "imperialistic" values into Amazonian cultures. A more recent—and more scathing—book, Thy Will Be Done, by Gerald Colby and Charlotte Dennett, asserts that Wycliffe founder Cameron Townsend worked in cahoots with Nelson Rockefeller to advance oil interests and destroy tribal culture. (Charges so spurious that even Stoll, in a review, enters a plea in Wycliffe's defense: "The authors never found the missing link between their two epic figures.")
Yet it has been commonly regarded that, despite their "religious" motivations, the linguistic work of Wycliffe (known on the field as sil, for Summer Institute of Linguistics) is unimpeachable. Giving these tribes their own written language (and teaching them to read it) has vouchsafed these cultures from total assimilation.

Hidden so far in the jungle, how easily
these tribes could have been either
completely forgotten by the larger
world or left at the mercy of whatever
forces might stumble into their world.

Looking down on all that green as the Helio hummed over the selva, I wondered how these tribes could be found at all, let alone raised to literacy and cultural engagement with the larger world. Hidden so far in the heart of the jungle, how easily they could have been either completely forgotten by the larger world, or—like the victims of the turn-of-the-century rubber barons—exploited and abused, left at the mercy of whatever forces or influences might stumble into their world.
These missionaries didn't "stumble" upon this, or any, tribe. They sought them out. Lambert Anderson, translator for the Ticuna tribe, explains, "We hear about them and then go down the river looking for them."
The Helio banked left, then right, and the temperature and humidity level rose inside the cabin. We were getting close. At last I could see a clearing below us—the landing strip (the only visual marker for the pilots), skirted with thatched-roof huts.
"The river is up. That's good. Lots of water to land on," Scotty said. (I wondered what we would have done had the river been "down.") We circled the village from the air—the plane attracting swarms of curiosity seekers to the riverside to watch us land—and then Pete pulled the Helio into the path of the Purus River, which seemed to rise up and swoop us into its course. We idled to the water's edge, pulling up next to some dugout canoes. It seemed as if the entire population of children had descended the bank to greet us.
We had powdered our feet and ankles with sulfur to keep the chiggers from burrowing into our legs; the "deet" factor in our insect repellent exceeded 95 percent (Cutter is about 7 percent). The gnats swarmed and attacked as expected, but my toxic repellent kept them at bay. (Some in our group, though, who had arrived earlier, looked like they had skin diseases, their faces and necks were so ravaged with bug bites.) It was so hot and muggy that we instantly wilted, and so buggy that we wore long pants tucked into our heavy socks, despite the heat. With our backpacks, drinking water, and other supplies in hand, our small crew—led by children and other members of the tribe—hiked the ridge that led from the river to the village.
The landing strip dictated the layout of the village, with most of the huts extending the length of it on one side. We walked in single file, headed for the government-built schoolhouse where we would be bunking, staying on the path, away from the chigger-infested grass. We greeted residents who dangled in hammocks suspended from ceilings of their open-sided huts. Some sat casually on the raised floors. In this kind of heat there is little else they can do at this time of day. The tribe greeted us in Sharanahua: Maw maw owa ("You have come").
HARD EDGES
SIL came to Peru in 1946, working out of a rented hotel room until 1948. Their interest stems from what one writer calls a "multiplicity of Peruvian cultures"—including some 55 Amazonian tribes and 26 Highland Quechuan Indian groups. Eighty-one Indian languages are still in use. Wycliffe personnel now work in 32 Peruvian languages, having completed New Testament translations in 26 languages (25 by SIL and one—Cusco Quechua—with the United Bible Societies), with two more "at the press" in South Korea. The Scotts' translation of the Sharanahua New Testament is one of the most recently completed.
When the Scotts arrived in 1958 they had no transporting visions that their destiny lay with the Sharanahuas. "I was originally asked to go to the Cashinahua Indians," says Scotty. And the only way to reach them was by way of a seven-day canoe trip. So members of the Sharanahuas escorted Scotty. He remembers thinking, They seem a lot more proud than the Cashinahuas. They'd be hard to work with. "You should never say what you don't want," he reflects. "That may be what the Lord is going to ask you to do."
Plans changed, and the director thought the Scotts should go to the Sharanahuas instead. Scotty recalls a meeting of all the translators in Peru when a group leader asked, "How were you called to your tribe?"
Many answered with "glowing reports" on how the Lord called them to go to a given tribe. But when it came to Scotty, he said, "The director told me to go. That's how I got my call."
They first entered the tribe bringing medicines to treat such common ailments as parasites and the flu. This approach, commonly employed by SIL, predisposes the tribe to see the missionaries as healers, not as destroyers. Marie, upon entering the tribe for the first time, says she was "in shock." She walked into the "house" made for them, covered top to bottom with muslin cloth (to keep the bugs out), and thought, Well, this is going to be my home. I'll just have to get used to it and then like it. She adapted (eventually doing away with the muslin cloth, which only made the home darker and hotter) and felt blessed when she had a new palm-leafed roof: "As long as you have a new roof, you're okay. When the roof gets old, every time the wind blows, pieces fall into your food."
When the Scotts reflect upon their early days with the Sharanahua, they recall many "hard edges" that divulged the "tribal personality." Steve Scott, 36, Gene and Marie's second son, recalls some names given to children: I Ate My Dog in the Remote Past and I Killed My Father in the Remote Past. Dave Scott, 39, the oldest of the Scotts' four children, remembers a young girl named Nobody.
"It was a respected thing to be able to lie to a person in such a way as to gain favor for yourself and get away with it," Dave Scott explains, which predictably resulted in intratribal rivalries and hostilities. It was not uncommon for one member to lead several families downriver to settle in a new location as a result of some conflict.
The men of the tribe routinely took more than one wife and regularly beat them as a means of controlling their households. "If a wife ran away, the husband would beat her so that she wouldn't do it again," says Scotty. "You could sometimes hear them being beaten." Growing up, Dave remembers the chief had six wives and spent days chasing up and down the river to reclaim them after they had run away. Many times the Scotts dressed the wounds of these hurting women and occasionally intervened during the beatings, despite tribal protocol that no outsider interfere with tribal business. The women often lived in fear of their husbands.
But the men had fears, too. Says Marie, "They didn't go out at night unless there was a full moon so they could see. They thought evil spirits were lurking around in the dark." They also feared death and the spirit of loved ones who died. When a person died, the family would wail exceedingly and then take the deceased person's belongings and bury them or throw them in the river. The home and garden would be destroyed, and the family would move to a new location. "They did not want to think about that person, because they didn't want his or her spirit bothering them," says Marie.
So when "Fasanahua" and "Yambacora" (the names given to Scotty and Marie, respectively, when the tribe took them into their kinship system) first talked about this man named Jesus, "We thought, This is a very nice story. We liked hearing it," remembers Cuscopindi (Cusco), a rising leader in the church and a cotranslator. "It was like hearing one of our own stories, only it was a nice one."
But the tribe was slow to appropriate this "nice story." Gustavo ("Gus"), the tribe's chief, was the first to make Jesus his "Owner" in 1965, but, as Scotty says it, "his life was up and down," and the confession offered little inspiration. "We didn't see any fruit for a long while," Scotty says.
Not for 25 years, to be exact. All the while, the Scotts faced many setbacks. The members of the first village where they lived allowed them to "butcher" the language as they made feeble attempts to learn it, never correcting them (and sometimes mocking them). ("We never realized we were saying [things] wrong until we went into another village," Scotty says.) Then, in 1965, their jungle home caught fire, and all of their translation notes were lost. They were forced to move to another Sharanahua village, San Marcos, elsewhere on the river, where they lived for nearly 20 years.
In the meantime, Gus's volatile disposition periodically erupted into hostility toward Scotty, slowing, sometimes thwarting, the translation effort. His erratic temperament became a source of heartache for the Scotts.
The early 1980s brought mixed blessings. By now the tribe had fully embraced the Scotts. They had taken them into their kinship system and came to accept that the Scotts were not there to exploit them, as the rubber barons had done. "One of the most wonderful times for us was when Gustavo got up and said that Marie and I were not there to get anything from them—that I hadn't come there to take their women, like some of the traders had done—but that we were there to give them God's Word. They realized that we cared about them."
But disaster struck another time. The river was rising due to rainfall, but "the Sharanahuas told us the water level never rose any higher than the airstrip," says Scotty, so they were not concerned. Soon, however, a house on one side of theirs collapsed in the swiftly running water, and then another member of the tribe came over and said, "Our house is beginning to tilt. Would you mind if we came over to your house?" Scotty's house was new, and the support poles were deep into the ground, so those who hadn't escaped on what remained of the canoes (the others had been swept away) took refuge there.
Part one of three parts; click here to read part two.
Have something to add about this? See something we missed? Share your feedback here.
Our digital archives are a work in progress. Let us know if corrections need to be made.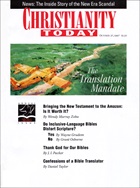 This article is from the October 27 1997 issue.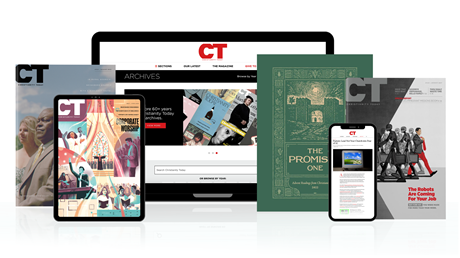 Annual & Monthly subscriptions available.
Print & Digital Issues of CT magazine
Complete access to every article on ChristianityToday.com
Unlimited access to 65+ years of CT's online archives
Member-only special issues
Subscribe
Your Sins Shall Be White as Yucca (Part 1 of 3)
Your Sins Shall Be White as Yucca (Part 1 of 3)