God and the American Writer, by Alfred Kazin (Alfred A. Knopf, 259 pp.; $25, hardcover). Reviewed by David Lyle Jeffrey.
Among the intellectual leaders of American society a deeply personal belief in God is tolerated as harmlessly personal, like a taste in food or a loyalty to the Red Sox. Religion even among the faithful, like American literature today, has left cosmology to the physicists. Nobody argues about God today. It is enough for the complacent that Americans go to church and synagogue in record numbers.
With these acerbic words, Alfred Kazin identifies a contemporary spiritual vacuity that troubles him even more than the ranting showmanship of "a politicized, intolerant, and paranoiac religion," with its "aims to coerce the rest of us." But it is more the spiritual aridity of American religion today, religion that doesn't matter enough, than an academic interest in literary history of the United States that prompts God and the American Writer.
Alfred Kazin is now 82 years of age. With a distinguished teaching career at a number of colleges and universities (including Harvard) and, since On Native Grounds (1942), more than 20 volumes of superior criticism, literary history, and personal reflection to his credit, he is deservedly regarded as a doyen to American literary criticism. In God and the American Writer, much that has occupied him throughout his career is brought together in a kind of grand summation. Hawthorne, Emerson, Harriet Beecher Stowe, Melville, Whitman, Lincoln, Dickinson, William James, Twain, T. S. Eliot, Frost, and Faulkner each receives a full chapter, but the text is interwoven throughout with a great many more authors of merit, from Thoreau to Toni Morrison. In all of these writers it is not their profession of belief—or unbelief—that obtains Kazin's attention. It is rather their imaginative characterizing of the role of religion in American culture.
American religion has always seemed a conundrum to those on the outside looking in. On the one hand, there is the famous insistence of the First Amendment prohibiting the "establishment of religion." On the other hand, there is the fact that from the televangelists to presidential reflections on "the State of the Union," no modern country seems more publicly religious. Religion appears to be as politicized in the United States as in many Renaissance nation-states, yet no general denominational coherence commands or unifies this interest. Margaret Atwood's specter of a horrendous dystopia of the Religious Right in her novel The Handmaid's Tale insightfully characterizes an oppressive regime as pseudobiblical but effectively antifaith, overtly annihilating Southern Baptists, Quakers, Jews, believing Catholics, and evangelical African Americans. Kazin never mentions Atwood, but his dragons and hers bear a close resemblance to one another.
The evolution of Puritan hyper-Calvinism in America, intensifying the characteristic Protestant tendency to incremental fragmentation or to materialist and self-actualizing secularism, has in practice made "the self-sufficiency of the individual the key to all things identifiably American." As a generalization, this is hard to refute. If lapsed Catholics tend, at least in literature, to fuzzy left-liberal politics or extremes of carnal dissolution, lapsed Calvinists, at least among American writers, tend more alarmingly to self-deification and raw appetitiveness for material success.
Emerson, whose doctrine begins with unshakable confidence in "the infinitude of the private mind," illustrates one post-Calvinist track. He ends in adulation of Napoleon as "a man not embarrassed by any scruples; compact, instant, selfish, prudent, and of a perception which did not suffer itself to be baulked or misled by any pretenses of others"—fit for a captain of industry. Democracy was largely an abstraction for the ex-theologian Emerson. As a public lecturer he notably scorned to take a question from his audiences. In matters of religious reflection he relegated Jesus to a pretext for recognizing God in himself: "Obey thyself" became his maxim, while to imitate Jesus, he thought, was to engage in servile redundancy. Accordingly, as Kazin has it, "he became a prophet not of God in every American heart but of rugged individualism. Any American can become just about anything he likes."
Herman Melville's Moby Dick contains over one thousand references to the Bible, but Melville, too, was in rebellion against Calvinism, specifically the Dutch Reformed Church of his parents. Like many a lapsed Calvinist, Melville was morbidly apprehensive that the grace and election he had forfeited might prove real after all. Unliberated by his negative choice, he lived his life in a spiritual no man's land. When in his famous quarrel with God he construes his adversary as alter ego and rival, for Kazin his "radical individualism was [squarely] in the American vein and spoke for more writers than he would ever know." Like Mark Twain, Melville was "a Calvinist whose theology survived his faith"; like Faulkner, he was "a Calvinist without religion." What all of them carry away from the ruins of their religion is a deep uncertainty that man's destiny is really in his own hands and a powerful anger that it cannot convincingly be made to seem so.
Walt Whitman, raised among Quakers, seems to Kazin another post-Calvinist, though his track leads not so frequently to the boardroom as to more private places. Whitman is perhaps the consummate American individualist, "worshipping the power of sex," while in matters religious he "never had as much interest in 'God' as he did in replacing conventional religion with himself as all-seeing poet." It is no shy fellow who becomes prophet to his own Advent, and who can say in triumphant self-assurance, "The priest departs; the divine literatus comes" (Democratic Vistas).
Whitman's most adoring nineteenth-century biographer, Richard M. Bucke, was a Canadian. Bucke believed Leaves of Grass to herald a new religious era: "What the Vedas were to Brahmanism, the Law and the Prophets to Judaism, the Avesta and Zend to Zoroastrianism, the Kings to Confucianism and Taoism, the Pitakas to Buddhism, the Quaran to Mohammedanism, will Leaves of Grass be to the future of American civilization." Alas, implies the weary Kazin, Bucke may have been too prescient. Even in England, adherents to Whitman's cult met weekly to read his poems aloud—he had become not only a legend in his own time but founder of a kind of "church."
Kazin finds hypocrisy and self-serving almost everywhere in "American Religion"; he adopts no such triumphalist Emersonian sympathies as does Harold Bloom (in his 1992 book of that title). Yet he struggles to be fair. It does not please him that Jefferson owned slaves and "thought little of the blacks as a race," or that T. S. Eliot was an anti-Semite, but he is at pains to enter these matters into the record even as he states his admiration for much of what each man wrote. His unalloyed concern, however, is that their contradiction of professed faith should be so characteristic of a larger literary culture.
Happily, Kazin takes time to praise exceptions. Harriet Beecher Stowe, whose Uncle Tom's Cabin has been derided by twentieth-century critics, he cites as a writer far more consistent than her critics. The idea for her book came to her while sitting in church, but it was conceived as a protest against the church, whose sophistical evasions in the matter of slavery remain an ugly embarrassment to this day. Nor is she a singular sign of contradiction: in the middle of the Civil War, Episcopalian diarist George Templeton Strong excoriated the silent complicitousness of his own denomination:
The church in which I was brought up, which I have maintained so long to be the highest and noblest of organizations, refuses to say one word for the country at this crisis. Her priests call on Almighty God every day, in the most solemn offices at her liturgy, to deliver His people from "false doctrine, heresy and schism," from "sedition, privy conspiracy and rebellion." Now at last, when they and their people are confronted by the most wicked of rebellions and the most wicked schisms on the vilest of grounds, the constitutional right to breed black babies for sale, when rebellion and schism are arrayed against the church and against society in the unloveliest form they can possibly assume—the church is afraid to speak. How would she get on were there a large, highly respectable minority sympathizing with adultery, or homicide, or larceny?
Well, we are beginning to realize that Strong's question is no longer rhetorical, and that the answer often given is unflattering to many churches.
Uncle Tom's Cabin, the largest-selling American book in the nineteenth century after the Bible itself (and almost as popular in Great Britain and Canada), had in fact a direct effect upon the Emancipation Act, as Lincoln himself attested, by mobilizing ordinary Christians to reject what their denominational officials tolerated. Bearing in itself "the truth of Scripture," Uncle Tom's Cabin became what Kazin is pleased to call "New England's lost holiness." While some might think that remark too broad, it is consistent with late reevaluations of the importance of Beecher Stowe's protest as a more authentic representation of nineteenth-century American Christianity than most (cf. Manfred Siebald). Also, it echoes reevaluation of the positive role of evangelical Christianity in the African-American community itself. Kazin cites Toni Morrison (Playing in the Dark: Whiteness and the Literary Imagination), who credits the love preached by Christianity with "having saved the slave so far as anything could." But have the mainstream churches, as churches, grown more toward this type of "basic Christianity" or toward versions of the gospel according to Emerson? The story is complex.
Kazin's own stance is secular: "living side by side with religion as part of our inheritance in America, our sense that life is never simply circumstantial does not mean that we have to believe." Yet he admires writers who have creditable belief (such as the Catholics Walker Percy and Flannery O'Connor) and is even more generous toward churches repentant of past transgressions (e.g., on slavery). Though himself a Jew, he praises the Southern Baptists in particular—"Unlike a lot of other white churches, the Southerners did not deal in pale, abstract words heard only on a Sunday"—and he celebrates the spiritual realism of many African-American churches.
His judgment is that the American writer is now, unfortunately, typically uninterested in religion of any stripe, authentic or inauthentic. What persists of the legacy of a decayed Calvinism is only a radical individualism devoid of self-transcending belief. Alas, he notes, "Where genuine belief is lacking, 'religion' as a social experience fills the bill." But such religion can do little to inspire, positively or negatively, great literature. In an America that, "despite its high rate of church observance, is a particularly secular culture," language itself suffers. Kazin finds "the mechanistic and even commercial vocabulary in which, more than ever, Americans talk and write," disturbing proof of the decay of salt and light, or its displacement by an "endless whimpering of 'feeling religious' without inner content."
One might easily think that Kazin goes too far, that the reality cannot be so dark as the picture he paints. And, to be sure, there are accents of an aged and disappointed partisan in this book: he repeats himself occasionally, and his penchant for aphorism and impatience for compromise leads him to overstatement. Hart Crane was surely in no plausible sense "last of the true believers," and one wishes Kazin's anthology of American writers might have included Wendell Berry, Richard Wilbur, Chaim Potok, and Howard Nemerov among others, as well as more place for O'Connor and Percy. But Kazin's articulate anguish warrants careful thought. Can we deny him entirely when he concludes:
Starting from embattled lonely beginnings, each church in America was separate from and doctrinally hostile to others. The individual on his way to becoming a writer was all too conscious that it was his ancestral sect, his early training, his own holiness in the eyes of his church that he brought to his writing. He became its apostle without having forever to believe in it, in anything—except the unlimited freedom that is the usual American faith.
It would be hard to find a more accurate—or more properly troubling—precis of American religious history as it bears upon American literature.
Have something to add about this? See something we missed? Share your feedback here.
Our digital archives are a work in progress. Let us know if corrections need to be made.
This article is from the April 6 1998 issue.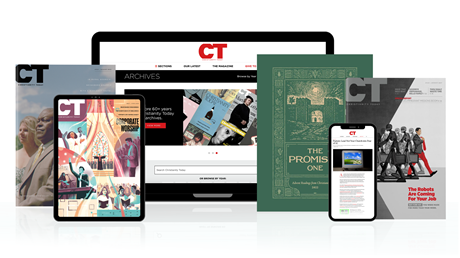 Subscribe to Christianity Today and get access to this article plus 65+ years of archives.
Home delivery of CT magazine
Complete access to articles on ChristianityToday.com
Over 120 years of magazine archives plus full access to all of CT's online archives
Subscribe Now
A Literary God
A Literary God