In 1994, Cuban secret police arrested Eliezar Veguilla after the pastor organized a Baptist conference in Havana that attracted 5,000 youth. Police charged him with being a counterrevolutionary spy working for the CIA.
Cockroaches crawled over Veguilla's body during confinement in darkness up to 16 hours a day. Authorities told Veguilla that if he refused to confess to being a CIA operative he would be placed in a cell with a ferocious bear, visible through a screen.
Then prison guards threw him into a dimly lit dungeonlike room with a bear. A frightened Veguilla prepared to meet his Maker. "I decided at that moment never to confess anything to the government," Veguilla, 39, told Christianity Today. But he had been tricked. This was a different bear, declawed and chained.
Two days later, the mind games returned. Moments after hearing gunfire and screams, authorities lined Veguilla up against a wall as a firing squad raised its guns. Ordered to confess, Veguilla, emboldened by the life-changing encounter with the bear, shouted "Cuba for Christ! Cuba for Christ!" The rifle triggers clicked, but the firing chambers clinked empty. Veguilla, now a refugee in the Miami area, will never forget the sound of soldiers laughing after his mock execution.
WHEN WILL CUBA OPEN? Although few Cuban Christians are subjected to such terrifying experiences, church leaders are keenly aware of the state's ruthless exercise of power under Fidel Castro. Soon after seizing power in 1959, Castro implemented hard labor and so-called re-education programs for those he considered the dregs of society: drug addicts, prostitutes, homosexuals—and pastors. Nearly 40 years later, the re-education camps are gone. But physical beatings and other ill treatment of prisoners remain potent weapons of the Communist regime.
"As long as Castro is alive he will be able to maintain control," says 53-year-old church historian Marcos Antonio Ramos, a Baptist pastor who is dean of the South Florida Center for Theological Studies in Miami. "Sooner or later, Cuba will open. When is the $64,000 question."
As Castro, 71, this month begins his thirty-ninth year as dictator, Cubans sense that their island's next revolution has already begun.
The Vatican, the Cuban exile community in southern Florida, the U.S. government, Castro loyalists, and Cuban minorities—including evangelical Protestants—are all vying for an influential role in Cuba's future.
Some hope that this month's visit of Pope John Paul II will be the catalyst to bring a swift conclusion to the Castro era. The pope's presence spurred on the collapse of communism in heavily Catholic Poland in the 1980s. "This could be a watershed event that galvanizes change, either peaceful or revolutionary," says Nina Shea, director of Freedom House's Washington, D.C.-based Puebla Program on Religious Freedom.
In the short term, Christians hope the papal visit will open the gates to additional religious liberties. But some are wary, believing it could spark religious persecution of an intensity not seen since the early days of the communist revolution.
The pontiff will celebrate open-air masses in Havana, Santa Clara, Camaguey, and Santiago. The Cuban Council of Churches will distribute 100,000 Bibles as gifts during the papal visit, and Protestants are hoping to be in the crowds to worship outside their church walls for the first time in nearly four decades.
In June, Havana's archbishop, Cardinal Jaime Ortega, 61, conducted the first outdoor service permitted in the country since 1961. Since then, the government has permitted door-to-door visitations in which Catholic volunteers distributed photos of the pope and invited residents to church. Large outdoor banners declaring "John Paul, messenger of truth and hope, welcome" are on display.
After months of wrangling, the Cuban government in November finally authorized the January 25 docking in Havana of a Miami cruise ship of 1,200 Catholic faithful to see Pope John Paul II. With U.S. State Department approval, Miami's Roman Catholic archdiocese is sponsoring the cruise 90 miles off the Florida coast as a likely last opportunity for parishioners to see the 77-year-old pontiff. The move has caused deep division among Cuban exiles in Miami, many of whom denounce it as inappropriate as long as Castro still rules.
In Cuba, some Protestants fear a potential backlash from the papal stay if the Catholic church becomes cozy with the government. "I hope the visit means a greater freedom of religion," says Richard Luna, Miami regional director for Open Doors with Brother Andrew. "But if this turns out to be a meeting between two heads of state, each with a specific constituency that does not include the evangelical church, it could be very harmful for evangelical Christians."
Ortega himself believes euphoria generated by the papal stopover will not last after John Paul II returns home. "There is great openness in anything that has reference to the pope's visit, but not in other areas," Ortega, who had been forced to work in a military camp in 1966, told CT. "We have more frequent dialogue with the state now, but many of the problems have not been solved."
"We expect only trouble out of the pope's visit," says Assemblies of God (AG) national superintendent Hector A. Hunter, who is concerned about a new wave of oppressive restrictions on Protestants. Unlike the blocklong compound that serves as Catholic diocese headquarters in Havana, Hunter's unadorned office is in a simple house in a poverty-stricken neighborhood.
SECULARIST PARADISE? Before Castro came to power, Cuba was the most secularized Latin American country, with only 6 percent of the population regularly attending church. Unlike most other Spanish-speaking Latin American countries, Cuba does not have a history of Catholic dominance, and that could hinder the impact of John Paul II's tour. "The pope is not visiting Poland; the pope is not visiting Mexico; the pope is visiting Cuba," says Ramos, author of Protestantism and Revolution in Cuba (University of Miami, 1989). "One single event won't change Cuba. It's a controlled society, a secular society, and the church in Cuba is not that strong."
Early on in Castro's reign, a few religious leaders inserted themselves into social movements, figuring cooperation with the Communist government would be the only way to secure vehicles or building materials. But most clergy went on the defensive, and some spent time in prison. There had not been a tradition of ecumenism in Cuba. When Catholic priests and Protestant preachers found themselves in the same prison camps, seeds of cooperation took root. Today, about 40 percent of the population has been baptized Catholic—including Castro, who was raised Catholic and attended Jesuit schools.
After nearly four decades of unrealized communist dreams, Cubans are ripe for change. There is a spiritual hunger in the land, a void that Marxism has been unable to fill. Out of a population of 11 million, the number of active Christians is approaching 1 million, the most ever.
Castro realizes Christians now represent a potent force. He met with 70 representatives from 31 denominations, primarily members of the Cuban Council of Churches, in a nine-hour meeting on November 24. Castro asked the religious leaders to pray for the nation's economic problems, including decreased sugar production, declining foreign investments, and a dearth of international credit.
The dictator is willing to bend in order to preserve his revolution—and his power. In 1990, as the Soviet Union came apart, Castro faced fresh demands for reform and decided to allow religious meetings in homes. Previously, Christians had not been allowed to build new churches or repair existing cramped, crumbling structures because of shortages in everything from cement to nails.
But the response caught the government off guard. Now at least 3,000 Protestant house churches are active, spurring an ongoing revival that has affected virtually all Protestant denominations as well as the Catholic church.
A house group of Camaguey AG evangelist Orson Vila grew to more than 1,500 people, 80 percent of them young professionals disillusioned by economic hardship and ideological emptiness. Two-thirds of the AG's 50,000 adherents meet in house churches. The denomination had only 7,000 followers a decade ago. "It is the Spirit of God moving among the young people," the AG's Hunter told CT. "There is a spiritual hunger for God."
Other denominations report similar growth, both numerically and in enthusiasm. "God has his time to do his work, and now is his time in Cuba," says Roy Ruiz, president of the Council of Methodist Churches in Cuba. Attendance at Methodist churches has tripled to 40,000 since the authorization of house churches.
"This is the most important moment in our evangelical history," says Western Baptist Convention of Cuba president Leoncilo Veguilla, Eliezer's father. "People are coming to church without invitations. Every church is packed in each service."
The revival has a Pentecostal bent, not only among traditional charismatics, but also among many Methodists, Presbyterians, and Baptists (CT, April 25, 1994, p. 19). Yet denominations have retained their distinctives. "Our service is very lively and experiential," says Hector Mendez of Havana's First Presbyterian Church, which has grown from 60 to 400 since he became pastor in 1991. "But we are within the Reformed tradition."
THE COST OF COOPERATION: Yet, more unity existed in the 1960s when people of faith faced communism as a common enemy. More freedom has brought more squabbling over how—or whether—to cooperate with government authorities and with one another.
For example, the government has designated the Cuban Council of Churches as the only agency to be allowed to import and distribute Bibles. Since the decade began, the council says, an average of 100,000 Bibles has been imported each year, an annual amount equal to the number of Bibles imported during the previous 20 years.
But the council of churches has only 25 out of 54 denominations as members. Bible distribution is supposed to be prorated according to church membership, but some American evangelicals complain the Bibles do not reach their intended destination through the council of churches. Thus, many denominations have resorted to bringing in Bibles and videos through foreign tourists and Americans on government-sanctioned religious visits.
"We have never been a member of the council of churches, and we hope we never will," says AG superintendent Hunter. To be ecumenical in Cuba, Hunter says, is to be too closely identified with the government.
Raul Suarez, pastor of Ebenezer Baptist Church in Havana and director of the Martin Luther King, Jr., ecumenical center, has not only chosen to cooperate with the government, he is part of it. Six years ago he became one of the first three Christians elected—unopposed, as is the case of all representatives—to the national Communist legislature. As such, he has been able to secure food, medicine, medical equipment, and school buses from the United States for different churches.
But Vicente Calvo, a Baptist who is also a human-rights activist, blames Suarez for politicizing the church. Calvo criticizes Suarez for defending the government's human-rights record and denying that the government ever placed restrictions on Bible distribution. Suarez admits to being a proponent of liberation theology and identifying with the social-justice element of Castro's revolution.
"Between Christianity and the revolution there is no contradiction, but neither is there identification," Suarez says. "There are more elements in socialism that coincide with my faith than elements of capitalism. Marxism is a Latin American concept that emerged from poverty and misery. It's important not to just think about faith, but live among the poor."
While Cuba and the United States are worlds apart on many matters of faith, there has been upheaval over the same doctrinal differences that divide Christians in the United States. For example, Western Baptists in Cuba, who have ties to U.S. Southern Baptists, booted out Suarez over political and theological differences, such as women's ordination.
CHURCH RELIEF EXPANDS: The grant-ing of limited religious freedom reveals Castro's pragmatism, not a change of heart. He has consented to churches taking the lead in humanitarian aid efforts in part because it saves the government money. After the collapse of Soviet aid beginning in 1991, Castro has, out of desperation, sought foreign investment, permitted limited self-employment, and allowed the U.S. dollar as a parallel currency.
Caritas Cubana in Havana, one of the few independent nongovernmental organizations, is a Roman Catholic agency that dispenses $5 million a year in relief aid. "The government is suspicious that any organization like this offering humanitarian aid is undermining the government," says Rolando Suarez Cobian, director of Caritas Cubana. "There is always a political interpretation for any humanitarian action."
The government allows Caritas Cubana to monitor U.S. supplies that have been approved for sale in government-run hospitals, such as x-ray film, pacemakers, and prescription drugs. Caritas, which has 6,000 volunteers, must certify that the supplies are not being used to help soldiers. "This is the only way the Cuban government can buy low-priced medicine," Cobian says.
EMBARGO HINDERS MINISTRY: The United States has enforced a full trade embargo against Cuba since 1961, when Castro nationalized all U.S. property. The embargo, defended vigorously by the powerful Cuban expatriate community in southern Florida, limits what ministry can be conducted on the island.
Some Cuban officials see the papal visit as a means to weaken American resolve for the embargo and expose the U.S. embargo to papal criticism.
"The visit will show not only the strength of the revolution but our willingness to improve relations with the church in Cuba," Ministry of Foreign Affairs spokesperson Rafael Cespedes told CT in Havana. "If the pope calls directly for an end to the U.S. embargo, the U.S. Congress would have to listen. The pope, of course, is a moral authority."
Other church leaders have tried but failed to weaken the embargo. Pastors for Peace in Brooklyn, New York, has circumvented the embargo but has been ineffective in forcing the government to re-evaluate it. "The U.S. is pathologically obsessed with the need to force Cuba under its control," asserts Lucius Walker, a Baptist pastor who heads Pastors for Peace. "The blockade is a violation of international law to use food and medicines as weapons." Walker questions why the U.S. government is providing famine relief for its Communist enemy North Korea, but refuses to do the same for nearby Cuba. Walker's group has shipped 1,500 tons of medical equipment, bicycles, medicines, toys, and school supplies to Cuba, all without U.S. government approval.
"The embargo is contrary to the gospel," Walker told CT. "We stand under condemnation from our faith if we say that the way to help children is by starving them. As nonsensical as it seems, we cannot deliver a cup of cold water from a U.S. port." Americans may not enter Cuba without going through a third country, such as Mexico, Canada, or the Bahamas.
While the United States has prohibited trade with Cuba since President Kennedy's first year in office, the Helms-Burton Act in 1996 has further tightened the embargo. The measure passed both chambers of Congress less than two weeks after the 1996 Brothers to the Rescue shootdown (See "Brothers to the Rescue Pawn in Policy Discord," p. 21). Critics contend Helms-Burton will cause more disease and malnutrition as supplies of everything from bandages to syringes dwindle.
"The Cuban people are suffering a lot because of this policy," says government affairs spokesperson Cespedes. He calls Helms-Burton a "brutal policy" that is "trying to destroy Cuba."
Among the staunchest supporters of the embargo is Republican congressional representative Lincoln Diaz-Balart of Miami. He says the embargo has prevented "complicit slave labor" that exists in China, where U.S. corporations are investing heavily in enterprises but workers never see the money. Other foreign firms are deterred from trading with Cuba because U.S. business interests have no access to the Cuban market, says the 44-year-old Diaz-Balart, in Congress since 1993.
RELIGIOUS PERSECUTION: Although Christians are a minority and unorganized, Castro sees the church as his primary rival.
Subsequently, any religious activity—from the pope's outdoor mass to a small congregation's purchase of pencils—requires extensive bureaucratic approval.
Historically, if certain congregations have experienced too much growth or seem too influential, the Castro regime devises new restrictions. Rules implemented in October prohibit churches from buying electrical goods such as fax machines, computers, and photocopiers. The new rules also prevent religious charities from buying diapers, cribs, cooking utensils, and soap.
"Castro is the law of the country," says 63-year-old Miami pastor Jose M. Vera, who had been national Open Bible superintendent before fleeing in 1961. "He allows Christians a certain amount of freedom, but they are always like fish on a line."
"The government hasn't changed toward religion and always sees Christians as the main people against the government," says Alexander Pons Palaez, a 26-year-old refugee resettled by World Relief in July in Carol Stream, Illinois. He had been incarcerated for three years beginning at age 15 for erecting "Down with Fidel" posters. "Fidel can't accept that Cuban people love God more than the state."
Government spokesperson Cespedes disagrees. "We have never been antirelig-ious," he asserts. "We had some problems early on with certain religious leaders, but in 1991 we opened our party to religion. Atheism has been dropped as the official creed of the party."
UNCERTAIN BOUNDARIES: Yet, constraints that limit Christian expression are formidable. Religious literature distribution outside church buildings is illegal. Airing Christian television or radio programs is banned. Praying for God to heal the sick is considered an illegal practice of medicine. Denominations cannot operate elementary or secondary schools.
"There are restrictions on how churches can organize, raise money, evangelize, and proselytize," says Freedom House's Shea. "People are uncertain where the boundaries are. Everything is a privilege, not a secure right." The constitution declares that no freedoms are allowed that are "contrary to the decision of the Cuban people to build socialism and communism."
Despite criticisms that he is too sympathetic to the government's policies, Suarez is responsible for the biggest threat to the regime: In 1990 he convinced Castro to permit Christians to meet in homes.
"In one sense he is cooperating with the government," says Sam Williams, a Cooperative Baptist pastor from Richmond who has visited Suarez's church four times. "But he has been instrumental in the government loosening restrictions on Christians practicing their faith and dropping the requirement that one must be a practicing atheist to be in the government."
Nevertheless, many house churches keep meeting underground. "The state has been acting prudently in the face of illegal house churches," Suarez says. "If they close them, there will be an international scandal."
Castro learned a lesson from what happened to Camaguey evangelist Vila in 1995. Government officials presented Vila, a regional AG director, a list of 85 house churches to be closed immediately. He refused, and four months later 30 police officers arrested him. The same day, Vila received a 23-month hard labor prison sentence for allowing "illicit meetings." Vila's wife, Naomi, also a licensed AG pastor, took over supervision of 200 cell groups that continued to thrive. Meanwhile, in prison, Vila's preaching converted hundreds.
Despite theological differences with the AG, the Cuba Council of Churches intervened to free Vila, even though council leaders felt he had disobeyed the government's order. Catholic hierarchy also protested on Vila's behalf. He ended up serving nine months in prison.
The new freedom of religious expression exists in tension with state control. "There is a great opening, but it's happening hand in hand with the greatest oppression since the early 1960s," says Open Doors' Luna, who discovered firsthand in 1995 that repression still occurs. Plainclothes officers told Luna they had files of photographs and signed affidavits to prove he had been a CIA agent "involved in espionage, sabotage, and blowing up bridges and electrical plants." Luna's real mission had been smuggling Bibles. Officials expelled him from the country immediately after interrogation.
PASTOR SHORTAGE: Most Cuban denominations are short of pastors and resources for theological education. There are a dozen small seminaries and Bible schools for Cuban Protestants. Enrollment is limited, largely because denominations cannot afford to provide books, food, class space, and scholarships for more than a few dozen students.
In the Baptist Convention of Western Cuba, for instance, there are only 63 pastors for 310 preaching sites. There are only 41 students enrolled in ministerial courses at Baptist Theological Seminary of Havana, although 150 are on a waiting list.
Seminary training is especially important now as young professionals flock to the faith, most of them from non-Christian backgrounds. Churches have managed to grow through local lay-leadership training programs.
Some of the best Cuban seminary professors and pastors, including 90 percent of Methodist ministers and two-thirds of Presbyterian clergy, fled when the revolution showed its socialist face, often leaving untrained teenagers to replace them. Virtually all 250 U.S.-based missionaries had fled or been deported by 1961.
"The Cuban church has proven it can survive and develop without the help of missions and foreign missionaries," says Ramos, who immigrated to Miami in 1966. "They lost along the way many of their finest leaders and a good portion of their resources. But new leaders have risen to the cause, and lost resources have been replaced by a new quota of local and personal sacrifice."
U.S. missionaries or pastors can enter Cuba if they are invited by a denomination and they obtain a religious visa that includes a detailed itinerary. In 1994, Cuban authorities ousted several U.S.-based missions organizations, including Campus Crusade for Christ, Open Doors with Brother Andrew, and Youth With a Mission (YWAM). Many U.S. groups bring in not only Bibles, tracts, and Christian videos, but also medicine, clothes, hygiene products, even auto parts. The Bartlesville, Oklahoma-based Voice of the Martyrs (VOM) takes materials—which are sometimes confiscated—to Cuba on a weekly basis through tourists entering via Mexico and Costa Rica.
Tom White, now U.S. director of VOM, is not afraid of being caught. He spent 18 months in a Cuban prison after his plane crashed on the island in 1979. White, 50, had tossed thousands of packets containing the Gospel of John from planes for seven years. White's book, God's Missiles Over Cuba, now in its fourth printing, describes his 24-year sentence for counterrevolutionary activities and his confinement with rats and in refrigerated prison cells. Castro released him after international pressure, which included a personal plea from Mother Teresa.
SPIRITUAL IMPERIALISM? While appreciative of the relief flowing to Cuba from humanitarian Americans, religious leaders in Miami hope there will not be a deluge of overbearing missionary activity when Cuba opens again. "It's important for people to go in to help people, not to manipulate them," says Humberto Cruz, a 60-year-old Baptist pastor in Miami who immigrated in 1967. "The leaders are already there. They don't need Cuban-American imperialism."
But San Antonio evangelist Sammy Tippitt says he goes not out of any colonialist ambitions but because he is invited by Cubans hungry for Bible teaching. He makes an annual trip in conjunction with an Eastern Baptist Convention retreat for pastors. Tippitt's ministry, God's Love in Action, finances the trip because Cubans simply do not have the money. The government offered no explanation when it canceled his scheduled journey in November.
American evangelicals, mindful of how cults invaded post-Communist Russia, also want to make sure that materials sent have sound doctrine. "Christian leaders in Cuba have a heart to disciple young people, but they don't have tools available," says YWAM's Steve Tackett of Nashville. "They can't go to a Christian bookstore and buy discipleship materials. When the government falls, we don't want there to be a vacuum like there was in the Soviet Union."
Barry Owensby, president of World Street Evangelism in Jacksonville, Florida, has made two dozen trips to Cuba following invitations from churches. "We are strategically set because I have established contacts with 100 pastors," he says. "As soon as freedom comes, I will move in a matter of days to set up outdoor crusades with various pastors."
While acknowledging that U.S. missions agencies must be aware of their own paternalistic tendencies, Gregory C. Wallace of Overseas Council of Indianapolis says Cubans must have financial assistance to keep training new Christians. Overseas Council is facilitating the theological education of 45 students at New Pines Seminary in Placetas. The six professors are Cuban, but the financing is American, including money for constructing student apartments and a dining hall.
Although there are no Christian media on the island, residents are able to hear Christian broadcasts from other countries. A 500,000-watt Trans World Radio signal north of Venezuela beams 32 hours of Spanish language programming to the island each week, including U.S.-based shows such as Back to the Bible and Our Daily Bread. The various programs receive an average of 200 letters per month from Cubans.
POST-CASTRO BLOODBATH? As Cuba enters its season of transition, Castro continues to reiterate long-held tenets.
In October, Communists convened their first party congress in six years and made it clear that further reforms will not happen any time soon. The dictator also reaffirmed that his 66-year-old brother Raul, who is head of the armed forces, will be his successor.
Amid turgid praise of the one-party socialist system beneath a banner with portraits of Ernesto "Che" Guevara, Karl Marx, and Vladimir Lenin, the platform declared "the party is in a better position today than ever to perfect its role as society's guide."
The embargo will prove its worth when Castro loses power, Rep. Diaz-Balart believes. He says that with no access to the American market, Castro's successor will be forced to accept U.S. conditions for lifting the embargo: legalizing political activity and providing for free elections. "The embargo is the only reason the provisional government will respect the Cuban people," Diaz-Balart says.
"There is a huge thirst for knowing God, and this will help in ushering in a democratic transition," says Palaez, the recent refugee.
Renovating Cuba physically will very likely be easier than renewing the country spiritually. Vera says Cubans have suffered profound damage inside their souls, and much bitterness and hatred extend toward the Castro regime: 50,000 people have been killed by firing squads for refusing to conform to communism; 500,000 have been religious or political prisoners.
"When Castro falls from the scene there will be a bloodbath," predicts exiled Seventh-day Adventist pastor Noble Alexander (see "Bittersweet Cuban Memories," p. 24). "There are lots of people with pent-up anger. I know thousands who have been killed."
In a real sense, what happens with the military could determine Cuba's future. While secret police and neighborhood Communist committees are "deeply involved in daily oppression," Diaz-Balart says the armed forces have remained aloof from the repression.
The Cuban-American Military Council in Washington, D.C., is trying to support any efforts of Cuban armed forces to break ties with Castro. Founded last year by retired general Erneido A. Oliva, the organization of nearly 1,000 military personnel of Cuban origin has intercessory prayer as its first line of defense.
The council's goal is a peaceful transition to democracy, which will include assisting Cuban military leadership in the post-Castro era to become answerable to a government freely elected by Cubans. "This goal must and will be accomplished free of hate or revenge and in the spirit of understanding, reconciliation, cooperation, and justice," says the 65-year-old Oliva, who graduated from the Cuban Military Academy in 1954 and came to the United States in 1960 to assist in military operations against the Castro government. He participated in the Bay of Pigs as the second-in-command of exile invasion forces.
"Through faith in Jesus Christ, and with his grace and peace, reunification can be achieved in Cuba," Oliva says. "We consider the Cuban armed forces the only element that can accelerate the transition of democracy in Cuba."
PRAYING FOR THE DAY: Many exiles are praying for that day. "I don't want to die before I see Cuba free again," says Miami pastor Vera. "I am ready to go back to Cuba to preach the gospel."
Regardless of whether the transition is peaceful or swift, Cuba's Christians will be in a stronger position than when Castro ushered in the 1959 revolution.
Despite economic distress, international politics, and domestic repression, evangelical Protestants are proving to be faithful.
After his encounters with a bear and a mock firing squad, Eliezer Veguilla is in the United States working with Baptist World Alliance, Trans World Radio, and Open Doors with Brother Andrew. His 67-year-old father, Leoncilo—who spent nearly six years in prison beginning in 1965 as one of 48 Baptist pastors indicted for alleged ties to the CIA—is now president of the Western Baptist Convention of Cuba and Baptist Theological Seminary in Havana. "I'm not afraid anymore of prison," Leoncilo Veguilla told CT. "I remain in Cuba because God is with me to the end."
Missionaries who are ready to mobilize when the country opens need to remember that persecution has a way of vitalizing faithful believers. "We don't need to take Christ to Cuba," says Open Doors' Luna. "Christ has been there all along."
Have something to add about this? See something we missed? Share your feedback here.
Our digital archives are a work in progress. Let us know if corrections need to be made.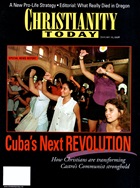 This article is from the January 12 1998 issue.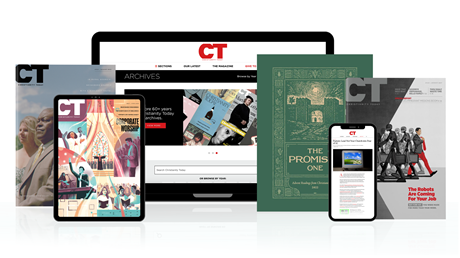 Subscribe to Christianity Today and get access to this article plus 65+ years of archives.
Home delivery of CT magazine
Complete access to articles on ChristianityToday.com
Over 120 years of magazine archives plus full access to all of CT's online archives
Subscribe Now
Cuba's Next Revolution
Cuba's Next Revolution