As another cold night falls on the East European city of Bucharest, Marshall McKenna prepares to visit the hidden homes of the hundreds of Romanian street children.
Heading for a manhole on a side street, Marshall easily pulls away the heavy lid and quickly disappears down the ladder. Four yards below street level, the inky darkness closes in around him. But the young South African knows his way and walks on confidently.
After several minutes, someone ahead strikes a match and lights a candle. It's Ionel in his winter nest, which is nothing more than a large, filthy blanket on the concrete floor. Ionel and countless other abandoned Romanian children seek shelter under the streets of Bucharest, keeping warm near the underground steam pipes that crisscross the city.
More than one problem
As candlelight flickers across the huge pipes along the ceiling, Marshall and Ionel talk. Marshall, as a team member with Orasul Sperantei (City of Hope) Rescue Center, works to help Bucharest's street children obtain housing, education, or employment. In Ionel's case, he urgently needs a job. As they discuss the options, Marshall says the rescue center, founded by Christians, will pay for Ionel to travel to his hometown so that he can obtain the identification papers necessary for legal employment.
But being jobless is perhaps not Ionel's biggest problem. As they talk, Ionel regularly grabs for a dirty plastic bag and takes a quick sniff.
Like most street kids in Bucharest, he is a glue addict. It's the cheapest drug available, but its impact on the human brain can cause devastating neural damage. Despite his bleak situation, Ionel draws strength and encouragement from Marshall, who turns the conversation in a different direction. "Anybody can give you food and clothes," Marshall says. "But we want to give Jesus to you." Ionel listens intently, yet remains noncommittal. All too soon, the visit is over, and Marshall makes his way back to the surface, only to move on to another of his evening appointments.
Bent on bread
It's 7 p.m., and Marshall makes one of his regular stops at the Bucharest train station. Street kids swarm around him, pushing, pulling, swearing, shouting—a sooty, shabby, drugged, and desperate crowd bent on bread.
For a moment, Marshall seems overwhelmed, but then he pulls himself together. "You behave now!" he says, shouting at the top of his voice. "Stand still and say thank-you!" Amazingly, instead of laughing him off, the kids obey. The uproar dies down, and in short order Marshall hands out one sandwich after another.
To more than 200 street kids around the Bucharest train station, Marshall and the others at the rescue center are family.
The young teams strive to reintroduce normalcy to orphans whose lives have been stunted by neglect and false freedom. Later that night over a cola and a hamburger, Marshall says, "People often ask us if we mind doing what we're doing, [with] the kids being dirty, rude, and possibly full of lice.
"They don't understand that it is such a privilege to be out in the streets like this! We tell the kids over and over again that if they really want change, they need to come to Jesus. And some do."
Orasul Sperantei operates two shelters, one called the Villa of Hope, for young boys, and the House of Hope for girls. But the total capacity for 50 children is far short of the need. The shelters offer long-term care, where the children will grow up, receive an education, and be prepared for adult life.
Cristian Soimaru, 25, Romanian cofounder and field director of Orasul Sperantei, points to Cornel, 13, as an example of how children commonly become homeless. In the mid-1990s, the boy had sought sanctuary in the streets of Bucharest to escape severe physical abuse at home. His stepfather's preferred method of discipline was to turn Cornel upside down and bang his head against the floor. If he failed at school, his mother punished him with an iron rod. After his escape, Cornel lived on the streets for several months. "When we found him, he was like a frightened chicken," Cristian recalls.
Cornel, who has blossomed at Orasul Sperantei, says with conviction, "I will stay here with my family after I have married. I want to work here, like Cristian." In spite of his bitter life experience, Cornel is more willing than most to talk about his parents. "I want to play the drums like my real father," he says eagerly. "I want Mom and Dad to become Christians!" With a sly smile, Cornel adds: "I would lie if I said that I read the Bible much. But I do read it!"
Bitter legacy
The estimated 2,000 or so street children are just a part of the overall problem. There are an additional 100,000 children in substandard orphanages. The number of orphaned and abandoned children is a bitter legacy from the era of communist dictator Nicolae Ceaucescu, who was executed, together with his wife, on Christmas Day, 1989, as communism was collapsing throughout Eastern Europe.
"Ceaucescu had the megalomaniacal idea that Romania should be the second-largest people in Eastern Europe by the year 2010," Cristian explains. "In the eighties, he forbade not only abortions but also contraceptives, and introduced punitive taxes for the childless. At the same time, he emptied the shops in order to pay off the country's foreign debts. So there were more and more unwanted children, and less and less food. Many, many children were disposed of by their parents."
In 1990, television reports from the Romanian state orphanages shocked the world. Some 250,000 children were living under unspeakable conditions; many were mentally retarded from lack of care. As the system broke down, thousands ran away and started living in the streets.
"Romania's biggest problem today," Cristian points out, "is not bad economy but the attitude that people still hold toward children. Ceaucescu is still alive in people's minds. They view children as a liability."
To the boys in the villa, Cristian is both father and pal. They show their affection constantly—and rather wildly. "It may sound stupid," Cristian says, "but I personally believe that many of these kids will play an important role in the future Romanian community."
Orasul Sperantei was founded in 1992 by two individuals who hardly knew each other. At the time, Cristian, a student of law in Bucharest, sensed God urging him to speak to a couple of street kids one night as he was in a cafe after church. In the ensuing weeks, he started walking the streets on his own.
Angie Thomson, an American living in Brussels, escorted an aid transport to a Romanian orphanage for mentally disabled children—and was overcome at what she saw.
Later, a Baptist pastor helped the two launch the ministry. Their first orphanage opened in August 1994. The staff counts 45 full-timers: 40 Romanians and five foreigners. Volunteers from the local churches help out regularly. Angie stresses that Orasul Sperantei ministers to physical and spiritual needs. "All children in our homes know the Lord Jesus as their personal Savior," she exclaims. In the orphanages, there is a Bible study and worship time every night. Angie admits that ministering to the street kids is "excruciatingly draining." She says that "the worst feeling in the world is to walk away from a small child who is hungry and shivering and has no home to go to, knowing that you have no more beds left."
But in spite of the strain, Angie plans for expansion: "We are praying for a Village of Hope outside Bucharest with homes for 200 kids." While Cristian focuses on work in Romania, Angie attends to raising financial support, even though that means spending time away from her "small ones." But she is confident that their ministry is "one step closer to taking in another little shivering boy or girl."
Our digital archives are a work in progress. Let us know if corrections need to be made.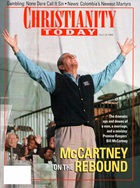 This article is from the May 18 1998 issue.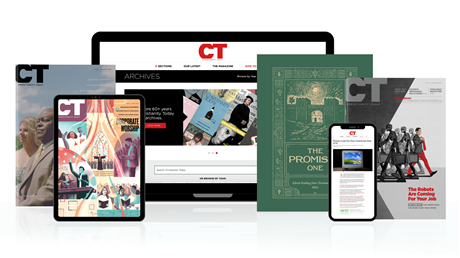 Find hope and historical insight. For a limited time, explore 60+ years of CT archives for free!
Daily devotions from Timothy Dalrymple during this pandemic.
Hundreds of theology and spiritual formation classics from Philip Yancey, Elisabeth Elliot, John Stott, and more.
Thought journalism that inspires you to think more deeply about your faith.
Under the Streets of Bucharest
Under the Streets of Bucharest