The National Islamic Front (NIF), which seized power in Sudan in 1989, is a totalitarian military regime that has declared jihad (holy war) against those who oppose it, mainly the African Christians of the South. So far the war has claimed 1.5 million lives and displaced 5 million more. Troops sweep into villages with Jeeps or on horses and camels, killing or enslaving everyone they track down, looting livestock and property, burning homes and crops.
We had the strange experience of talking with Arab traders who buy slaves in the north or help them escape so they can be sold back to their families. "What we are doing is a favor [and] we often lose money on these deals. If we are discovered by the government we will be killed."
We were able to redeem some slaves. Under a huge tree in Wunrok, hundreds of children and families were gathered in the hope of being reconciled. The Arab traders brought about 1,000 slaves down from the North. Local families paid for the release of over 200; 110 escaped. This left 671 who needed to be redeemed. Our team was able to secure the release of all these individuals, despite the fact that our funds, combined with those of the local community, fell short of the $100 a child proposed by the traders.
We interviewed some of those who had been redeemed:
Mayen Anyang, 52, Dinka: "I was at the market in Abin Dau with my family, including our five children, when the raiders came. We were all taken captive. I was tied by my wrists in a chain to other captives. The journey to the North was very hard. We had to walk for about two solid days. We were given scarcely any food, and I and my children were beaten. I have a scar on my wrist from where I was bound. At the end of my journey I was separated from my family and taken to a camp in Shetep. Those who ran the camp put constant pressure on me to convert to Islam. About twice a day they would tell me that I should convert. They told us that we should all become Muslim and then it would be possible to live together as brothers, but that if we did not they would kill us all. On several occasions this was accompanied by beatings. I was beaten severely with sticks. The upper bone in my arm now sticks out as a result of this beating. On another occasion, during the night, they came to me again and told me that I must become a Muslim and that they would beat me if I did not. I cannot change my religion. I am a Christian and have committed myself to Christ. So they attacked me, stamping on my chest. My greatest difficulty is that my whole body is in pain. Also, one of my wives and my five children are still in the North."
Kuot Tholong, 70, Dinka: "I was taken from my home village in April 1996. I heard the raiders coming and I hid in the grass, but the raiders set the grass on fire. Two men on either side of me were killed, but I was beaten up and taken to Nabaga and told to tend cattle and cultivate. My master, Kubri Ahmed, had three other male slaves; one was beaten and taken to the hospital, and two women slaves in their twenties. I could hear the women crying out at night when they were raped. I slept nearby under a tree."
Marol Mai, 42, Dinka: "My home has been destroyed by Northern raiders three times since 1993. In that year, soldiers and Arab merchants on horses, camels, and foot descended on us and took my entire herd of livestock, which was 32 cows. They burnt my home and took everything I possessed. They took my daughter, who was 10 years old. She is still in captivity in Shetep.
"I ran away and went with my family to Mayen Abun, where we tried to rebuild our lives. However, in 1995 we were again attacked by raiders. They came on horseback and foot and had guns. They entered my house and chased me away. Then they set fire to my house. They took my sons Bol (10), Maluk (8), and Deng (5). After this raid I was again left with nothing. I left Mayen Abun and went to live in Achan. However, in April this year the raiders came again. They burnt my hut and the little livestock I had (two cows). They beat my wife. They killed two of my children. Seven soldiers took me by force from my hut. They beat me and bound my wrists. I was taken by a slave master [who] beat me and shamed me, telling me that I was like a dog. I was told to become a Muslim. I can't convert to Islam. Christianity is my chosen religion so I don't want to change my beliefs. They beat me with sticks seven times altogether because I wouldn't convert to Islam, didn't learn Arabic, and because they wanted to force me to work harder."
Bol Marol, 10, Dinka (son of Marol Mai): "I was taken as a slave in 1995 and have been in slavery for three years. I was taken by a slave master [who] was very aggressive toward me. I was made to look after sheep and goats and to clean dishes. I worked from about 6 a.m. to 6 p.m. and they only gave me a little food. He forced me to go to the mosque with him on Fridays and beat me with sticks to make me go. I did not want to convert to Islam because I am a Christian and do not want to change my religion. What happened to me and is happening to others like me is a very bad thing."
The scale of these attacks is unprecedented. Unless aid reaches the victims, many more will suffer and die.
The Baroness Cox is president of Christian Solidarity Worldwide, P.O. Box 99, New Malden, Surrey, KT3 3YF, UK.
Have something to add about this? See something we missed? Share your feedback here.
Our digital archives are a work in progress. Let us know if corrections need to be made.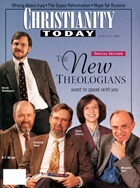 This article is from the February 8 1999 issue.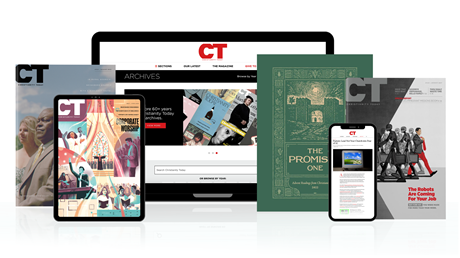 Annual & Monthly subscriptions available.
Print & Digital Issues of CT magazine
Complete access to every article on ChristianityToday.com
Unlimited access to 65+ years of CT's online archives
Member-only special issues
Subscribe
Baroness Caroline Cox: The Price of a Slave
Baroness Caroline Cox: The Price of a Slave