Pierre Bynum, a Maryland pastor was threatened with arrest by the U.S. Capitol Police in November 1996 for leading a group in quiet prayer. Bynum sued, and a federal judge ruled Monday that the prayer was not a form of demonstration. "While there certainly are types of expressive acts that rise to the level of a demonstration, any regulation that allows a police officer the unfettered discretion to restrict behavior merely because it 'conveys a message' or because it has a 'propensity to attract a crowd of onlookers' cannot survive a constitutional challenge," wrote U.S. District Judge Paul L. Friedman. (Read the decision in Adobe Acrobat or WordPerfect formats, and read more coverage by The Freedom Forum and The Washington Times.)
Despite warnings from the world's leaders of the Anglican Communion that ordaining homosexuals "threatened the unity of the communion in a profound way," Frank T. Griswold III, presiding bishop and primate of the Episcopal Church of America says it is "unrealistic" to think gay ordinations will stop. "I cannot imagine any diocese altering its present direction in the light of anything that has happened, either here or in Portugal," he told members of the denomination's House of Bishops.
Members of Congress are now calling on the fundamentalist school to sever its ties to Ian Paisley, leader of Ireland's Democratic Unionist Party. "Paisley has done his utmost to stir up sectarian violence between Protestants and Catholics," wrote Peter King (R-N.Y.) in a letter signed by several other Congressmen. Paisley has visited the school more than 50 times and received an honorary doctorate in 1966.
Every Saturday this month (plus Easter Sunday), Turner Classic Movies will air films that particularly focus on religion. Monsignor Tom Hartman and Rabbi Marc Gellman, the "God Squad" of Good Morning America and Don Imus's radio show, will discuss the films, which have been divided into "biblical classics," "the Jewish experience," "movie priests and cinema sisters," and "stories of faith." Perhaps it's a cheap shot, but one wonders how much input Ted "Christianity-is-a-'religion-for-losers'" Turner still has at the channel that most clearly bears his name.
Social scientist Julius Rubin, author of The Other Side of Joy: Religious Melancholy Among the Bruderhof, has been sued, had his publisher sued, and been "harassed" for his book. He simply saw it as a continuation of his 1993 book, Religious Melancholy and Protestant Experience in America, which focused on nineteenth-century examples of how passionate believers can become despondent and feel abandoned by God. The Bruderhof saw things differently.
"Hindu activists are visiting non-Christian homes in [ Midnapur, West Bengal] and creating a negative atmosphere about the Church and the local missionaries," Herod Mullick, secretary of Christian umbrella organization Bangiya Christiya Parisheba says. "The situation has reached an extent that the local padres are afraid to enter the tribal villages."
Metal detectors and X-ray machines will be set up in the colonnade around St. Peter's Square, the Vatican announced Saturday. Though the Vatican usually avoids overly obvious security measures, but the Italian police are apparently adamant.
Brian Souter, whom The Times calls "one of Britain's best known boardroom born-again Christians," and his family have lost about 75 percent of their wealth. "The magic touch of Mr Souter seems to have deserted him," writes The Times's Patience Wheatcroft, "and it can be no coincidence that it has coincided with the profile he has taken on Clause 28 [which prohibits the promotion of homosexuality in British schools], leading to him being branded homophobic."
Related Elsewhere
See our past Weblogs:
April 4 | 3
March 31 | 30 | 29 | 28 | 27
March 24 | 22 | 20
March 17 | 16 | 15 | 14 | 13
March 10 | 9 | 8 | 7
February 18 | 17 | 16 | 15 | 14
February 10 | 9 | 8 | 7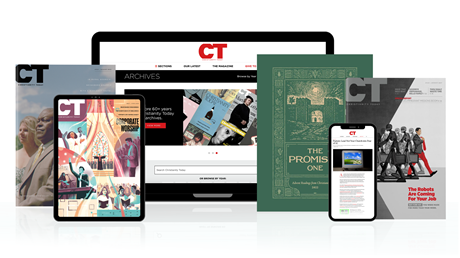 Annual & Monthly subscriptions available.
Print & Digital Issues of CT magazine
Complete access to every article on ChristianityToday.com
Unlimited access to 65+ years of CT's online archives
Member-only special issues
Subscribe
Quiet Prayer in the Capitol Okayed by Judge
Quiet Prayer in the Capitol Okayed by Judge