The sentence of life imprisonment given to Pakistan's deposed prime minister Nawaz Sharif by a special court last week has prompted mixed reactions from Pakistan's church leaders, with many local Christians declaring that life has improved under the nation's unelected military leader, General Pervez Musharraf. Samuel Pervez, a bishop of the Church of Pakistan and president of the National Council of Churches of Pakistan (NCCP), told ENI April 10: "Some say it [the sentence] is good, others say it is bad." Speaking by telephone from Gujranwala in the diocese of Sialkot in northern Pakistan, Bishop Pervez said the verdict had "neither shocked nor surprised" the people.Sharif was ousted by a military coup last October led by the head of Pakistan's military, General Musharraf, who has since assumed the title of Chief Executive of Pakistan. Sharif was tried in a special court for ordering the "hijacking" of the plane carrying the general back to Pakistan from Colombo, Sri Lanka, last October 12. Victor Azariahs, the NCCP's general secretary, told Ecumenical News International (ENI) that most people were "not much worried" by the sentence. The NCCP is a forum of Protestant churches and related institutions, including the Protestant Church of Pakistan, the Presbyterian Church, the Salvation Army and the Association of Reformed Presbyterian Churches. The NCCP's members account for nearly half of Pakistan's 3 million Christians. Pakistan also has a big Roman Catholic community. About 97 percent of Pakistan's 140 million people are Muslims.Pakistan's Catholic bishops have yet to respond to ENI's request for comment on the jail sentence for the 52-year-old former prime minister.Azariahs told ENI by telephone from the NCCP's offices in Lahore that "the judgment [on Sharif] is not final and the court battle is only beginning." He pointed out that Sharif's supporters and the prosecution had announced plans to appeal against the verdict.While the deposed Prime Minister is to challenge in Pakistan's high court what his supporters called the "engineered" verdict sentencing him to two concurrent life terms (25 years each under Pakistani law), as well as the confiscation of all his assets, the prosecution is "aggrieved" over the acquittal of several other men accused in the case, including Sharif's brother."In fact, the judgment has come as a relief as some [people] were afraid of a death sentence [for Sharif]," said Cecil Chaudhry, a leading Catholic activist based in Lahore."The mandatory punishment for acts of terrorism is the death sentence. In this case, the punishment has been reduced to a life sentence," said Chaudhry, who is the secretary of the National Christian Action Forum, an ecumenical lobby group supported by the NCCP and by Catholic organizations.Almost six months after the army chief overthrew the unpopular government of Sharif's Pakistan Muslim League, Christians are generally "happier" under the new government, according to church leaders.Bishop Pervez said that with the exception of some political parties and their supporters, most Pakistanis were happy under the new government of General Musharraf."There has been an overall improvement socially and economically," said the bishop. More importantly, he added, the past six months had been "trouble-free" for Christians who in recent years had been subjected to abuse and even violence from Muslim fundamentalists, and accused of blasphemy against Islam."The sectarian elements [Muslim fundamentalists] have been checked. So we have a peaceful life," said Bishop Pervez.Chaudhry told ENI that in recent months no new charges of blasphemy had been brought against Christians by Islamic fundamentalists. "They [Muslim fundamentalists] are lying low now," he said. "This is a big relief to us."Chaudhry added that before it was overthrown the Sharif government had been trying to introduce Shari'a (Islamic) law "to please the Islamic lobby," despite opposition from Christians, human rights groups and opposition parties.The new government had already publicly stated that it would abolish Pakistan's electoral system based on religion, Chaudhry said. "We are very happy about this. This has been one of our main demands."The electoral system, introduced in 1985, excludes minorities, including Christians, from the political mainstream—Christians are confined to a separate electorate in which they are allowed only to choose four Christian members in the 247-member national assembly.Victor Azariahs also welcomed comments on 7 April by the Pakistani interior minister, Moinuddin Haider, who spoke about restoring the "joint electorate." But Azariahs said that while Christians "eagerly" awaited legislation "to end the irrelevance" of Christians in Pakistan, churches also wanted a swift restoration of democracy.Copyright © 2000 Ecumenical News International. Used with permission.
Related Elsewhere
Christianity Today's past coverage of Pakistani Christians includes:Pakistan's Despised Christians | Despite a Catholic bishop's protest suicide in 1998, Christians hold little hope for repeal of blasphemy law. (Apr. 26, 1999) Islamic Law Proposal Raises Tensions (Dec. 7, 1998) Pakistani Bishop's Death Sparks Riots (June 15, 1998) Muslims Destroy Christian Village (Apr. 7, 1997)See also the Pakistan entries in the U.S. Department of State Report on International Religious Freedom and Country Report on Human Rights Practices.For the latest news on and from Pakistan, see DAWN (Pakistan's biggest English-language newspaper), The Pakistan Observer, the BBC, and Yahoo!'s full coverage.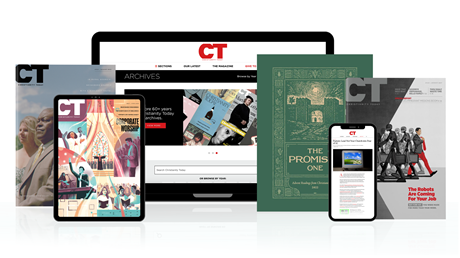 Subscribe to Christianity Today and get access to this article plus 65+ years of archives.
Home delivery of CT magazine
Complete access to articles on ChristianityToday.com
Over 120 years of magazine archives plus full access to all of CT's online archives
Subscribe Now
Pakistan's Christians 'Not Shocked' by Life Sentence for Former PM
Pakistan's Christians 'Not Shocked' by Life ...