Cuba's Protestant churches intend to play an important "intermediary" role in what are expected to be imminent years of change and transition within Cuba, according to the new general secretary of the Cuban Council of Churches (CCC).Speaking on April 19 at a public forum at New York's Interchurch Center, three days before federal officials seized Elián González from his Miami relatives to reunite him with his father, Reinerio Arce singled out the González case as an example of how churches in Cuba, working with ecumenical partners in the US, had been able to bring Cubans and Americans together amid continuing hostility between Washington and Havana.During the initial stages of the custody battle over the six-year-old Cuban boy, the CCC and the US National Council of Churches had worked together as intermediaries, boosting efforts to unite Elián with his father."The church has been the only bridge between Cuba and the United States," said Arce, adding he that expected the role to grow in coming years. "Churches will continue to have an important role in the transformation of Cuban society."Part of that role would be acting as a "bridge" between the two governments and between the Cubans in Cuba and those in the United States, Arce said. The Elián case demonstrated, he said, that much reconciliation would be needed."We have to begin to address what our relations will be after the [US economic] blockade is lifted," he said, adding that US churches should still work towards ending the blockade. "We need to begin a dialogue, to prepare for the future," he said.Asked by ENI what specific role he saw for the churches, Arce said the González case offered a model because the councils of churches in both countries had worked together and helped establish further contact between representatives of both countries. "The Elián case is an example of the sort of thing we can do together," said Arce, who was recently appointed general secretary of the Cuban Council of Churches, which was founded in 1941, and now has 25 member denominations, as well as 11 affiliated ecumenical organizations.In recent years the CCC has concentrated on humanitarian and relief efforts and has also initiated health and environmental projects. The CCC has also set up a center for the study of Cuban religion.Cuba's future after the retirement or death of President Fidel Castro, who is 73 years old, has long been the subject of intense speculation. Whatever happens, extensive changes are expected within Cuban society. The Elián controversy may in fact accelerate the changes, as President Castro has welcomed the US government's decision that Elián should be with his father.One possible scenario is the lifting of the 40-year US economic embargo against Cuba, allowing a massive influx of money into Cuba. Some of that money would probably support the arrival of big US-led mission churches.One of the few benefits of the US blockade, Arce said, was the freedom of Cuban churches to develop independently of such large churches.There is concern that large mission churches might take root in Cuba and, with their massive US funding base, threaten churches that have developed without much financial aid or support from outside.Arce said that a strong ecumenical movement would be needed to keep the existing churches strong and united.For years the Cuban government curtailed the activities of churches. But in the past decade, Cuba's churches have been experiencing a rebirth and greater liberty. Last year the CCC's study center estimated that 300,000 Protestants and 280,000 Roman Catholics worshipped regularly. The total population is 11 million.Copyright © 2000 Ecumenical News International. Used with permission.
Related Elsewhere
See today's related Elián González coverage at ChristianityToday.com, " Family Over Freedom | With Elián returned to his father, Cuban Christians say he should come home. Are they being honest, or fearful of reprisals?" and " National Council of Churches Welcomes End to 'Miami Circus' Over Elián | General secretary laments use of force, but says he's relieved child is back with father."For continuing coverage of the Elián González dispute, including links to news stories, opinion pieces, and related Web sites, see Yahoo!'s full coverage area on the subject.Our earlier coverage of evangelicalism in Cuba includes:The War for Elián | Miami churches protest NCC efforts to return Elián González to Cuba (Feb. 25, 2000) Cuba's Next Revolution | How Christians are reshaping Castro's communist stronghold (cover story, Jan. 12, 1998) Cuban Catholics Make Gains, but Protestant Rights Limited (Feb. 8, 1999) Cuba's Evangelicals Come Up for Air (June 14, 1999)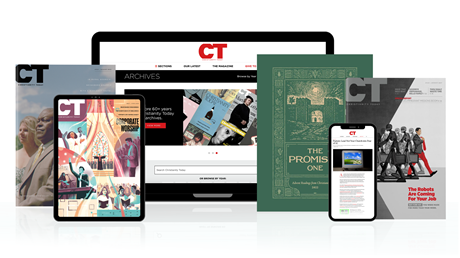 Subscribe to Christianity Today and get access to this article plus 65+ years of archives.
Home delivery of CT magazine
Complete access to articles on ChristianityToday.com
Over 120 years of magazine archives plus full access to all of CT's online archives
Subscribe Now
After Eli n Cuba's Churches Will Play Leading Role in Time of Transition
After Eli n Cuba's Churches Will Play Leading Role ...