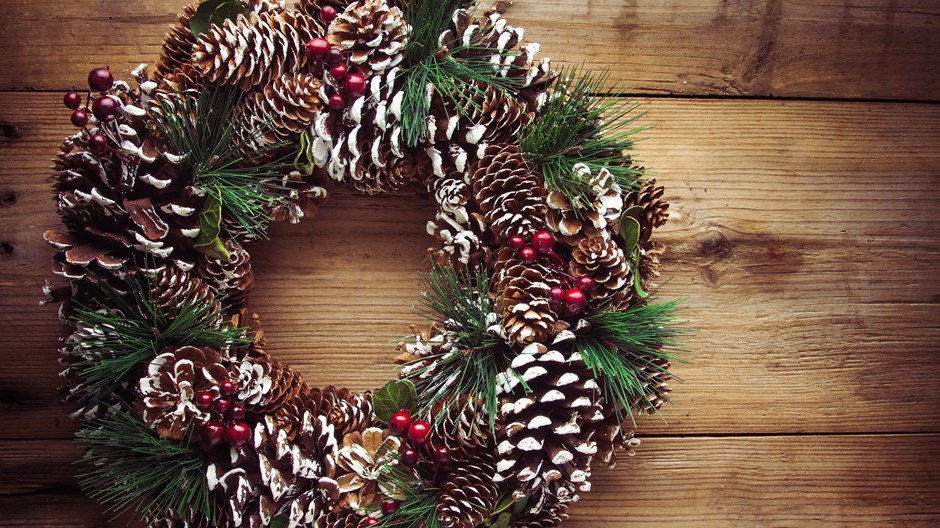 Image: Ekaterina Kondratova / Shutterstock
A few weeks ago, a reader asked about the origin of the wreath. She had heard that it was meant to be a symbol of Christ's crown of thorns. That connection is a stretch, but the wreath and other Christmastime foliage have symbolized many things over the centuries, some of them Christian.
The wreath seems to represent a convergence of two lines of tradition. On one side, it's probably related to circlets worn on the head. In cultures of the ancient Persian Empire, nobles wore diadems of fabric and sometimes jewels, and Greeks rewarded Olympic victors and other high achievers with laurel crowns. It's unclear how such headgear was transformed into wall decor, but perhaps people just hung their crowns up as souvenirs. Neither Christmas nor Advent wreaths are worn as headbands, though for the Swedish festival of St. Lucia, on December 13, the family's eldest daughter wears a headpiece decorated with greenery and nine lighted candles.
Though early Roman Christians used laurel in their Christmas decorations because it symbolized victory, glory, and cleansing from guilt, Europeans largely favored evergreens. This shows the modern wreath's other heritage: German and Celtic solstice festivities. In cold, northern climates, people latched onto anything that represented light and life against darkness and despair. As a result, their favorite winter symbols included torches (analagous to Advent candles) and plants that stayed green all year. A wreath with burning candles, then, is related to the Yule logラa good-luck charm held over from the 12-day Norse winter festival of Jol. Christmas candles may also be related to Hanukkah candles, as both of the nearly concurrent observances celebrate holy light.
Though wreaths have no direct connection to Christ's crown, holly does. European Christians in the Middle Ages said that its prickly leaves and red berries represented thorns and drops of blood. Some also believed that the cross was made of holly, though others believed it was made of oak. Holly used in Christmas decorations was often kept after the holiday for protectionラagainst witchcraft in England and against lightning in Germany.
Decorative mistletoe, too, usually lasted beyond the Christmas season, until Candlemas (February 2) or even until the next year, when a new sprig took its place. The kissing tradition stems from an old Scandinavian custom whereby enemies who met under mistletoe in the forest would lay down their weapons and maintain a truce until the next day. Mistletoe is usually excluded from church decorations, for the obvious reason, but also because the plant was worshiped by Druids, who believed it could cure all diseases.
Perhaps the only Christmas plant without pagan superstitions attached to is the poinsettia. Dr. Joel Roberts Poinsett, the American ambassador to Mexico, brought the flower to this country in 1829. Mexicans call it the "flower of Holy Night" because its red bracts (they're not petals) make a shape like the Star of Bethlehem. According to a Mexican legend, long ago a poor boy was afraid to enter the church on Christmas Eve because he had no gift to bring the baby Jesus. In prayer, the boy told God that he really wanted to bring a gift but could not afford one. When the boy opened his eyes, a poinsettia bloomed at his feet. He joyfully brought the plant inside, an act that might relate to the practice in many churches of decking the altar with poinsettias.
Christian History Corner will be taking next week off, so Merry Christmas, Happy New Year, and we'll see you in the real new millennium.
Elesha Coffman is associate editor of Christian History.
Related Elsewhere
Information for this article was found in Holiday Symbols, edited by Sue Ellen Thompson (Omnigraphics, 1998), and at www.neiu.edu/~history/wei3.htm
Read about the significance of Christmas Trees.
Learn more about holiday symbols like holly, mistletoe, and laurel.
This article from The Corpus Christi Caller-Times discusses the symbolism of evergreens.
More about pointsettas.
Christian History Corner appears every Friday at ChristianityToday.com. Previous Christian History Corners include:
Peace on Earth? | Christmas Carols and the Civil War (Dec. 15, 2000)
Why December 25? | The month and day of Christ's birth have been hotly disputed for centuries. (Dec. 8, 2000)
The Book Everyone Should Buy | Or at least know about, anyway. (Dec. 1, 2000)
The Saga of St. Chad | A tale of political maneuvers and positioning. Sound familiar? (Nov. 22, 2000)
Accidental Radical | Jan Hus's ideas seem normal now, but in his age they were revolutionary enough to merit death. (November 17, 2000)
Top 10 Reasons to Read This Book | A list of Christian books that changed the century introduces authors and their impact on evangelicalism. (Nov. 10, 2000)
The Un-Denomination | The Southern Baptist Convention has been historically Un-Conventional. (Nov. 3, 2000)
Soul Crisis at the Conference on Faith and History | Academics gather asking questions like, "What does 'Christian history' actually mean?" (Oct. 27, 2000)
Case of the Missing Relic | A piece of Jesus' cross is stolen from a Toronto cathedralラor is it? (Oct. 20, 2000)
The Politicians' Patron | Is Thomas More a saintly model? (Oct. 13, 2000)
General Revelations | Reconsidering Robert E. Lee and Ulysses S. Grant. (Oct. 6, 2000)
Olympia Revisited | Christianity and the Olympic Games were once competitors, but at other times have been on the same team. (Sept. 29, 2000)
Weighty Matters | Gwen Shamblin's teachings sound an awful lot like some in the early churchラand not in a good way. (Sept. 22, 2000)
In Errancy | Want to know what's wrong with the Western church? Start with a list. (Sept. 15, 2000)
"Kill Them All" | The medieval church was deadly serious about eliminating 'heretical' Cathars. (Sept. 11, 2000)
All Together Now | What qualifies as an ecumenical council anyway? (Sept. 1, 2000)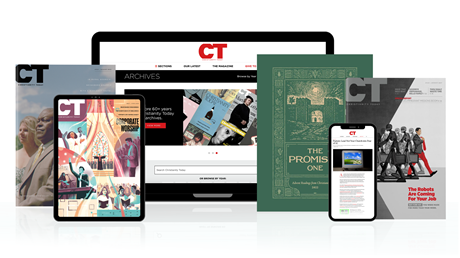 Annual & Monthly subscriptions available.
Print & Digital Issues of CT magazine
Complete access to every article on ChristianityToday.com
Unlimited access to 65+ years of CT's online archives
Member-only special issues
Subscribe
Festive Flora
Festive Flora