Salvation Army marches away from military look
"The military-style uniform of the Salvation Army is to be jettisoned for a more up-to-date look which could see bandsmen marching in baseball caps, shorts and trainers," reports the London Times.
Indiana okays Ten Commandments in public buildings
The Indiana House voted 91-7 to allow schools to post the Decalogue as part of a historical documents display. The bill should sail through the Senate, and the governor says he'll sign it. But Indiana is only the beginning: nine other states will vote on Ten Commandments postings in the coming weeks, reports The Washington Post. (See also the Associated Press's coverage and yesterday's Chicago Tribune story on the brewing fight over a similar measure in Illinois.)
'Predominant view' of irregular Anglican consecrations 'one of extreme displeasure and concern,' says Episcopal Church Presiding Bishop
"What we're talking about is not the compassion and love of Christ being unleashed in a needy world," Frank Griswold tells Religion News Service. "We're talking about a fight in an ecclesiastical household. How sad it is that this kind of thing … galvanizes public interest and not the capability of the church to be a community of reconciliation." Meanwhile, in his weekly column, Regent University communications professor Terry Mattingly takes a look at Griswold (whom he quotes as saying, "Broadly speaking, the Episcopal Church is in conflict with scripture"), John Shelby Spong, and other Episcopalians he implies are to blame for the split. And the bishop of one of the priests consecrated says he's "still trying to determine if [he] can remain a priest in the diocese." 'Intelligent design' theory inherently religious, claims ACLU
The American Civil Liberties Union says a Seattle area biology teacher can't discuss "intelligent design" in the classroom or it will sue. "I take issue with it being a religious thing," says the teacher, who assigned his students to writer a paper offering the five best evidences for either evolution or design. "I never mentioned God."
New York Post attacks Bob Jones University too, but not for ban on interracial dating
"What's much less known is that the school maintains another of its founder's ugly traditions: anti-Catholicism," writes columnist Rod Dreher. "The hotheaded loudmouth [Bob Jones, Jr.] has advocated violence against Catholics, and denounced the Catholic Church as 'the mother of harlots and the abomination of the Earth.' " Dreher points out that candidate Alan Keyes—who's black and Catholic—is scheduled to speak at the school, but "so desperate for votes [he'd] probably speak to inmates at the dog pound."
Are you uneasy about 'increasing emphasis on gender-conscious spirituality'?
Vancouver Sun Columnist Douglas Todd bets you are, and apparently decides nothing eases the tension better than a joke. Or two. Todd finally stops telling jokes and gets to the point of his story ("that so-called patriarchal institutions are more attractive to females than males"). But sadly, it's not very well reported and accepts a lazy explanation for why there aren't that many men in church.
Related Elsewhere
See our past Weblogs:
February 8 | 7 February 3 | 2 | 1 | January 31 January 28 | 27 | 26 | 25 | 24 January 21 | 20 | 18 | 17 January 14 | 13 | 12 | 11 | 10 January 7 | 6 | 5 | 4 | 3 December 30 | 29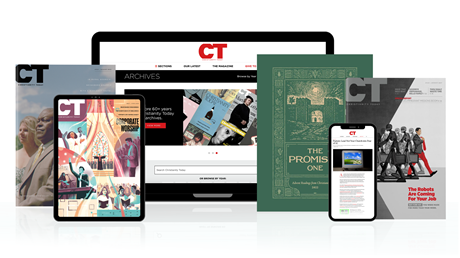 Annual & Monthly subscriptions available.
Print & Digital Issues of CT magazine
Complete access to every article on ChristianityToday.com
Unlimited access to 65+ years of CT's online archives
Member-only special issues
Subscribe
The Salvation Army Goes for the Casual Look
The Salvation Army Goes for the Casual Look