Bowling Alone: The Collapse and Revival of American Community, by Robert D. Putnam, Simon & amp; Schuster, 516 pages, $26. In 1954 my aunt and uncle, flush from rising wheat prices and an oil well, purchased a new Buick and joined the only form of entertainment within driving distance of their Kansas farm& amp; amp;mdash;a bowling league. They were part of a national trend. By the early 1960s, more than 8 percent of American men and 5 percent of American women had joined bowling leagues.But the nation's interest in bowling leagues soon passed. Fewer than 3 percent of Americans went bowling in leagues by 1998. My aunt, now a widow who lives alone, is too old to bowl. Her son, who lives 2,000 miles away, bowls alone if he bowls at all.For Robert Putnam, a professor at Harvard's Kennedy School of Government, the lonely bowler is emblematic of the serious collapse of community that has taken place over the past 30 years.Americans no longer spend as many evenings with their neighbors, less often join civic organizations like Kiwanis and the League of Women Voters, less frequently believe that other people are honest and trustworthy, and more and more adopt a private stance toward their religious convictions. Voter turnout, attending political rallies, working for political parties, and serving on local committees have all diminished markedly since the early 1970s. Many observers have commented on the rampant individualism that undermines Americans' community spirit. Indeed, polls show that a majority of Americans perceive the breakdown of community as a serious national problem. Yet most of the discussion about declining community consciousness has been conducted without benefit of solid evidence.Until now. Putnam has amassed more data on social trends than anyone in recent memory. With assistance from several major foundations and a stable of research assistants, he has spent the past six or seven years tracking down and analyzing virtually every conceivable piece of evidence about Americans' participation in their communities. The result is a veritable compendium of facts and figures about civic life.We learn, for instance, that voter turnout in national elections has actually decreased more than most observers have imagined& amp; amp;mdash;the reason being that the precipitous decline in northern states has been somewhat offset by rising voter turnout among black voters in the South since the cessation of Jim Crow laws. We learn that Americans spent about 80 minutes a day schmoozing with their friends in 1965 but only 57 minutes a day doing this in 1995. And we learn that Americans spent about twice as much time playing cards in the 1970s as they do now. Putnam "guesstimates" that no more than 10 percent of Americans' declining involvement in their communities is attributable to increasing workplace pressures, that 25 percent of the problem stems from watching too much television, and that at least half the trouble reflects baby boomers and Generation Xers simply not being as civic-minded as the generation that fought in World War II. These guesses are backed up by some evidence, although Putnam's arguments about cause and effect are often more speculative than one would wish.He also documents some of the benefits of high community participation: better schools, less violent crime, fewer fistfights, lower rates of tax evasion, and citizens who report leading happier lives. Unfortunately, Putnam's analysis of these data does not take into account other factors that might explain these differences among states (such as the proportion of residents who live in cities, racial differences, or differences in age distributions and income levels). His argument that social connectedness is associated with being healthier is, however, consistent with other studies showing that active church members tend to live somewhat longer and report fewer serious health problems than people who do not go to church.
Religion on the Wane?
Although the book focuses on other kinds of community, Putnam includes a valuable summary of trends in American religion. He shows that church membership and attendance increased until the 1960s but have declined by as much as 10 percent since then. Like other observers, he worries that baby boomers' spirituality may be too inward to generate strong community involvement. His overall assessment& amp; amp;mdash;based largely on a measure that he constructs by combining various surveys asking about church attendance& amp; amp;mdash;is that American religion is weaker now than a half-century ago.Yet he also notes some recent signs of vitality: the vibrancy of evangelical churches, the large percentage of congregations that provide social ministries to their communities, the evidence that people are joining small Bible-study groups and that such groups are generating stronger commitments to service within churches and in the wider community, the growing importance of faith-based nonprofit organizations, and the recent growth in church-based community organizing. Putnam somehow thinks these signs of vitality are not, on the whole, very impressive& amp; amp;mdash;a view that is perhaps rooted more in his pessimistic outlook about American society in general than in a thorough understanding of American religion. In the last ten pages of the book Putnam discusses (all too briefly) how the present collapse of community might be halted and reversed. He calls on Americans over the next decade to encourage children and teenagers to be as civic-minded as their grandparents, to resist workplace pressures that erode the family, to travel less and interact more with their neighbors, to spend less time watching television, and to participate in the public life of their communities.Recognizing the historic importance of religion, he also calls for a new "great awakening" (he does not say how this might happen) that will draw more Americans into "spiritual communities of meaning."The social scientist in me responds, yes, but what about the millions of inner-city families working two or three jobs at minimum wage just to pay the bills? How will they find the time and energy to do more than what they are doing?What about the thousands of urban neighborhoods in which civic organizations will have to be reinvented virtually from scratch?And what about the trillions of dollars now being invested to encourage us to spend even more time watching television, surfing the Internet, and purchasing unnecessary consumer goods?Nor does he persuade me that Americans are genuinely less civic-minded now than in the past. Quite a lot of evidence (which Putnam ignores or misinterprets) suggests that our social connections are changing rather than simply weakening: more of us are volunteering than ever before (even though we may volunteer for only a few hours a week), and this is true among the young as well as the old; more of us serve by working in nonprofit organizations (which have grown by 500 percent since the 1960s); more of us spend evenings with friends outside our neighborhoods (even though we visit less often with our neighbors); and more of us join Bible studies and other self-help groups, which in turn lead us to volunteer at our churches, join community-service projects, and become more interested in social and political issues.Still, Putnam does us all a service by reminding us of our civic responsibilities. Americans have as much freedom now to make informed moral choices as they ever have. Just because social institutions sometimes seem to be unraveling does not mean we have to sit passively waiting for their further demise.
Robert Wuthnowdirects the Center for the Study of Religion at Princeton University. He is author of Loose Connections: Joining Together in America's Fragmented Communities (Harvard, 1998).
Related Elsewhere
See today's related article," The New Civic Family." Bowlingalone.com has detailed information about the decline of community, reviews of Putnam's book, an interview with the author, lists of ways Americans can reconnect with one another, and a number of excellent related links.Robert Putnam's original Journal of Democracy article" Bowling Alone: America's Declining Social Capital" is available online. Bowling Alone is available from Amazon.com and other book retailers.Wuthnow's home page at Princeton offers a listing of his books and links to a number of his articles.Last year, Wuthnow was one of the panelists on an Australian Broadcasting Corporation radio program titled " In God We Trust: Civil and Uncivil Religion in America." He was also a guest on a 1997 PBS Newshour segment dealing with American spirituality.Leadership, our sister publication, looks at how one church is building community from scratch, shows how to connect women in communities, and examines the quest for community. Beliefnet reports on how one woman is trying to maintain her identity in the midst of a church community. An article posted by a British writer looks at the meaning of Christian community in our postmodern age. A speech delivered by John Perkins at the Family Research Council looks at Christian community development.
Have something to add about this? See something we missed? Share your feedback here.
Our digital archives are a work in progress. Let us know if corrections need to be made.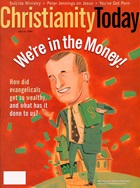 This article is from the June 12 2000 issue.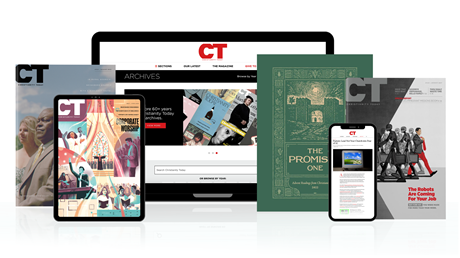 Subscribe to Christianity Today and get access to this article plus 65+ years of archives.
Home delivery of CT magazine
Complete access to articles on ChristianityToday.com
Over 120 years of magazine archives plus full access to all of CT's online archives
Subscribe Now
A Lonely Day in the Neighborhood
A Lonely Day in the Neighborhood