In the town where Australian missionary Graham Staines and his sons were burnt alive in 1999, 72 tribal Christians filed affidavits saying they were going back to Hinduism (residents of the area are required to notify the government when changing religion). They said they had initially become Christians in hopes that it would lessen malarial fever, but it did not happen. Christians later protested the reports in Calcutta, saying the reconversion stories were a"bluff."
"No religious groups have announced protests at this year's event, unlike in past years," reports the Associated Press. Instead, this year's Southern Baptist Convention, in Orlando the week after Gay Days, will be protested by homosexual activists.
Alabama Circuit Court Judge Roy S. Moore, who gained headlines a few years ago when he refused to take the Ten Commandments off his courtroom wall, looks set to win in Alabama's primary election today."Judge Moore's primary political assets are his name recognition and his reputation as a man of conviction," writes New York Times reporter Kevin Sack."A victory by Judge Moore would affirm that there are places in the country, and Alabama has been the epicenter, where voters are simply fed up with the breadth of the separation between church and state."
As Israel's troops pull out of Lebanon, so does Pat Robertson's Christian Broadcasting Network."All our employees have arrest warrants out for them," says CBN's vice president of programming for Middle Eastern Television. CBN employees say they would likely be persecuted by Hezbollah guerrillas if they stayed.
Father Richard Roberge of St. Joseph Church in Berlin, N.H., says his church's crucifix isn't bleeding. But that's not what hundreds upon hundreds of visitors have heard. The church is now overrun with miracle-seekers. Maybe they should start planning their trips to Italy, where the Shroud of Turin will again be on display from August 13 to October 22.
"Given the tendency on the part of the media to demonize pedophiles and make it very difficult for sex offenders to rebuild their lives … we believe that the church has a significant role to play in offering them and their families pastoral support, to encourage their responsible involvement in church and society." So says a report to be presented at the annual conference of the U.K.'s Methodist Church this month.
"Thousands of congregations across the country are harnessing technology and innovative programming to pump new life into church school," reports the Chicago Tribune."Boring curriculum is out, replaced by an upbeat mix of traditional elements and creative forays into drama, puppetry, computer learning, TV production, movie-making and radio. Forget little wooden chairs in a circle. Say hello to Bible-study class in the cozy confines of Mary and Martha's Bed & Breakfast. Instead of sitting on chairs, students stretch out on an Oriental rug." OK, but they'd better still have crafts made out of tongue depressors.
The story of Beulah Saki, who was told by her Cape Town church that she was cured of her HIV, is a sad one indeed. Tests have come back positive since the healing, but she refuses to believe them."I think it is only Satan's work that the test came back positive," she says."I thought the doctor was lying." The church's ministers, who initially publicized her"healing" when preliminary tests came back negative, blame her for testing positive:"The Bible says go and sin no more, and if you continue in sinful things, there will be no change." Doctors and religion professors are quoted by the Cape Times as calling the church's claims"the worst form of cheap religiosity that one can imagine."
"In a moment of stupidity and weakness I allowed Satan and the world to dictate terms to me," says famed Christian cricket player Hansie Cronje, who was fired as South Africa's cricket captain after he admitted taking money from a bookmaker."The moment I took my eyes off Jesus my whole world turned dark." The story, first reported in South Africa's Daily Mail and Guardian, has been republished throughout the cricket world.
"What's still sacred in our society?" asks Karl Lehmann, president of the German Catholic Bishops' Conference."Holiday trading gives the impression our society only cares about profit, and that's the wrong signal."
At the end of an interview with Premiere magazine, the director of Mission Impossible 2 is asked,"One memorable trademark of your films is the frequent use of doves, from The Killer to Face/Off. What do the doves mean to you?" He replies,"I love doves. I am a Christian. Doves represent the purity of love, beauty. They're spiritual. Also the dove is a messenger between people and God. When I was in high school and I used to draw posters for the church, I would draw a picture of a dove. When I shot The Killer, these two men, the killer and the cop, they work in different ways, but their souls are pure, because they do the right thing. In the church scene, I wanted to bring them together. I wanted to use a metaphor of the heart. I came up with doves—they're white. When the men die, I cut to the dove flying—it's the soul, rescued and safe, and also pure of heart. So the dove became one of my habits: I used it in Hard-boiled, Face/Off, and in [M:I-2], at the end of the movie." Premiere asks the natural followup question,"Which souls are saved in M:I-2?""I cannot tell you," replies Woo.
Related Elsewhere
See our past Weblogs: June 5 June 2 | 1 | May 30 May 26 | 25 | 24 | 23 | 22 May 19 | 18 | 17 | 16 | 15 May 12 | 11 | 10 | 9 | 8 May 5 | 4 | 3 | 2 | 1 April 28 | 27 | 26 | 25 | 24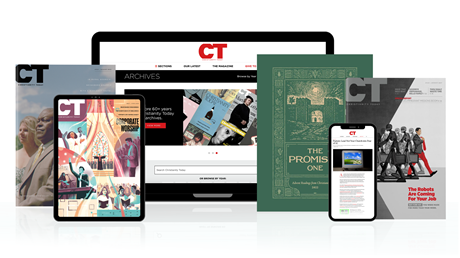 Subscribe to Christianity Today and get access to this article plus 65+ years of archives.
Home delivery of CT magazine
Complete access to articles on ChristianityToday.com
Over 120 years of magazine archives plus full access to all of CT's online archives
Subscribe Now
India's Christians Reportedly Convert En Masse to Hinduism
India's Christians Reportedly Convert En Masse to Hinduism