With the appointment of Valentin Paniagua, a political moderate and the head of the opposition-led Congress, as interim President of Peru, new hope is surfacing for the thousands of imprisoned Peruvians who were forced to cooperate with Shining Path terrorists.
Numerous cases have been under official review for years, and some prisoners have even been recommended for pardon, but because of Peru's corruption and recent political turmoil under ex-President Fujimori, many men like Edgar Cahuana Curi remain behind bars.
Shining Path knew that fear was a powerful tool to force Peruvians to obey them. The leftist guerrilla terrorist movement used it in the 1980s and early 1990s in their quest to impose communism on Peru. The Shining Path movement ultimately was crushed, but Peru's prisons are still filled with its victims, including Cahuana Curi, according to Peace and Hope Association lawyer Wuille Ruiz.
Cahuana Curi sought a better life. The son of poor farmers, he had moved with his parents from their Quechua Indian community in the Andes to Callao, a sister community adjacent to Lima. He worked hard to finish secondary school and was working odd jobs to support his family when an unknown militant of the terrorist group Shining Path forced Cahuana Curi to store a container in the house. The militant did not disclose the container's contents, but refusing to keep it was not an option, Cahuana Curi's lawyer said.
"One of the methods used by the terrorists in their work to get people to collaborate with them was to threaten them," Ruiz said. "This forced Edgar to accept the terrorists' package for fear for his own life and that of his family members. This didn't just happen with Edgar but also with many others."
On August 14, 1993, a beer distributor's truck was robbed near Cahuana Curi's house. Police detained a man for questioning and tortured a confession from him. To stop the torture, the man fingered Cahuana Curi.
Cahuana Curi, his parents and wife were at home when police stormed their house. Police began beating them and accused them of taking part in the robbery of the truck.
"When he heard the police say they all were going to be arrested, even his mother and wife whom the police were beating, Cahuana Curi confessed to having the container hidden in his back yard," Ruiz said, adding that up to that point, the police had found nothing in the home to link the family to terrorism.
Police opened the container and found bullets, rifles and medicine. They arrested Cahuana Curi. That night, officers from DINCOTE, the national terrorism police, returned to the house and arrested his parents, Cerefino Cahuana and Teofila Curi, and accused them of terrorism.
Initially, they were judged by a military court for treason, but their case was moved to civil court because they were charged with collaborating with terrorists. Two years later, a civil court acquitted his mother, but Cahuana Curi and his father were convicted and sentenced to 20 years.
In 1997, the now-defunct Ad Hoc Commission, which reviewed cases and recommended pardons, determined that his father had been convicted with insufficient proof and recommended a pardon for him, which President Alberto Fujimori signed. In its final report, Ad Hoc recommended that Cahuana Curi and 46 others sentenced for terrorism should be tried for common crimes and did not refer his case to Peru's president.
Meanwhile, Cahuana Curi remains in Lima's Castro Castro prison, where he has become a Christian and an active member of the church behind bars. "He has taken part in the evangelical group within the prison's Christian community and tries to help his family by working" to make crafts to sell, Ruiz said.
Copyright © 2000 Compass Direct
Related Elsewhere
Recent media coverage of Peru's new interim president includes:
Foes settling score with Fujimori, allies—The Boston Globe (Nov. 27, 2000)

"I know I have the moral capacity to govern": Fujimori—AFP (Nov. 27, 2000)

Fujimori's departure a peaceful one—The Seattle Times (Nov. 26, 2000)

Peruvian generals sacked—BBC (Nov. 26, 2000)

New Peru President Sworn In—WorldNews.com (Nov. 22, 2000)

Analysis: Peru's future after Fujimori can be bright—UPI (Nov. 22, 2000)

Peru Without Fujimori—The San Francisco Chronicle (Nov. 22, 2000)

Fujimori 'morally unfit for office'—News24 (South Africa) (Nov. 22, 2000)
Previous Christianity Today stories about Peru include:
Christian Human Rights Agency Burglarized in Peru | Stolen files contained information on more than 5,000 forced disappearances. (Nov. 15, 2000)

Peru's Churches Welcome Fujimori's Decision to Call New Election | After riots and videotapes of bribes, Peru pushes its current president for the opportunity to vote again. (Sept. 28, 2000)

Imprisoned Peruvian Army Colonel Denied Parole | Evangelical convicted of drug trafficking continues fight for justice as hope fades. (Sept. 1, 2000)

Peru's Christians Oppose Presidential Vow to End Pardons | More than 300 unjustly accused of terrorist involvement will remain in jail, say critics. (Dec. 16, 1999)

Imprisoned Evangelicals Dispute Accusations of Terrorism (Feb. 9, 1998)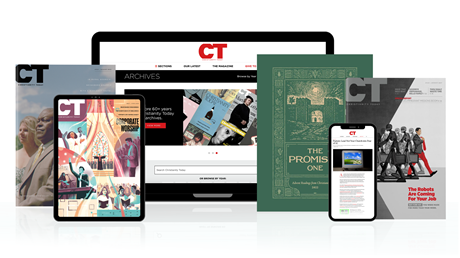 Subscribe to Christianity Today and get access to this article plus 65+ years of archives.
Home delivery of CT magazine
Complete access to articles on ChristianityToday.com
Over 120 years of magazine archives plus full access to all of CT's online archives
Subscribe Now
Peru's Shining Path Still Taking Prisoners
Peru's Shining Path Still Taking Prisoners