I was going to do a nice article on Puritans, Abraham Lincoln, and the "real" story of Thanksgiving, but this was too good to pass up. I mean, we'll have other Thanksgivings, but we'll never—I hope—have another November where elections and chads (the little things you punch out of ballots) attract such overwhelming attention. And if anybody should be made patron saint of botched elections, it's Saint Chad.
Saint Chad, or Ceadda, was born in the early seventh century, probably in Northumbria. English historian Venerable Bede, who gives us pretty much all we know about Chad, reports that he was educated at Lindisfarne by the much-celebrated abbot St. Aiden. Chad also studied in Ireland before joining his brother St. Cedd at his monastery at Lestingay (now Lastingham, Yorkshire). It's unclear from the records, but in 664 Cedd either died or was called away to be Bishop of London, leaving Chad in charge of the monastery.
While Chad was thus occupied, the bishop of Lindisfarne died, and Prince Alcfrid chose St. Wilfrid to replace him. Unfortunately, due to a lack of clergy in the area, Wilfrid had to go to Gaul (France) to be properly consecrated. Wilfrid had traveled to the Continent before, and maybe he really liked it there, because he didn't come back for a couple of years.
In the meantime, Alcfrid had somehow lost his power, and his father, King Oswi, had lost patience with the bishop situation. Oswi nominated Chad to the vacant bishopric (now transferred from Lindisfarne to York). The dearth of clergy was again a problem—even Canterbury was bishop-less—but Chad finally received his consecration from Wini of Worcester and two other British bishops.
As Chad was walking across his diocese (he didn't think riding a horse was sufficiently apostolic) and serving his people, Wilfrid finally arrived from Gaul. The new bishop of Canterbury, St. Theodore, determined that Wilfrid was the rightful Bishop of York. Theodore further intimated that Chad's consecration was invalid, probably because the two bishops with Wini had not conformed to the Roman method of determining the date for Easter (the major issue between Romans and Celts at the 664 Synod of Whitby).
Magnanimously, Chad stepped down. He told Theodore, "If you decide that I have not rightly received the episcopal character, I willingly lay down the office; for I have never thought myself worthy of it, but under obedience, I, though unworthy, consented to undertake it." Theodore was apparently impressed, because he rectified the misconsecration himself and later appointed Chad Bishop of the Mercians.
I'll let you figure out the moral of the story.
Elesha Coffman is associate editor of Christian History.
Related Elsewhere
More Christian History, including a listing of events that occurred this week in the church's past, is available at ChristianHistory.net. Subscriptions to the quarterly print magazine are also available.
The best source for the life of St. Chad is Bede's Ecclesiastical History of the English People.
Andrew Sullivan first took note of the similarities between St. Chad's life and the current election controversy on his Web site. See more on St. Chad from Britannica.com, the Catholic Encyclopedia, and EWTN.
Christian History Corner appears every Friday at ChristianityToday.com. Previous Christian History Corners include:
Accidental Radical | Jan Hus's ideas seem normal now, but in his age they were revolutionary enough to merit death. (Nov. 17, 2000)
Top 10 Reasons to Read This Book | A list of Christian books that changed the century introduces authors and their impact on evangelicalism. (Nov. 10, 2000)
The Un-Denomination | The Southern Baptist Convention has been historically Un-Conventional. (Nov. 3, 2000)
Soul Crisis at the Conference on Faith and History | Academics gather asking questions like, "What does 'Christian history' actually mean?" (Oct. 27, 2000)
Case of the Missing Relic | A piece of Jesus' cross is stolen from a Toronto cathedral—or is it? (Oct. 20, 2000)
The Politicians' Patron | Is Thomas More a saintly model? (Oct. 13, 2000)
General Revelations | Reconsidering Robert E. Lee and Ulysses S. Grant. (Oct. 6, 2000)
Olympia Revisited | Christianity and the Olympic Games were once competitors, but at other times have been on the same team. (Sept. 29, 2000)
Weighty Matters | Gwen Shamblin's teachings sound an awful lot like some in the early church—and not in a good way. (Sept. 22, 2000)
In Errancy | Want to know what's wrong with the Western church? Start with a list. (Sept. 15, 2000)
"Kill Them All" | The medieval church was deadly serious about eliminating 'heretical' Cathars. (Sept. 11, 2000)
All Together Now | What qualifies as an ecumenical council anyway? (Sept. 1, 2000)
Soviets, Schism, and Sabotage | How the government manipulated division in the Russian Orthodox Church. (Aug. 18, 2000)
Sacrifice at Sea | The story that wasn't in James Cameron's Titanic. (Aug. 11, 2000)
Colonial Soul | The Cross and The Tomahawk series examines our nation's past from many perspectives. (Aug. 4, 2000)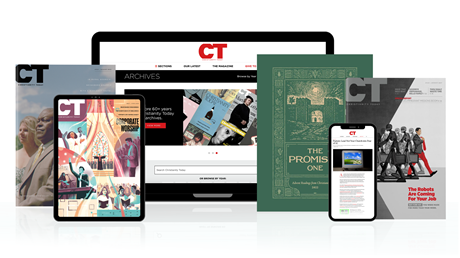 Subscribe to Christianity Today and get access to this article plus 65+ years of archives.
Home delivery of CT magazine
Complete access to articles on ChristianityToday.com
Over 120 years of magazine archives plus full access to all of CT's online archives
Subscribe Now
Read These Next
Trending

Died: Pat Robertson, Broadcast Pioneer Who Brought Christian TV to the Mainstream

With CBN, "The 700 Club," Regent, the Christian Coalition, and a run for president, he changed evangelicals' place in public life.

FrançaisIndonesianрусскийУкраїнська

From the Magazine

When Politics Saved 25 Million Lives

Twenty years ago, Republicans, Democrats, evangelicals, gay activists, and African leaders joined forces to combat AIDS. Will their legacy survive today's partisanship?

Editor's Pick

PCA's 50th Anniversary Comes During a Season of Grief

Presbyterians expect less fight and more fatigue as they gather following the Covenant shooting and the deaths of Harry Reeder and Tim Keller.
The Saga of St. Chad
The Saga of St. Chad