America's major Christian bodies defend "God's first institution" Leaders of the National Conference of Catholic Bishops, the Southern Baptist Convention, the National Assocation of Evangelicals, and the National Council of Churches don't always agree—even on issues of family and marriage. But they have signed off on a document supporting a traditional definition of marriage ("a holy union of one man and one woman in which they commit, with God's help, to build a loving, life-giving, faithful relationship that will last for a lifetime") and encouraging churches to strengthen the institution. At a press conference announcing the document, Kevin Mannoia, president of the National Association of Evangelicals, says a summit of church leaders is being planned to discuss other ways to strengthen marriage. Though media coverage has focused largely on the declaration's definition of marriage—which rules out similar gay unions—no media outlets mention the "On Homosexuality" statement that appears on the NAE Web site with "A Christian Declaration on Marriage." Perhaps the statement wasn't mentioned or available at the Tuesday press conference. In any case, its appearance on the site with the declaration seems incongruous. "On Homosexuality" is signed only by Mannoia ("with Donald A. Thorsen," professor of theology at Azusa Pacific University) and is clearly only representative of "Evangelical Christians" (the first two words of the document). And while there is a full press release on the NAE site explaining the context of "A Christian Declaration on Marriage," there's nothing explaining context for "On Homosexuality." Still, it is listed as "Article Two." Hmmm. Of the mainstream media coverage, The Washington Post blows it the biggest, ...
1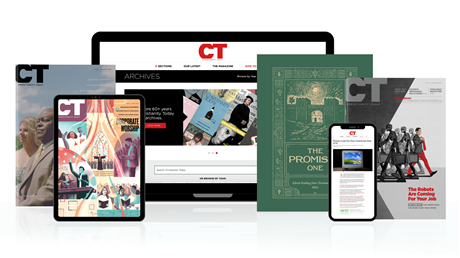 Find hope and historical insight. For a limited time, explore 60+ years of CT archives for free!
Daily devotions from Timothy Dalrymple during this pandemic.
Hundreds of theology and spiritual formation classics from Philip Yancey, Elisabeth Elliot, John Stott, and more.
Home delivery of new issues in print with access to all past issues online.
Join now and get print issues access to archive PDFs.
A Defense of Marriage Act
A Defense of Marriage Act