America's major Christian bodies defend "God's first institution"
Leaders of the National Conference of Catholic Bishops, the Southern Baptist Convention, the National Assocation of Evangelicals, and the National Council of Churches don't always agree—even on issues of family and marriage. But they have signed off on a document supporting a traditional definition of marriage ("a holy union of one man and one woman in which they commit, with God's help, to build a loving, life-giving, faithful relationship that will last for a lifetime") and encouraging churches to strengthen the institution. At a press conference announcing the document, Kevin Mannoia, president of the National Association of Evangelicals, says a summit of church leaders is being planned to discuss other ways to strengthen marriage. Though media coverage has focused largely on the declaration's definition of marriage—which rules out similar gay unions—no media outlets mention the "On Homosexuality" statement that appears on the NAE Web site with "A Christian Declaration on Marriage." Perhaps the statement wasn't mentioned or available at the Tuesday press conference. In any case, its appearance on the site with the declaration seems incongruous. "On Homosexuality" is signed only by Mannoia ("with Donald A. Thorsen," professor of theology at Azusa Pacific University) and is clearly only representative of "Evangelical Christians" (the first two words of the document). And while there is a full press release on the NAE site explaining the context of "A Christian Declaration on Marriage," there's nothing explaining context for "On Homosexuality." Still, it is listed as "Article Two." Hmmm. Of the mainstream media coverage, The Washington Post blows it the biggest, identifying the National Council of Churches (NCC) as simply an evangelical body. Until recently, NCC members could not have membership in the NAE. And the NCC leadership was among the most vocal in the Christian world in pushing for homosexual rights. That the head of the NCC signed this document is a much bigger story than that the NAE, SBC, and NCCB did. A religion reporter for one of the biggest newspapers in America should know that. Meanwhile, the South African newspaper The Independent editorializes with its headline "Same old story for same-sex 'sinners'" over the AP's story. A word of journalistic advice to The Independent: if you're going to put a word in quotes in the headline, you might want to actually have the word appear in the article. The Baltimore Sun's piece, meanwhile, is pretty good.
Catholic bishops take aim at America's justice system
"We believe that the current trend of more prisons and more executions, with too little education and drug treatment, does not truly reflect Christian values and will not really leave our communities safer." So says a 13,000-word statement released by the National Conference of Catholic Bishops yesterday—the first statement on criminal justice by the body in two decades. It opposes the death penalty, of course, but also mandatory sentencing, "three strikes and you're out" laws, imprisoning children in adult jails, the disenfranchising of crime victims, detention of immigrants, and using prison as the weapon it is now in the war on drugs. (See also The Washington Post's coverage—it's better this time.) Want to see something interesting on criminal justice? Check out the two-part Frontline documentary "Real Justice." It's airing this week and next on PBS.
Indianapolis church supporters continue to wait for the Feds—but who's inside?
The story out of Indianapolis Baptist Temple now isn't how the church members are standing against seizure of their building by the IRS and U.S. Marshals. Now it's how many people waiting inside the church aren't church members at all. Militiamen, antiabortion protesters, antigovernment activists, even Ku Klux Klan members have shown up to demonstrate. (The KKK folks were asked to remain outside.) The Indianapolis Star reports, "Six hundred to 700 supporters of the Indianapolis Baptist Temple thumbed their noses at U.S. District Judge Sarah Evans Barker's order to leave the building by noon Tuesday. Wednesday, their ranks fell—fewer than 150 people were inside the church at midafternoon—then rose somewhat as people arrived to spend the night." But reporter Terry Horne notes that the temperament of those inside are hardening quickly. Pastor Gregory A. Dixon is grateful for the support, no matter who it's from. "We can't help who shows up," he tells the paper. "There are a lot of kooks in this world." Then, a pause. "I'm sure there are some people who think we are kooks." See more coverage from Indianapolis television station WRTV.
Indiana: hotbed of religious freedom battles
The Indianapolis Baptist Temple standoff (or, perhaps more accurately, standaround) isn't the only big religious liberty battle in The Hoosier State. Having barred a monment displaying the Ten Commandments from the Statehouse lawn, U.S. District Sarah Evans Barker was angry to find out that it had simply been moved to another county downstate. Barker said the county's action seemed to ask, "Now what are you going to do, judge?" What she's going to do is what she did on the state level. "You can reasonably expect that you'll be ordered to remove the monument," she told the county's commissioners. Meanwhile, Liz Anderson heads to court today in her highly publicized battle to wish people "Have a Blessed Day" at her office at USF Logistics. And not that it's a religious freedom issue, but Jay Scott Ballinger, a self-proclaimed "missionary of Lucifer" from Yorktown, Indiana, was sentenced to more than 42 1/2 years in prison and ordered to pay $3.6 million in restitution for burning 26 churches (see more from ABCNews and the AP).
Related Elsewhere
See our past Weblog updates:
November 15 | 14 | 13
November 10 | 9 | 8 | 7 | 6
November | 3 | 2 | 1 October 31 | 30
October 27 | 26 | 25 | 24 | 23
October 20 | 19 | 18 | 17 | 16
October 13 | 12 | 11 | 10 | 9
October 6 | 5 | 4 | 3 | 2
September 29 | 28 | 27 | 26 | 25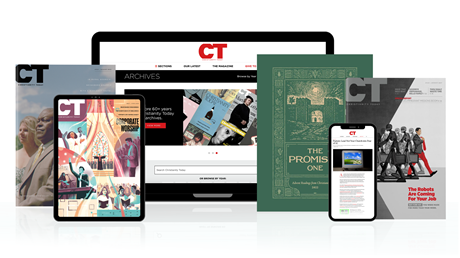 Subscribe to Christianity Today and get access to this article plus 65+ years of archives.
Home delivery of CT magazine
Complete access to articles on ChristianityToday.com
Over 120 years of magazine archives plus full access to all of CT's online archives
Subscribe Now
A Defense of Marriage Act
A Defense of Marriage Act