Christian critics tried their hands at biblical interpretation this week, prompting a wide range of responses to Harvey Keitel's role as a weakened Devil in Little Nicky, Mars astronauts' musings about God's existence in Red Planet, and the rapture of all Christians in the video release Left Behind.
What's Hot
Although Adam Sandler's comedies have never catered to the intelligent crowd, his latest offering has the misfortune of being stupid and unfunny, say Christian critics. Little Nicky is "93 minutes of anguish," complains Christian Spotlight guest reviewer Curtis D. Smith, comparing the experience to "duct tape being peeled slowly away from dense arm hair. ... There are very few laughs to be had in this appalling film." The U.S. Catholic Conference agrees, saying Little Nicky "has minimal appeal with unfunny gags, stale special effects and limp performances." Other Christian critics focused on the theological errors of the plot, which features Sandler as the child of Satan and an angel he met at a heaven/hell mixer. "This story puts forth an extremely warped, blasphemous view of heaven and hell, good and evil, and the road to salvation," writes Movieguide. Bob Smithouser of Focus on the Family elaborates, objecting to the depiction of Christians as "marginalized fanatics, hypocrites or vessels for demon possession," concluding that "the film trivializes God and mocks people of faith." Preview's Mary Draughon was mortified that "angels in heaven are portrayed as silly, giggling teenagers," and that "Satan states his job is balancing good with evil—he's in control, but his strength is sapped when his evil sons run amuck." However, Hollywood Jesus located some spiritual truth in this aspect. "There has been a real tendency to either deny the existence of a Devil, or conversely, to give Satan to much power—the same powers as God—making him all present, all powerful and all knowing. Biblically, both views are wrong. In this film, Satan is removed from the position of being directly responsible for all evil on earth. Rather, the credit goes to his children (agents)." (See Christianity Today's recent article on Satan's limitations for more on this topic.) Still, Holly McClure of Crosswalk.com says the film's too crude to warrant attendance. "This movie goes way beyond insulting. ... A couple of scenes show demons bringing Hitler, wearing a dress, to Satan regularly so that he can punish him by inserting a pineapple up his you-know-what. There's much, much more that's an abomination to parents, people of faith and mankind in general."
Christian critics divided pretty evenly between those who found Men of Honor inspirational and those who found it manipulative. Based on the true story of Carl Brashear (Cuba Gooding Jr.), the first African-American Master Diver in the U.S. Navy, Men of Honor chronicles the many social and physical obstacles he overcame in his quest. "Men of Honor is a rousing service drama," says Movieguide, "a true story about honor, courage, determination, and fighting injustice." Preview's Paul Bicking calls it "an exciting and riveting story," and says "crowds will cheer for Carl all the way." Tom Neven, editor of Focus on the Family magazine, was encouraged that "strength of character, fortitude, loyalty and courage—both physical and moral—are paramount in this story." (All three reviews, though, complained of the sailors' "strong salty language" that Neven says ruins "so much that would be good for teens to watch, including an overall uplifting message.") Other Christian critics had complaints that ran to the core of the story. The Phantom Tollbooth's J. Robert Parks was upset by the addition of fictional character Billy Sunday (Robert De Niro), a tough-as-nails instructor who moves from Brashear's tormentor to his friend. "First off, De Niro's presence (and top billing) changes Men of Honor from a 'black' film into a 'buddy' film, with the two opposites joining together to fight the system. Secondly, by making Sunday a largely sympathetic character—his initial racism is much less severe than others around him and even that quickly dissipates—the tremendous prejudice Brashear faced is mitigated. Furthermore, because Sunday is portrayed as a spectacularly courageous man and because Brashear can't pass his final test without Sunday's help, the former's outstanding achievement is diminished." Other critics groused at the sentimentality; the U.S. Catholic Conference says the "heavy-handed direction backed by swelling patriotic music reduces a complex struggle to simplistic terms," and Movie Reporter Phil Boatwright quips: "Inner torment, alcoholism, marital woes, bigotry, injustice—man, there are fewer problems on a year's worth of Days of Our Lives episodes."
What's New
Although Warner Bros. delayed the release of Red Planet in order to distance itself from last spring's Mission to Mars, audiences still seemed to have had their fill of Mars thrillers, as the $80 million film opened to a mere $8.7 million. However, several Christian critics appreciated this film more than its predecessor since it features discussions about God's role in the universe rather than positing Martians as givers of life. Movieguide says "Red Planet is an intense, well-produced science fiction movie that casts doubts about the ability of atheism to sustain man and prolong the future. Although it ultimately leaves the existence and workings of God a mystery, two of the movie's three most positive characters embrace the idea as a distinct possibility. This is unique for a genre that hasn't always been friendly toward those who believe in some form of theism." John Evans of Preview agrees, explaining that "one older astronaut says that science does not have answers to many 'interesting' questions of life and he is diligently searching for God. Another argues that believing in God ignores practical facts and is the 'easy' way out. Even Gallagher, a confirmed skeptic, observes that God moves in mysterious ways." But other Christian critics interpreted these conversations differently. Focus on the Family's Tony Powell and Steven Isaac say, "Even though isolated scenes in Red Planet toy with the idea that God 'might' have the power to work wonders, the script turns around to discredit Him by consistently placing science above Him." The Childcare Action Project also questions the film's openness to God, saying that "while faith in God is mentioned in a positive way at least twice, a more bold and 'finalizing' comment was 'You see God, you let me know. Until then I'll trust my Ph.D.s.'" Other Christians dismissed the film for its plot and its acting. "Considering the story—these are the first humans to set foot on Mars, and their mission's success determines the future of mankind—the acting and direction seem flat and unemotional," says Doug Phillips, guest reviewer for Christian Spotlight. "Just once, I'd like to see a scientifically accurate film—a lifeless Mars instead of a lifeless crew." Movie Reporter Phil Boatwright asks, "Have you noticed that in several of his films, actor Val Kilmer looks like he'd rather be someplace else? ... I can understand why. The script is not just routine, it's downright dull. No lesson is learned. There's little insight. Even the mindless action disappoints."
Christian critics weren't wholeheartedly supportive of The Yards, but found enough to recommend it. The film stars Mark Wahlberg as Leo, a young man just out of prison who gets wrapped up in more dirty business while trying to get his life back together. John Adair of Preview says "The Yards moves at a slow pace but, as the complex characters develop and struggle through their various circumstances, the audience is rewarded with strong performances." In addition, the film offers some interesting reflections on guilt and atonement. "All he really wants is redemption for his crime," Adair says. "The only way to do this is through facing the law, so Leo's character provides an intriguing example of a man searching for redemption but unwilling to face the responsibility." J. Robert Parks of the Phantom Tollbooth also gave measured praise. "The movie is a fairly standard loner-against-the-system tale, but director James Gray infuses the story with enough atmosphere (helped considerably by Harris Savides's cinematography) and interesting characters that you'll probably be able to ignore the more formulaic elements." Adair cautioned, though, against the "bounty of obscenities, mostly f-words and eight regular profanities, [that] weighs heavy in the dialogue."
A Room for Romeo Brass also earned hesitant enthusiasm from Christian critics. The film tells of two boyhood friends whose bond is threatened when a seemingly nice stranger comes between them. "At times funny but also chilling, A Room for Romeo Brass is a brave and evocative film," says Sarah Barnett of Culture@Home. "There's a sense of authenticity about the movie, particularly in the relationships between the boys. Their natural and convincing relationship is the foundation of the film. ... While the narrative travels between comedy and drama, the film ends with hope and restoration." However, Barnett warns, there's "constant swearing—among adults and children." Movieguide also warns against the foul language, but praises the film as "a moral lesson in friendship and family," and says that although "aesthetically the picture is inept, it is a realistic look at boyhood friendship and its ability to survive family predicaments, negative influences and mistakes."
The title of Animal Factory is a reference to the dehumanizing effect of prison. Using a story written by an ex-convict, the film shows us prison life through the eyes of a 25-year-old, privileged, white newcomer (Edward Furlong). Movieguide says it "goes over the line in terms of language, but is otherwise relatively restrained for an R-rated movie revealing the harsh realities of prison life. ... Although it makes a sympathetic character out of Earl (Willem Dafoe), a hardened criminal who does bad things as well as good things, Earl doesn't fully get away with his criminal behavior. In that way, it reminds one of old-fashioned prison dramas where the criminal friend of the hero must suffer the consequences for the bad things he does." Movie Reporter Phil Boatwright, on the other hand, felt the movie's similarities to the old-fashioned prison epics were a liability. "Prison movies have a basic format even more contrite than the western," Boatwright says, and "this film fails to live up to" the best of the genre, because it lacks a clear message. "I suspect the novel the screenplay is taken from stresses the need for change in our correctional institutions. Not so in this film. It shows all the ugliness, but we learn nothing new."
What's Noteworthy
Left Behind: The Movie, which premiered on video October 31 and is supposed to hit theaters early next year, is drawing some superlative reviews from Christian critics. The most expensive Christian-backed film ever, this $17.4 million adaptation of the bestselling end-times potboiler has been called an "exciting and meaningful film" by Preview's John Evans, and "a one-of-a-kind Christian movie that does NOT counterfeit the Truth" by the Childcare Action Project. Ken James of Christian Spotlight says, "both as entertainment and as a catalyst for spiritual truth, it delivers!" But not everything about the film's release is rosy. The movie's biggest publicity to date has been director Vic Sarin and the novel's co-author Jerry B. Jenkins complaining to Entertainment Weekly about the marketing strategy of releasing the video before sending it to theaters. Further bickering between Christians include a lawsuit filed by co-author Tim LaHaye against production company Cloud Ten Pictures and Namesake Entertainment, which Movieguide editor Ted Baehr dismisses as "normal" and "part of the industry," but which hardly reflects well on evangelicals. The early video release also creates a conflict of interest for several Christian movie sites; each of the positive reviews above are posted on sites offering discount pricing on the video. The reaction of the Christian public has been less enthusiastic than the Christian critics. Readers' responses at Crosswalk.com and Christian Spotlight have plenty of quibbles with the movies. Crosswalk.com summarizes that "some viewers rave that the acting and message make it an excellent movie for Christians and non-Christians. Others say the filmmakers have watered down the salvation message and made the plot confusing for those who haven't read the popular book series, and the acting and casting were disappointing." Michael G. Maudlin, executive director of editorial operations for Christianity Today International, says on Beliefnet that while the movie is "pretty good," it's questionable to heavily promote the rapture as a core Christian belief. "This particular end-times scenario is only a hundred years old and theologically embraced by only a minority of evangelicalism's professional theologians and Bible scholars. ... Most lay evangelicals think of the rapture, because of its savvy media saturation, as a doctrine as old and as sacrosanct as the Trinity." Still, most Christian critics encouraged readers to see the film, if not for the story itself, then for chances to share the gospel ("Left Behind is a story that will stir audiences to take account of their own faith and stretch their religious beliefs," says Holly McClure of Crosswalk.com), and for the encouragement of the fledgling Christian film industry (Movie Reporter Phil Boatwright reminds us that "the producers are banking on a groundswell of support from the religious community").
Steve Lansingh is editor of TheFilmForum.com, an Internet magazine devoted to Christian conversation about the movies.
Related Elsewhere
See earlier Film Forum postings for these movies in the box-office top ten: Charlie's Angels, Meet the Parents, The Legend of Bagger Vance, Remember the Titans, Pay it Forward, Billy Elliot, and Bedazzled.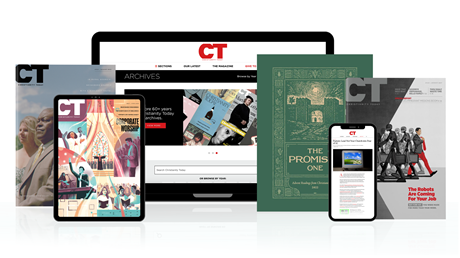 Subscribe to Christianity Today and get access to this article plus 65+ years of archives.
Home delivery of CT magazine
Complete access to articles on ChristianityToday.com
Over 120 years of magazine archives plus full access to all of CT's online archives
Subscribe Now
Of Characters Banished to Hell and Raptured to Heaven
Of Characters Banished to Hell and Raptured to Heaven