The Christian men's movement was never as big as some imagined, nor is it now as small as some may think. In the 1990s, Promise Keepers (PK) stumbled across the idea of the century by bringing men together in environments where they already felt comfortable: football stadiums. It has since become the most visible representative of the men's movement in America, drawing millions of men for weekends of bonding, worship, and spiritual teaching.
In 1996 the group marked its highest cumulative attendance of about 1 million at 22 events. In October 1997, nearly 1 million men gathered on the Washington Mall for the historic "Stand in the Gap" prayer meeting. This year about 13,000 men attended the group's 100th conference at Pittsburgh's Mellon Arena on June 23–24—a far cry from the scads of sweaty guys that packed stadiums during PK's heyday in the '90s.
Today's PK rallies have largely moved from stadiums to arenas. PK has cut staff members from its apex of about 400 nationwide to about 90 this year; annual budgets of around $100 million are now trimmed to about $30 million. This is exactly what PK leaders themselves predicted would happen. It is part of a natural and needed evolution in the nature of the men's movement.
Perhaps more telling of PK's evolution, and that of the larger men's movement, is the recent change in PK's vision statement. PK leaders say that more is needed than stadium gatherings: men need regular one-on-one contact that only the local church can render. The revised vision statement reads: "Impacting churches to transform their cities by equipping leaders to disciple men in the masculine context." PK is recognizing what God already is doing. "We've left the stadiums and we're going to the churches," says Chuck Brew ster, director of HonorBound, the men's ministry department of the Assemblies of God. "You can't operate outside of the churches."
As a former businessman and now president of Man in the Mirror, an Orlando-based men's ministry, I've spoken to tens of thousands of men. I've discovered that today's average American male is desperate for Christ but doesn't know it. Consider this comment from Rick: "At 38, I had it all. I opened the package I had worked on for all those years, and it was empty." Then there's James, 55. "I need organized religion," he says. "I need to get back in the fold. I need to get back to where I belong."
What such men lack, only churches can adequately supply for the long term. "Men need to go to church," Brewster says. "To have men just go to the Shoney's once a week—I don't think that is scriptural." Men do need Shoney's-type gatherings; most meaningful change takes place in the context of Christ-centered relationships. Still, the best way to create and sustain these relationships is through the local church.
Respected Christian pollster George Barna recently said that no significant movement of God really occurred among men during the last decade. In fact, he said, the condition of American men declined. "Some good things have happened among men during the 1990s," says Barna's report, The State of the Church, 2000, "but it does not appear that there has been massive reawakening of the male soul in the last ten years."
Among America's 94 million men, only 26 million attend church, and 85 percent of all currently unchurched men were previously churchgoers, Barna says. He notes a small proportional increase in American men who claim to be "born again," but he adds that church attendance, Sunday-school attendance, and church volunteerism are down among men.
Barna's research, though appreciated, does not ring true with many veteran men's ministry leaders. "I believe there is a growing men's movement and God is doing something, particularly among Christian men, to get them to step up to the plate and recapture what he designed us to be," says Campus Crusade for Christ evangelist Crawford Loritts. "One of the marvelous things is that it cannot be controlled or altogether measured."
Phil Downer, former president of the Christian Businessmen's Committee (CBMC), is more blunt: "George Barna is wrong." Downer stresses that, though the numbers of men in the pews may be similar to the past, men are qualitatively more spiritual. "Men used to go to church because it was the culturally relevant thing to do. What's happening today is more men are in church because they want to be there. And I believe we've got more men discipling other men than ever before."
How do we reconcile Barna's statistics to current claims? Downer's point has a lot to recommend it. A man who failed to attend church once carried a stigma. Not so today. There is no longer much, if any, cultural pressure to be present for Sunday services. Many men who once attended because they ought to now attend because they want to. And many of these men are freshly committed to walking with God.
Getting Personal
Statistics are helpful, but what phone survey can decipher a man's soul? Pollsters need to meet men like Brian.
Nothing in his demeanor whispered weariness. Brian, 29, looked like a business terror: tall, lean, sun-browned. His body language intoned self-confidence. I noticed him while giving my weekly Friday-morning message to about 150 men at a Bible study that gathers at an Orlando civic center. A friend had taken him to the gathering. After my 30-minute devotion, men broke into discussion groups. I gathered at a corner table with the meeting's first-time visitors. This is my opportunity to greet them and briefly hear about their spiritual journeys. It was Brian's turn.
"I grew up in a broken home," he began. "My stepfather was an alcoholic. I didn't get much love or guidance. A few months ago, I married—she's a good woman. But I have gotten to a point that I just can't manage my life." Brian started choking up and said, "I wasn't expecting this. I don't know if this is normal here or not. I really need something in my life that's missing. I want that inner peace." Thirty minutes later Brian, with tears in his eyes, invited Jesus Christ into his life.
Had a pollster called the night before our Bible study, would Brian's yes-or-no responses have indicated the influence of God's Spirit at work in his life?
Despite the quantitative data, new men's ministries are exploding across America. God seems to be moving via a model of personal discipleship and church-based ministry.
For the first time in its history, the Southern Baptist Convention last year had as many men as women in discipleship groups; it had men's ministries in approximately 18,000 of 41,000 churches. The Assemblies of God had 6,000 men's ministries in 12,000 churches (in 1996 it had but 1,200 such ministries); United Methodists had 8,000 men's ministries in about 36,000 churches; the Church of God had 2,000 men's ministries in 6,000 churches. And the Evangelical Free denomination had 650 men's ministries in 1,250 churches (up from 312 in 1996). Many men's parachurch ministries report similar rapid growth.
Barna does note that the fastest-growing churches in America are African-American. "Much of the significant growth in the African-American church over the last ten years is directly related to the black church reaching its men," says Haman Cross, pastor of Rosedale Baptist Church in Detroit.
A New Cooperation
To find the roots of the Christian men's movement, you have to go back to the foundations set by early pioneers like the 55-year-old CBMC, Edwin Louis Cole's influential Christian Men's Network (serving 100 countries), and a host of denominational groups such as the Baptist Brotherhood and Methodist Men. Long before PK, these groups were reaching and discipling men on the local level.
We must reassess the present moment—and the real enthusiasm demonstrated last decade at large rallies—in light of the larger picture. I believe history will record a more prolonged movement of God among men, of which PK was a vital link. Today's challenge is to capture the mo mentum of those 1990s epic gatherings by emphasizing personal discipleship in smaller, church-based cultures.
"God used Promise Keepers in a mighty way," says former PK executive Dan Erickson, now executive director of the National Coalition of Men's Ministries (NCMM), which links more than 80 denominational and parachurch men's ministries. "Now, many local networks are getting their own irs tax-exempt status, raising their own funds, and this gives them the ability to work with all ministries."
Launched in 1996, the NCMM's membership includes such established men's ministries as PK, CBMC, and numerous denominational groups. These organizations have quietly joined efforts, swapped strategies, and shared personnel. The target? Serving local-church leadership and the average man in the pew.
"There is something new that is happening," says Downer. Denominational and parachurch men's ministries "are recognizing what we have in common, and so what a man is hearing now is that Jesus is the main thing, and we don't have to agree on the depth of the baptismal pool to believe that Jesus died for mankind, rose from the grave, and offers unmerited love and favor to all."
Jack Kelly, general director of men's ministries for the International Pentecostal Holiness Church, notes that early on his denomination aligned itself with PK to enhance its men's ministries. Now it works amid a grander scope of interministry cooperation via the NCMM. For instance, Kelly has received valuable fundraising advice from the men's ministry of the Evangelical Free Church and materials from Man in the Mirror.
No single group or institution holds franchise rights to the NCMM. This unique organization, which I serve as chairman, really does believe that a rising tide raises all boats. "One of the big mistakes historically with movements of God is that we've institutionalized them and tried to lead them," Loritts says. "Well, you don't lead a movement; you respond to it."
After 27 years of ministering to all types of men, I've concluded that most guys only know enough about God to be disappointed with him. But that's not because these men want to be that way. Men want to live significant, meaningful lives. No man wakes up in the morning and says, "Well, I guess I'll see what I can do to ruin my life today." But many often do bring themselves harm.
What can we do about it?
"Men want to know God," says Erickson, "but they want a church where they can be real men and not have to play religious games. These men already realize they are not that good at being fathers or husbands. Let's provide training and equipping in our churches that is relevant to men, rather than answering the questions they are not asking."
It takes a long time to make a disciple; it doesn't happen in one weekend. We need to encourage leaders of the church of Jesus Christ to pick up their shovels, get in the trenches alongside their men, and start digging. A Chinese proverb says, "The best time to plant a tree was 20 years ago. The second best time is now."
Patrick Morley is the author of eight books, including The Man in the Mirror (Zondervan). For more information, visit www.maninthemirror.org or www.ncmm.org.
Related Elsewhere
Read the Barna Report from March 2000 on state of the church in America.
Visit the official Promise Keepers and National Coalition of Men's Ministries sites.
Nearly a hundred years ago, large popular movements tried to reclaim men for the church. But their content was very different from the therapeutic and emotional Promise Keepers. This Books and Culture article examines the history of Christian men's movements. (Nov./Dec. 1997, print only)
Take a lifestyle test or read a free chapter of Patrick Morley's Man in the Mirror , which can be purchased at the Christianity Online bookstore and other book retailers.
Men of Integrity , a Christianity Today sister publication, is a daily devotional for men published in association with Promise Keepers.
Previous Christianity Today articles about men's ministry include:
Keeping Their Promises | Despite layoffs and low income, the decade-old men's movement marches on. (April 27, 2000)
Fatherhood on the Rebound | What we can learn from the real history of basketball. (Dec. 7, 1999)
Integrating Mars and Venus | Gender-based ministries may be effective, but are they biblical? (July 12, 1999)
Women's Movement | Promise Keeper Counterparts Burgeon. (March 3, 1997)
Have something to add about this? See something we missed? Share your feedback here.
Our digital archives are a work in progress. Let us know if corrections need to be made.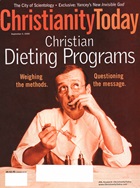 This article is from the September 4 2000 issue.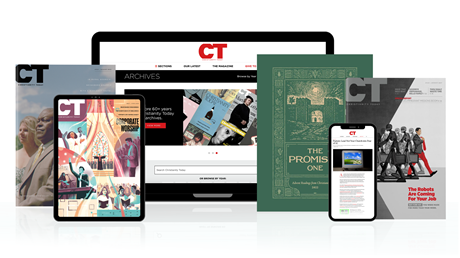 Annual & Monthly subscriptions available.
Print & Digital Issues of CT magazine
Complete access to every article on ChristianityToday.com
Unlimited access to 65+ years of CT's online archives
Member-only special issues
Subscribe
The Next Christian Men's Movement
The Next Christian Men's Movement