As banks, post offices, and other community buildings close throughout the English countryside, Church of England officials are encouraging thousands of churches to house automatic teller machines (ATMs). The move, they say, will help to make churches into the community centers (make that centres) they once were. Not everyone is pleased with the idea. "It's an appalling idea, madness," Lord St. John of Fawsley, chairman of the Royal Fine Art Commission Trust, tells The Telegraph newspaper. "They should go back and read St Matthew's Gospel, chapter 21, verse 12. The interiors of churches are sacred places. I don't mind them being used for appropriate events such as concerts, but certainly not cash machines. It is another symptom of our money-dominated culture."
Ever since the Vatican released a statement reasserting itself as the one true church, journalists have been comparing it. Most have compared it to another recent statement by the Institute for Christian and Jewish Studies. But The New York Times' Gustav Niebuhr reaches all the way back to August to compare Dominus Iesus (the Vatican's document) to the Amsterdam Declaration, which came out of the Billy Graham Evangelistic Association's Amsterdam 2000 conference of preaching evangelists. "The recent statements by the Vatican and the evangelists' meeting strongly suggest that such an approach is a long way from displacing Christianity's view of its exclusive claim to salvation," Niebuhr concludes. "Instead, as the world grows smaller and as more and more people have increasing contact with those of other faiths, the debate over how to respond to religious pluralism is likely to be just beginning."
Churches in Jesus' boyhood hometown are still protesting plans to build a mosque next to the Basilica of the Annunciation, supposedly where Gabriel told Mary she would bear a child. Custodians of the Holy Land, which oversee many holy sites, say the sites may shut down in protest. (See ChristianityToday.com's earlier coverage of the mosque dispute here, here, here, and here.)
Reform Party presidential candidate Pat Buchanan is speaking at fundamentalist (in the not necessarily derogatory sense of the term) Bob Jones University. The Associated Press uses the occasion to note that nothing has changed since the last time everyone checked in with the school—except now there's a new electronic system to sign out of campus.
A satellite TV company in Luxembourg made a naughty mistake. It carries Italian broadcaster RAI, which was providing a feed of The Feast of the Exaltation of the Holy Cross, in which 20 cardinals and other Roman Catholic Church leaders were participating, to Italy, Spain, Latin America, and elsewhere. But it also carries The Fantasy Channel, a pornographic channel providing such fare as Babes Illustrated and Stacy and the Hunt. You see where this is going, don't you? The satellite company got the soundtracks switched somehow. "It was really hard core stuff," says Deric Botham, managing editor of Television X, which produces The Fantasy Channel. "It could not have been worse." Actually, considering it was the audio and not the video feeds that got switched, yes it could have been. But at least the woman on the porn channel was reportedly crying out to God. (See also The Times / Fox News Channel coverage of the error.)
Related Elsewhere
See our past Weblog updates: September 15 | 14 | 13 | 12 | 11 September 7 | 6 | 5 September 1 | August 31 | 30 | 29 August 25 | 24 | 23 | 22 | 21 August 18 | 17 | 16 | 15 | 14 August 11 | 10 | 9 July 27 | 25 | 24 July 21 | 19 | 18 | 17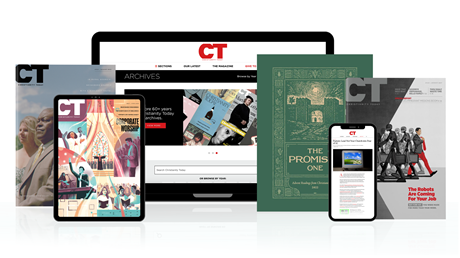 Annual & Monthly subscriptions available.
Print & Digital Issues of CT magazine
Complete access to every article on ChristianityToday.com
Unlimited access to 65+ years of CT's online archives
Member-only special issues
Subscribe
Jesus Threw Out the Money Changers. I'm Just Making a Withdrawal.
Jesus Threw Out the Money Changers. I'm Just Making a Withdrawal.