National Council of Churches: We do too care about Sudan!
Two weeks ago, Christianity Today Weblog noted a UPI article by Uwe Siemon-Netto charging the National Council of Churches (NCC) of being "curiously mum about the most burning issue Christianity is facing in the entire world: the genocide perpetrated chiefly against Christians in southern Sudan." A National Council of Churches representative quickly called us up, upset that neither Siemon-Netto nor we had called for comment. (For those unfamiliar with how this works, the Christianity Today Weblog is a news summary and collection of links to recent news articles and commentaries; it therefore doesn't usually include original reporting, fact-checking, or other original interviews. It's a digest.) Anyway, in response to the UPI article and the response to it, the NCC has posted a statement on its Web site about Sudan. The short of it: "We care enormously about the suffering in Sudan and we are responding."
There are some vague references to the UPI story, including this comment from NCC General Secretary Bob Edgar: "Unlike the simplistic picture presented by some who manipulate religious animosity and add fuel to the flames consuming Sudan, [our] information reflects the complexities of Sudan." For example, the statement continues, "While it is generally acknowledged that the government of Sudan bears the greatest responsibility for human rights violations perpetrated during the conflict, not many people know that factionalism in the south has actually resulted in a greater number of deaths than clashes between government and rebel forces." As Weblog noted earlier, the NCC's "nonsimplistic" information has in the past also played down reports of religious persecution, saying that "civil war and racial hostility play a far larger role" than religious tensions. "What is reported as religious persecution is often understood locally as something quite different."
In fact, Edgar's recent statement does make mention of religious persecution, noting twice that, "Without peace, egregious violations of human rights, including religious persecution, are likely to continue in Sudan." It also notes that Church World Service has done a lot of relief work in the area (though it should be noted that Church World Service is far more autonomous than it once was).
But Siemon-Netto's point wasn't about relief work; it was about advocacy. He compared the NCC's silence on the Sudan genocide to the highly vocal stances it took for campaign finance reform and the Elián González controversy. Edgar's statement says that the NCC has "pressed for policies and actions that will promote peace," and has "expressed concern specifically over policies that we believe will exacerbate ethnic tensions in southern Sudan and place aid workers in jeopardy." (It doesn't say what policies.)
Does the NCC disagree with George Bush's statement that "We're responsible to stand for human dignity and religious freedom wherever they are denied, from Cuba to China to southern Sudan"? Does it disagree with Al Sharpton's recent comment that "Slavery is wrong no matter who the slave master or the slave is. This is not about Muslims versus Christians. This is about right versus wrong"? Does it disagree with Franklin Graham that Sudan "has declared a jihad on its own people … It's wrong. It's wicked. And it's evil"? Does it disagree with Siemon-Netto's assertion that the fate of "those who burn to death, get raped, mutilated, tortured, enslaved and murdered in southern Sudan … is more important than campaign financing or, for that matter, the father of Elián González"? If not, why not take a stronger stand against religious persecution in the country?
More on Sudan:
Sanctuary no more
Not so long ago, churches were considered "sanctuaries." That is, they offered asylum for criminals. This was, of course, because churches were seen as holy, consecrated places, and arrests by civil authorities would defile them—not to mention remove the opportunity for the criminal to seek spiritual help. How times have changed. A man wanted for murder in Texas was arrested in the parking lot of an Oklahoma City church over the weekend. But the suspect, Francisco Dias Perez, probably wouldn't have received sanctuary in days of old either. According to television station KOCO, Perez was first apprehended for relieving himself near a car.
More on church-related crime:
Other stories
Persecution:
Prisons:
Christians and Jews:
Faith-based initiative:
Church and state:
Religion and politics:
Religion and censuses:
Faith healing:
Jane Fonda and Ted Turner:
Sex and dating:
Related Elsewhere
See our past Weblog updates:
April 18 | 17 | 16

April 12 | 11 | 10 | 9

April 6 | 5 | 4 | 3 | 2

March 30 | 29 | 28 | 27 | 26

March 23 | 22 | 21 | 20 | 19

March 16 | 15 | 13 | 12

March 9 | 8 | 7 | 6 | 5

March 2 | 1 | February 28 | 27 | 26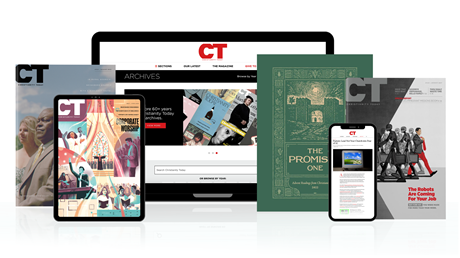 Annual & Monthly subscriptions available.
Print & Digital Issues of CT magazine
Complete access to every article on ChristianityToday.com
Unlimited access to 65+ years of CT's online archives
Member-only special issues
Subscribe
"We Care Enormously About the Suffering in Sudan, NCC Responds to UPI Article"
"We Care Enormously About the Suffering in Sudan, ...