An Orthodox priest who is a candidate in forthcoming elections to the legislative assembly of the southern Indian state of Kerala is to receive support from the state's ruling coalition, led by the Communist Party.
The Left Democratic Front (LDF) has decided to support 73-year-old Father Mathai Nooranal who is standing as an "independent" candidate for the Sultan Bathery constituency in the district of Wayanad in the north of Kerala.
Announcing the LDF list on March 25 for the Kerala election—scheduled for early May—Communist leaders said they had decided to support the priest not because he was popular, but because of "his long-standing social service" in Wayanad, one of the least developed districts in Kerala.
With a total population of 32 million people, almost 20 percent of them Christians, Kerala is divided into 140 constituencies, each of which will elect an MLA (Member of Legislative Assembly) in May.
"They [the Communists] have offered to support me, and I have accepted it," Nooranal told ENI in a telephone interview. Nooranal moved to Bathery, about 1,500 miles south of New Delhi, in 1951 to minister to members of the Malankara Orthodox Syrian Church who had migrated to the hilly region from southern parts of Kerala.
Speaking from his residence at St Mary's Cathedral in Bathery on March 28, Nooranal played down what has been described as his "alliance" with the Communists.
"I am an independent candidate," he said. "They know I am popular, and so they are supporting me. I have been associated with the left and right parties here for decades. It does not make much difference to me. I want to serve the people better."
The founder and office-bearer of dozens of social-service groups and church charities in northern Kerala, Nooranal has also been president of Sultan Bathery Service Cooperative Bank for four decades. Set up with a modest fund of 300,000 rupees (US$6,500), the bank now has a working capital of two billion rupees ($43.4 million) thanks largely to Noorandal's stewardship.
St. Mary's College, which he founded in Bathery in 1965 has grown into one of the best-known tertiary colleges in the region, with more than 2200 students. The college is owned by the Orthodox Church and managed by Nooranal.
Nooranal is also one of the three trustees of the Malankara Orthodox Syrian Church, which has two million members in India.
"On completing 50 years of service here, maybe I will get a chance to serve the people at a different level," the priest said of his bid to become an MLA. If successful, he will be the first Christian clergyman in the state legislature. In the 1970s two Catholic priests stood for election to the Kerala legislature, but they both lost as they had no support from the two main political groupings in the state—coalitions led by the Congress Party and the Communists.
Nooranal had not only LDF backing but the full support of his church. One third of the 150,000 eligible voters in the constituency are Christians, most of them Roman Catholics.
Describing Nooranal as an "able and dynamic person," Orthodox Bishop Kuriakose mar Clemis, of Sultan Bathery told ENI: "I hope he will succeed."
Asked how a priest could take part in an election, Bishop Clemis replied that "in a multi-structured society, the priest has several roles—at religious, pastoral and political levels."
Asked whether a priest should accept support from a political party with a philosophy based on atheism, the bishop replied: "He is an independent candidate" who had not adopted any of the symbolism of communism.
Since Christians have many different political affiliations across the state, Bishop Clemis admitted that there was a "minor problem" with some church members asking why the priest had "joined hands" with "one political group." But, the bishop added, "this will not pose a serious problem."
However Nooranal told ENI that communists were "no longer atheists" as in the past. "They are changing. They are trying to associate with church and temple committees and activities."
If elected, he said, he would "not be reduced to a Communist MLA. I will be an independent MLA for all the people."
However, O. M. George, an Orthodox Christian and Congress party leader in the region, told ENI that 90 percent of Christians "do not approve of the priest competing for election, [especially] with the support of Communists."
He said that Nooranal would have a "tough time" in the elections as the United Democratic Front (UDF), led by Congress, was also "sure to put up a Christian candidate" for the constituency.
George, who is the chairman of Sultan Bathery panchayat (village) council, said that Sultan Bathery had long been a Congress bastion. The Communists were supporting the priest "to wrest the seat" from Congress, he said. But he admitted that given the Orthodox priest's popularity, "we do not know what will be the outcome."
The state of Kerala was created in 1956. At the first state elections in 1957, the Communists made history when they were elected to run the state—they claimed this was the first time Communists had come to power in a free ballot. They won 60 seats, and their socialist allies 9, in the then 126-member assembly, while Congress won 43 seats.
Since then, the Communist alliance has won five elections in Kerala including the last one in 1996.
Related Elsewhere
Recent Christianity Today articles about India include:
Christians Call for India's Prime Minister and Government to Resign in Wake of Scandal | Web site releases tapes of party president taking bribes from men posing as arms dealers. (Mar. 22, 2001)

India Relief Abuses Rampant | Radical Hindus hijack supplies in quake intervention. (Mar. 20, 2001)

In Orissa, You Must Ask the Government If You Want to Change Religion | Christian church leaders say they're trying to ignore the controversial law, but police aren't doing the same. (Mar. 12, 2001)

New Delhi Conference Condemns 'Immense Suffering' in Caste System | National Campaign for Dalit Human Rights plans to appeal to United Nations. (Mar. 9, 2001)

Weblog: Take Up Arms Against Missionaries, Says Hindu Leader | Clouds darkening over India (Mar. 6, 2001)

Churches Angry that Indian Census Ignores 14 Million Christian Dalits | Only Hindu, Sikh, and Buddhist members of "untouchable" caste being counted. (Mar. 2, 2001)

Churches Have Not Worked to End Dowry Practice | India's women are seen as less valuable than men in a society that supports bride burnings and "suicide." (Feb. 20, 2001)

India's Christians Face Continued Threats | We must preach what we believe in spite of Hindu pressure, says Operation Mobilization India leader. (Feb. 15, 2001)

India's Quake Survivors Need Counseling | Earthquake survivors are desperate for more than material aid, Indian bishop warns. (Feb. 9, 2001)

Quake Rocks Hindu Hotbed | Agencies appeal for funds to aid victims. (Feb. 8, 2001)

Politician Who Saw God's Hand in Gujarat Quake Forced to Resign | Civil aviation minister had told Christians that quake was God's judgment against persecution of Christians. (Feb. 5, 2001)

Militant Hindus Assault Christians | Persecution of religious minorities stirs Christian outrage against government inaction. (Jan. 31, 2001)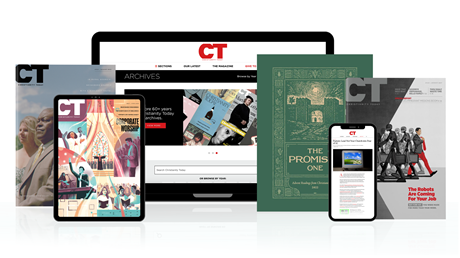 Subscribe to Christianity Today and get access to this article plus 65+ years of archives.
Home delivery of CT magazine
Complete access to articles on ChristianityToday.com
Over 120 years of magazine archives plus full access to all of CT's online archives
Subscribe Now
"In Southern India, Orthodox Priest Has Communist Support in State Election"
"In Southern India, Orthodox Priest Has Communist ...