Two pastors in the 2.6 million-member Lutheran Church-Missouri Synod (LCMS) have accused denomination president Gerald B. Kieschnick of promoting syncretism and unionism. They say he should be stripped of the presidency and expelled as a member.
This is the most publicized incident in a rising debate over prayer with other faiths, but it is not the only one. The September 11 terrorist attacks spurred an increase of unity services and interfaith events—leaving many to question the limits of religious unity.
Kieschnick, the LCMS president since September 8, supported a pastor's participation in an interfaith service at Yankee Stadium. Accusers say this promoted syncretism, the blending of elements from different religions.
Days after the destruction of the World Trade Center, Kieschnick toured Ground Zero. Afterward, he prayed at a Manhattan church with Evangelical Lutheran Church in America (ELCA) clergy. The two LCMS pastors say this action was a display of unionism, the practice of Christian groups worshiping together as if their doctrines were the same.
Evangelical theologians and leaders contacted by Christianity Today were not hesitant to support Christians praying with believers of other denominations.
Syncretism and prayer
"If they believe that the Bible is God's Word and Jesus died for our sins, specific labels are irrelevant," said James Merritt, Southern Baptist Convention president.
"My decision to participate in saying prayers and singing hymns with ELCA pastors was an appropriate decision," Kieschnick told Christianity Today this week. "My support of a pastor's decision to pray at the Yankee Stadium event was also an appropriate decision. They were appropriate because they reflect the position of the LCMS."
The denomination refrains from prayer with non-Christians in order to avoid an appearance of syncretism or to compromise the gospel. However, the LCMS national convention approved a document (pdf) this summer stipulating that pastors could choose to participate at civic events.
"As Christians, we have the opportunity in a pluralistic society to stand up for the truth," Kieschnick said. "I believe this precious truth needs to be proclaimed from the mountaintops. When given that opportunity, a pastor should take it and clearly articulate our beliefs."
The recent LCMS document stipulated that as long as pastors could pray in Jesus' name without restriction, participation in civic events was up to the individual's discretion. The report reads:
If an invitation requires a pastor to pray to God without mentioning Jesus, he cannot in good conscience accept. Without such a restriction, a Lutheran pastor may for valid and good reason participate in civic affairs such as an inauguration, graduation or a right-to-life activity. These occasions may provide opportunity to witness to the Gospel. Pastors may have honest differences of opinion about whether or to what extent it is appropriate or helpful to participate in these or similar civic events. In these cases charity must prevail.
"When our pastor stood and prayed in Yankee Stadium it was clearly in the precious name of Jesus," Kieschnick said. "He was not praying with Muslims because he was not praying to Allah. There is a difference between praying with those who don't see Jesus as the true God and praying in their midst."
The SBC's Merritt agrees with Kieschnick's distinction. He said an important line exists between praying while other faiths are present and praying to the same God. "My problem with interfaith services is if they give credence to the belief that our God is the same as the God of Buddhists, Hindus, and Muslims," Merritt said.
Recently, Merritt met with President George Bush and several faith leaders in the Oval Office. Bush called on a Catholic priest to pray, Merritt said, "but if it would have been a Muslim or a Hindu saying the prayer, I would not have left the room. When he prayed aloud, I would have prayed silently to the one true Christian God, like I do any time during prayer."
Richard Land, president of the Southern Baptist Convention's Ethics and Religious Liberty Commission,told Christianity Today that he too prays silently when a representative of another faith leads prayer.
In order to avoid affirming syncretism on such occasions, no restrictions can be placed on prayer, he said. Distinctive nuances of each faith must be maintained for true pluralism.
"I only pray one way. I pray as a Christian would pray. I would expect if a rabbi is there he would pray as he normally would pray, and same with someone from any faith," Land said.
There is a difference between interfaith prayer at a civic event and interfaith worship, said John Stackhouse, Sangwoo Youtong Chee Professor of Theology at Regent College. In a worship setting, "there may be no circumstances where it is appropriate. There are too many serious theological problems between faiths." Setting those aside for united worship is pointless, he said.
Stackhouse once attended a Jewish-Christian service, which he said was "reduced to a Jewish common denominator." By accommodating both faiths, the service was generic and monotheist. Joint worship only makes sense, he said, if those present are jointly worshiping the same God, and that is unacceptable to Christians.
However, unity meetings to discuss various crises set off by September 11 are understandable, Stackhouse said. Events like the September 14 National Cathedral service are acceptable because they are more of a civic ceremony than worship.
Timothy George, dean of Beeson Divinity School at Samford University, Birmingham, Alabama, said he is not against sharing prayer in civic settings. He is also very much in favor of interfaith dialogue.
But worship is different.
"If you participate, every person—not just Christians—should be accorded the opportunity to show their faith in the way it requires," George said. "We must insist that Christian distinctives not be compromised. Otherwise, we are engaging in a masquerade and not giving truth to our relationships with other faiths."
Kevin Mannoia, dean of the C. P. Haggard School of Theology at Azusa Pacific University, agrees. "It is okay to come to the platform of public statement or the table of discussion as long as that platform or table does not imply some syncretism," he told CT. "When it is to show the pain and suffering we all shared September 11, then it is fine."
Mannoia said he understands the concerns of some Christians over participation in joint services, but he is not convinced it is inappropriate—as long as beliefs are not compromised.
"We recognize other religions, and to deny they exist is to stick our head in the sand," he said. "To not participate would be a loss for Christians. Do we want to be seen as absent from important events like those responding to September 11? Evangelicals are at a point where we have a maturity to understand our identity. We know who we are. We don't need to compromise our faith."
Todd Hertz is the Assistant Online Editor for Christianity Today.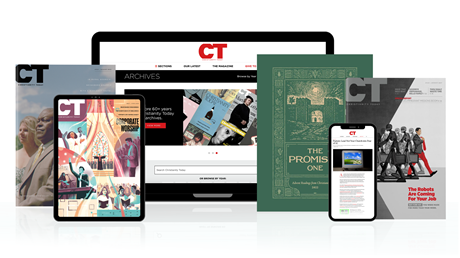 Annual & Monthly subscriptions available.
Print & Digital Issues of CT magazine
Complete access to every article on ChristianityToday.com
Unlimited access to 65+ years of CT's online archives
Member-only special issues
Subscribe
'Praying in Their Midst'
'Praying in Their Midst'