Hogwarts and Quidditch and Platform 9 3/4 at Kings Cross Station—all part of the make-believe world of the Harry Potter books—have the enthusiastic support of Christian magician Andrew Thompson, who thinks that such "fantasy magic" opens children's imagination to the wonders of the world.
It is an approach he follows in his own work combining membership of the Fellowship of Christian Magicians and an Anglican parish ministry in Derby, central England. Conjuring tricks, he says, are "an unbeatable way to teach the Gospel" to adults and children alike.
"Conjuring is on the same level as telling a story or showing a movie. There's nothing a Christian could feel tainted by," he says.
In his performances, he makes clear the difference between Gospel miracles and 21st-century conjuring tricks. He refuses to copy some secular magicians who perform such tricks as walking on water or changing water into wine.
Thompson has no time for fellow evangelicals who worry that the Harry Potter books glamorize the occult. The critics are being "silly," he said. "Children aren't daft. They know what is reality and what is fiction."
He has shared some of his magic secrets in Gospel Magic, published by Grove Books, which has also published Philip Plyming's Harry Potter and the Meaning of Life.
Plyming loves Harry too. The evangelical Anglican parish minister takes the hocus-pocus out of Hogwarts witchcraft and wizardry by finding that the stories are really about character, friendship and the choices between good and evil.
"Many Christians have a false understanding of what Harry Potter is about, often through not having read the books," he says. "The same trigger words are used as with astrology and Tarot cards. But go below the surface, and the books are not about witchcraft at all."
Harry, however, is no copybook Christian hero. Plyming said he had written his book "not to baptize Harry Potter but to explain him in his own terms."
Plyming has concerns about the paraphernalia that is sold alongside the four books and the first film, Harry Potter and the Sorcerer's Stone.
"I'm not happy with children playing around with wands," he says. "The wands don't do anything, but I'm not happy."
In response to the film, which has created a new wave of "Pottermania," the one million-member Evangelical Alliance issued a heavily qualified statement.
John Smith, the alliance's U.K. director, says, "As Christians we should avoid the knee-jerk reaction of rejecting this piece of fantasy literature. Neither should we ignore the potential dangers of the stories as an unintended apologetic for the occult, particularly among children."
He described some of the Harry Potter toys and games as an even greater concern because they tended to "trivialize the occult" and could "encourage children to explore the type of magic which goes beyond the harmless card trick."
Smith says J.K. Rowling's novels stand alongside accepted fantasy classics such as J.R.R. Tolkien's The Lord of the Rings—the source of another current film, The Fellowship of the Ring—C.S. Lewis' Narnia series.
He added: "Christians must look carefully at the burgeoning interest in the supernatural which characterizes Harry Potter's world. For too long we have been embarrassed to give the supernatural core of the Gospel its central place in our proclamation and practice."
Related Elsewhere:
Gospel Magic and Harry Potter and the Meaning of Life are available on the official Grove Books Web site.
The Evangelical Alliance's statement on Harry Potter is available at the organization's Web site.
Christianity Today sister publication Christian Parenting Today analyzed the Harry Potter series to compile a list of everything a Christian parent needs to know about the books.
More on Harry Potter and Christianity is available from the Center for Studies on New Religions (CESNUR) and the Apologetics Index.
Harry Potter and the Sorcerer's Stone, Harry Potter and the Chamber of Secrets, Harry Potter and the Prisoner of Azkaban, and Harry Potter and the Goblet of Fire are all available from Amazon.com and other book retailers.
Harry Potter and the Bible and What's a Christian to Do with Harry Potter? are available from Christianbook.com.
Previous Christianity Today articles on the Harry Potter debate include:
Wary About Harry | Is the big-screen Harry Potter as delightful as the one in the book? And should you be worried about his witchcraft? Critics and viewers respond. (Nov. 21, 2001)
Potter's Field | Harry doesn't always make money magically appear. (Nov. 15, 2001)
The Perils of Harry Potter | Literary device or not, witchcraft is real—and dangerous. (Oct. 23, 2000)
Virtue on a Broomstick | The Harry Potter books, and the controversy surrounding them, bode well for the culture. (Sept. 7, 2000)
Opinion Roundup: Positive About Potter | Despite what you've heard, Christian leaders like the children's books. (Dec. 13, 1999)
Parents Push for Wizard-free Reading | Bestsellers now under fire in some classroom. (Dec. 13, 1999)
Why We Like Harry Potter | The series is a 'Book of Virtues' with a preadolescent funny bone. (Dec. 13, 1999)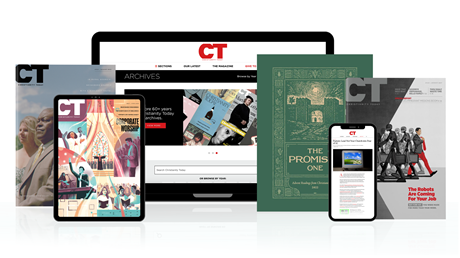 Subscribe to Christianity Today and get access to this article plus 65+ years of archives.
Home delivery of CT magazine
Complete access to articles on ChristianityToday.com
Over 120 years of magazine archives plus full access to all of CT's online archives
Subscribe Now
Let Harry Potter Conjure Up 'Gospel Magic', Says Christian Magician
Let Harry Potter Conjure Up 'Gospel Magic', Says ...