U.S. News: Biblical archaeology matters politically
Jeff Sheler, religion reporter for U.S. News & World Report, is no stranger to arguments over biblical archaeology. He's also the author of the 1999 book Is the Bible True? How Modern Debates and Discoveries Affirm the Essence of the Scriptures. Now, in this week's U.S. Newscover story, Sheler gives an update on biblical archaeology, and examines how findings matter not just religiously, but politically. "With Middle East violence flaring in the background, the often arcane scholarly enterprise has been transformed into a high-stakes and highly politicized conflict over the reliability of the Bible, the reality of 'ancient Israel,' and the validity of competing historical claims to the land called Holy," he writes. "Expunging [biblical] events from ancient history, some argue, would seriously weaken modern Israel's claims to a biblical birthright in the Middle East." Much of Sheler's reporting, however, comes from a new documentary on the History Channel: Digging for the Truth: Archaeology and the Bible (it premiered Monday, but will be on again Sunday night). Sheler notes that it's not just Jews who are battling over their heritage. Palestinians are trying to show connections with the ancient Canaanites—and thus saying, in essence, "we really were here first." A sidebar reports archaeologists' fury at Palestinians for using bulldozers to excavate new openings on the Temple Mount.
Crouches settle OmegaCode/Syndrome lawsuit
A note on the Web site of Sylvia Fleener, author of The Omega Sydrome, says her lawsuit against Paul, Jan, and Matt Crouch and the rest of the Trinity Broadcasting Network was settled out of court on Monday (the day the Los Angeles Times—and Weblog—covered the suit). Here's the legal blah-blah-blah: "The terms of the settlement are confidential, but the matter was concluded in a manner acceptable to all parties. There were no admissions or determinations of liability by either party in connection with the claims and counterclaims made by the parties." (Thanks to faithful Weblog reader Merlyn Klaus for alerting us to the post on Fleener's site.)
Dean of Yale's Berkeley Divinity School resigns after financial scandal
The dean of Yale's Berkeley Divinity School (an Episcopal school in New Haven, Connecticut, not in Berkeley, California) is resigning after an audit reportedly found he mismanaged school funds. The Hartford Courant reported yesterday that Ralph William Franklin had used school funds to pay for a family trip, dental bills, dry cleaning, even his daughter's Harvard tuition. Berkeley officials are standing by Franklin, and deny that any money was misappropriated. "Dean Franklin has always conducted himself with the utmost professionalism and dedication to the special educational mission of this institution," the chair of the board of trustees says. When Franklin leaves January 1, he will work for Episcopal Diocese of New York.
More articles
Pop culture:
Grant, with Gill, crafting own Christmas tradition | Joined in a concert series for the first time by husband Vince Gill, Amy Grant and company are cleverly crafting a holiday juggernaut. (Chicago Tribune)
Rocker rescues Sudan slaves | Jane's Addiction's Perry Farrell partners with Christian Solidarity International (New York Post)
'Rings' mythical and divine | The new Lord of the Rings film that opens tomorrow is expected to take the movie-viewing world by storm, but what is not so well-known are the Christian convictions guiding the author of the classic tale (The Washington Times)
Monsignor embezzlement verdict:
The cons'-signor | Monsignor Thomas Gradilone was a "soft touch" taken advantage of by hardened ex-cons—but he wasn't guilty of embezzling $2 million from his parish, Queens District Attorney Richard Brown said yesterday (New York Post)
Also: Parishioners divided over decision (Newsday)
Church fights for homeless:
Other stories of interest:
Related Elsewhere:
See our past Weblog updates:
December 14 | 13 | 12 | 11 | 10
November 30 | 29 | 28 | 27 | 26
November 16 | 15 | 14 | 13 | 12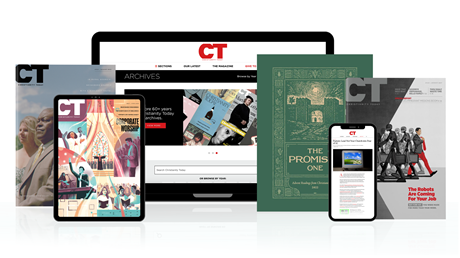 Subscribe to Christianity Today and get access to this article plus 65+ years of archives.
Home delivery of CT magazine
Complete access to articles on ChristianityToday.com
Over 120 years of magazine archives plus full access to all of CT's online archives
Subscribe Now
The Politics of a Hole in the Ground
The Politics of a Hole in the Ground