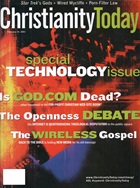 This article is from the February 19 2001 issue. Subscribers can read all of CT's digital archives.
Choosing an image to convey the sudden crash and fall of scores of dot-com companies, Inter@ctiveWeek, an Internet-economy trade magazine, resorted to a photo from the 1950s: Charlton Heston as Moses, from Cecil B. DeMille's The Ten Commandments. A wild-eyed Heston lofts above his head the two tablets containing the commandments—and anyone remotely familiar with the story could tell what happens next.
The headline accompanying the photo said it all to the Internet industry readership: old rules rule. The failure of dozens of cash-laden companies to reap vast sales through snappy Web sites and Super Bowl ads brought many of these high flyers fast down to Earth, with their firms and investors in shambles. The old rules of having a solid business plan and making a profit before launching out into the stock market were back with a vengeance.
Dot-coms aimed at the Christian market haven't fared much better. Heavily promoted iBelieve.com lasted less than nine months before a sudden rapture to the land of deceased startups. Another, iChristian.com, made it from November 1999 to July 2000 before being swallowed up by Massachusetts-based Christian Book Distributors, a "brick-and-mortar" mail-order bookseller that also has a successful Web site (christianbook.com). And in December, Nashville-based Gaylord Entertainment pulled the plug on Christian Web sites Musicforce.com (a cd store) and Lightsource.com (which partnered with portal site Yahoo! to provide Christian audio programs).
Many that aren't already dead are on life support. Crosswalk.com's stock plummeted during 2000 and, despite high-profile deals such as an exclusive arrangement to cybercast Billy Graham's Amsterdam 2000 conference, is losing ministry partners such as Charles ...
1
Our digital archives are a work in progress. Let us know if corrections need to be made.
Is God.com Dead?