During Holy Week of 1999 I was in Philadelphia for the annual meeting of the Association for Asian American Studies. On the afternoon of Good Friday, instead of attending the scheduled business meeting, I decided to go to whatever church was nearest. That turned out to be Saint John the Evangelist, a Roman Catholic church, where I attended a performance of Franz Liszt's Via Crucis (The Way of the Cross).
Saint John the Evangelist was not stripped down, like some modern Catholic churches. There were grottoes and niches and altars all about. For some reason, I was taken back to my early childhood, to the experience of sitting in church when I didn't grasp the details of what was going on but was enveloped in mystery. It seemed that my brother was sitting next to me. I had the uncanny sense that he was seeing everything I saw.
Of course the Baptist sanctuaries where we sat as small boys didn't look anything like this, but it occurred to me then with a conviction I can't explain that we would have felt at home here. And for the first time, following the Stations of the Cross, I felt something more: a deep, piercingly sweet appreciation of Mary, the mother of Jesus, linked with the love my brother and I felt for our mother and at the same time suggesting the incomprehensible love of God for us. Before that time, I had understood Marian devotion intellectually, though like many Protestants I was mostly conscious of its excesses; I had never felt it.
I was taken back to that experience a few days ago when my wife Wendy and I were doing our reading from the Catholic prayer book, Magnificat, which we have been using for some time. Because we are not Catholic, there are times when we skip passages, as when we are directed to pray through the intercession of Saint John Neumann or Our Lady of Guadalupe. And we omit some of the Marian veneration as a matter of emphasis. But for the most part we are blessed by the daily readings, to such an extent that we have given subscriptions of Magnificat to several Protestant friends. The reality of the church is made manifest in these pages.
But in the morning reading for January 20th, Wendy and I came to a passage that stopped us in our tracks: "Mary has been made a full sharer in the resurrection of her Son. She is clothed with the beauty of his risen glory. Through her intercession as mediatrix of all graces, the church is robed in Christ through baptism." It wasn't sufficient simply to skip that passage; we had to dislodge it from our throats.
"Mediatrix of all graces"? That sounds awfully close to the "co-redemptrix" language of some Catholics, a determined group who hope to elevate Mary's status (as reported in an August 25, 1997, Newsweek cover story by Ken Woodward and, much more recently, in The New York Times). Of course, many Catholics, and not only Protestants, resist this effort.
For us this moment was an unwelcome reminder of division, but also a reminder that, if every Christian community from first-century Corinth to twenty-first-century Chicago has been flawed to a greater or lesser degree, God's loving care for his church has never abated. And so after a minute we continued the reading for that day with the next passage, from Isaiah 61: "I rejoice heartily in the Lord; in my God is the joy of my soul."
John Wilson is Editor of Books & Culture and Editor-at-Large for Christianity Today.
Related Elsewhere:
Visit Books & Culture online at BooksandCulture.com or subscribe here.
Ken Woodward's Newsweek cover story is no longer available on the official Newsweek site, but has been reprinted elsewhere on the Web.
On the September 10, 1997, edition of National Public Radio's Talk of the Nation, Woodward and two Catholic theologians discussed the doctrine of Mary as Co-Redeemer.
In her December 23, 2000, article in The New York Times, Jan Jarboe Russell writes, "Although it has the support of at least 12 cardinals in Rome, others fear that [proclaiming Mary as co-redeemer] would cause a major schism among Catholics and set back efforts at ecumenism. Because the dogma would be an infallible proclamation by the pope, it would also provoke renewed debate over the role of the pope's power in modern society." The article, "Seeking a Promotion for the Virgin Mary," is still available online.
In the December 2000 issue of First Things, Daniel P. Moloney examines "Evangelicals in the Church of Mary." For a different perspective, see Sarah E. Hinlicky's "There's Something About Mary" in re:generation quarterly.
Magnificat's Web site doesn't offer much, but it does have a sample day's content and a way to get a complimentary copy.
Books & Culture Corner appears Mondays at ChristianityToday.com. Earlier Books & Culture Corners include:
Opening the Mind of Science | Science Goes Postmodern, Part 2 (Jan. 22, 2001)
Science Goes Postmodern | David Foster Wallace creates math melodrama with his essay-review. (Jan. 15, 2001)
On Being Human, Part 3 | Did Natural History swallow an unscientific argument because it explained human experience in evolutionary terms? (Jan. 8, 2001)
Article continues below
On Being Human, Part 2 | Learning from information rather than instinct is often harder than it looks. (Dec. 18, 2000)
On Being Human | Natural History magazine celebrates a milestone. (Dec. 11, 2000)
Are You Re:Generated? | Inside one of the best religious publications on the planet (that's not Christianity Today). (Dec. 4, 2000)
The Promise of Particularity Amid Pluralism | A dispatch from the Annual Meeting of the American Academy of Religion and the Society of Biblical Literature. (Nov. 22, 2000)
The Horror! | Joan Didion encounters evangelical Christianity. (Nov. 13, 2000)
Election Eve | Why isn't anyone focusing on those who simply won't bother to vote? (Nov. 6, 2000)
Three Books and a Wedding | Remembering the good news. (Oct. 30, 2000)
Unintelligent Designs | Baylor's dismissal of Polyani Center director Dembski was not a smart move.(Oct. 23, 2000)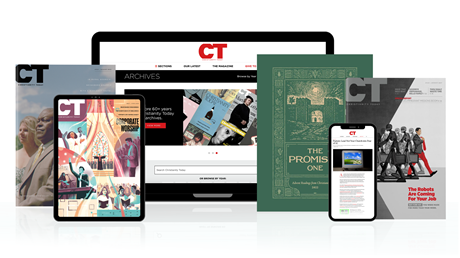 Subscribe to Christianity Today and get access to this article plus 65+ years of archives.
Home delivery of CT magazine
Complete access to articles on ChristianityToday.com
Over 120 years of magazine archives plus full access to all of CT's online archives
Subscribe Now
Read These Next
Trending

Died: Pat Robertson, Broadcast Pioneer Who Brought Christian TV to the Mainstream

With CBN, "The 700 Club," Regent, the Christian Coalition, and a run for president, he changed evangelicals' place in public life.

FrançaisIndonesianрусскийУкраїнська

From the Magazine

When Politics Saved 25 Million Lives

Twenty years ago, Republicans, Democrats, evangelicals, gay activists, and African leaders joined forces to combat AIDS. Will their legacy survive today's partisanship?

Editor's Pick

PCA's 50th Anniversary Comes During a Season of Grief

Presbyterians expect less fight and more fatigue as they gather following the Covenant shooting and the deaths of Harry Reeder and Tim Keller.
Mary, Mary, Quite Contrary?
Mary, Mary, Quite Contrary?