A specialist in liturgical language says a Vatican ruling against "politically correct" words in the liturgy should also encourage non-Catholics opposed to the dropping of "ancient and beautiful prayers."
Father John Hunwicke, an Anglican priest who is head of theology at Lancing College in England, complained that "unending revision" of worship had produced "disgusting language, poor doctrine and politically correct versions."
In a document, Liturgiam Authenticam, released in May, the Vatican's Congregation for Divine Worship and the Discipline of the Sacraments, states that translations of the Bible and liturgy "must be freed from exaggerated dependence on modern modes of expression."
Hunwicke said in the Church of England's newest prayer book, Common Worship, the start of Psalm 1 from the traditional King James's Bible, "Blessed is the man" had been "mistranslated" as "Blessed are they."
He pointed out that in Psalm 14, starting with the words "The fool hath said in his heart," the fool was allowed to stay masculine. "Gender-specific language is wrong for warm and cozy people, but clearly all right for fools," he said.
"Worship is not a private game for experts—that is what the Pope is saying. How right he is," said Hunwicke.
According to the Vatican document, many languages have words capable of referring to masculine and feminine in a single term. It warns: "The abandonment of these terms under pressure of criticism on ideological or other grounds is not always wise or necessary nor is it an inevitable part of linguistic development."
Liturgiam Authenticam insists: "The traditional grammatical gender of the persons of the Trinity should be maintained. Expressions such as Filius hominis (Son of Man) and Patres (fathers) are to be translated with exactitude wherever found in biblical or liturgical texts."
Hunwicke, an Anglo-Catholic who prefers to be called a "Catholic Anglican," said that the Church of England Common Worship was a "distinct improvement" on the superseded Alternative Service Book (1980), whose modern language sometimes introduced "bathos" into worship.
Even so, Common Worship allowed an "undesirable degree of variability" in services. He had counted 11 versions of the eucharistic prayer.
He praised the Vatican for seeking to recover the sense of memory of liturgical language.
"This is the memory of an individual and of a community," he said. "The sense of commonality in worship language connects me now and me as a child, me and a thousand years ago, me and a church 10 miles down the road."
Related Elsewhere
The text of the Liturgiam Authenticam is available on the Vatican's Web site. A press release also offers background and an overview of the document.
The Church of England has a site dedicated to Common Worship. Another site introduces and explains The Alternative Service Book.
Liturgiam Authenticam was a victory for conservative Catholics while liberals called it a slap in the face, for it accused them of bending to political correctness.
The Bishop's Committee on the Liturgy is a standing committee of the National Conference of Catholic Bishops.
Earlier Christianity Today articles on the inclusive language debate includes:
The Battle for the Inclusive Bible | Conflicts over "gender-neutral" versions are not really about translation issues. (Nov. 5, 1999)

Do Inclusive-Language Bibles Distort Scripture? | He Said, They Said. By Wayne Grudem (Yes) and Grant Osborn (No) (Oct. 27, 1997)

Editorial: The Great Translation Debate | The divide over gender-inclusive Bibles hides what unites us. (Oct. 27, 1997)

Bible Translators Deny Gender Agenda | Focus on the Family yanks children's Bible; NIV translator loses seminary job. (July 14, 1997)

Hands Off My NIV! | Bible society cancels plans for 'gender-accurate' Bible after public outcry. (June 16, 1997)

EPA Pulls Out of NIV, World Dispute (Dec. 8, 1997)
Earlier Christianity Today articles on worship wars include:
Awakening Liturgies | With the latest census figures, the worship wars move beyond guitar vs. organ. (May 29, 2001)

Whatever Happened to God? | One of evangelicalism's most respected theologians says most worship is clubby and convivial rather than adoring and expectant. (Feb. 1, 2001)

Cease-Fire in the Worship Wars | A dispatch from the Calvin Symposium on Worship and the Arts. (Feb. 8, 2000)

Yancey: Would Jesus Worship Here? | Across the world, God moves in mysterious ways. (Feb. 7, 2000)

The Profits of Praise | The praise and worship music industry has changed the way the church sings. (July 12, 1999)

The Triumph of the Praise Songs | How guitars beat out the organ in the worship wars. (July 12, 1999)

We Are What We Sing | Our classic hymns reveal evangelicalism at its best.

Native Christians Reclaim Worship (Oct. 26, 1998)

Are Evangelicals Missing God at Church? | Why so many are rediscovering worship in other traditions. (Oct. 6,1997)

The Changing Sound of Music | In worship, choruses are beating-out traditional hymns; but the organ plays on. (Oct. 6, 1997)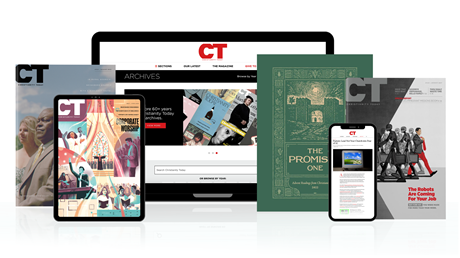 Subscribe to Christianity Today and get access to this article plus 65+ years of archives.
Home delivery of CT magazine
Complete access to articles on ChristianityToday.com
Over 120 years of magazine archives plus full access to all of CT's online archives
Subscribe Now
Anglican Liturgist Welcomes Vatican Warning on 'Politically Correct' Liturgy
Anglican Liturgist Welcomes Vatican Warning on ...