TV president: 'To Hell with you, God"
Wednesday night's finale of The West Wing, the NBC show about life in the White House, had an extended scene where President Josiah Barlet prays in the National Cathedral. But it doesn't begin, "Our Father … " It starts by calling God a "son of a bitch" and a "feckless thug." And it gets worse from there. But perhaps to keep the NBC switchboard from blowing a fuse, they had Bartlet (played by Martin Sheen) deliver the prayer in Latin:
Am I really to believe that these are that acts of a loving God? A just God? A wise God? To hell with your punishments. I was your servant here on Earth. And I spread your word and I did your work. To hell with your punishments. To hell with you.
Yikes. Bartlet, you see, was upset with the death of his personal secretary, and was about to announce that he had M.S., and … never mind. Television critic David Bianculli notes that The West Wing's writers may have taken a note from last year's season finales. Last May, he notes, "Andy Sipowicz sat in a small, austere chapel addressing the Supreme Being in language the NYPD Blue detective ordinarily reserves for peddlers of kiddie porn." But, Bianculli notes, the prayers were set in a context that doesn't make them as outrageous as Weblog's little excerpt here might make them seem. "Jed Bartlet's faith was intact by Wednesday's closing credits, and there's reason to believe Andy Sipowicz has more faith than he lets on."
The real president prays, too
Wednesday's Weblog noted the heat that Attorney General John Ashcroft has taken in the media for holding prayer meetings in his Justice Department office. Now, apparently, it's Bush's turn. "President's faith is a 'great comfort' to him," says a headline on this morning's USA Today. "But some worry frequent prayers mix with policy." There's really nothing in the story about Bush's faith that you didn't read dozens of times over during the campaign. But such stories make Weblog wonder: would Bush's prayers be more appropriate if he had them in the National Cathedral and called God a "feckless thug?" Or maybe Josiah Bartlet should stop worrying about what the country might think if they found out he lied about having M.S., and start worrying about what the mainstream media might think if they found out he prays.
(In a related story, a group of schoolchildren were reportedly kicked out of a White House tour for praying for the president.)
Accredit Trinity Western University even though they believe homosexuality is wrong, rules Canada's Supreme Court
The British Columbia College of Teachers was wrong to deny certification to Trinity Western University simply because it disagreed with the school's stance on homosexuality, Canada's Supreme Court ruled his week. "Freedom of religion is not accommodated if the consequence of its exercise is the denial of the right of full participation in society," the justices said in an 8-1 decision. The dissenting justice argued that the BCCT was right to deny certification because "homosexual and bisexual students have an acute need for welcoming and supportive classroom environments," and she rejected the idea that "one can love the sinner, but condemn the sin." The BCCT was also ordered to pay about $1 million in legal costs.
Richard Mouw defends polygamy
"I believe that polygamy is sinful" the president of Fuller Seminary and frequent Christianity Today contributor writes in a Beliefnet column about Utah's case against Tom Green. "But I also believe that not everything that is sinful should be viewed as illegal. In our pluralistic society, where people of various worldviews and value systems are attempting to live together with some semblance of harmony, we need to tolerate many things we consider morally wrong. We should only legislate against those practices that pose serious threats to the fundamental rights of other human beings. This means, as I see things, that we ought to go out of our way to tolerate practices based on the sincerely held convictions of people with whom we disagree."
Evangelicals taking heat for opposing Sudan war
You'd think that opposing slavery and genocide in Sudan would be pretty uncontroversial. The cause has brought such together a diverse group that includes Kenneth Star and Johnnie Cochran, Al Sharpton and Franklin Graham, Dick Armey and Michael Jackson. But evangelicals—who have been pushing to make Sudan a foreign policy priority—have been taking some heat in the papers lately. "The vigor of the response [against Sudan], combined with the continued indifference to a wide variety of other international concerns, leads me to the inescapable conclusion that we are about to become a Great Christian Nation once again," San Francisco Chronicle columnist Jon Carroll. He sees Christians' foreign policy efforts as only the first step toward new bloody crusades to retake the Holy Land. Meanwhile, AfricaOnline reports, "Fears are rising that if American evangelicals continue to focus exclusively on the religious dimensions of the Sudanese war, there could be a backlash from Islamic fundamentalists, thus intensifying the conflict."
Violence begins in Accra
Weblog earlier noted the impending battle between Christians in Accra, Ghana, and the animist Ga, who have banned drumming and loud music for a month. The violence has started. Militant youth stormed Christ Apostolic Church, which the Ghanaian Chronicle identifies as the capital's oldest and possibly biggest Pentecostal church. The church members "returned the violent confrontation with equal zeal and a number of people sustained injuries," reports the Chronicle.
Final note:
Weblog will be on vacation next week (houseboating on Lake Powell and visiting relatives in Phoenix). There may be a few brief updates if major religious news breaks, but otherwise the feature will return after Memorial Day.
Related Elsewhere
See our past Weblog updates:
May 17 | 16 | 15 | 14

May 11 | 10 | 9 | 8 | 7

May 4 | 3 | 2 | 1 | April 30

April 27 | 26 | 25 | 24 | 23

April 20 | 19 | 18 | 17 | 16

April 12 | 11 | 10 | 9

April 6 | 5 | 4 | 3 | 2

March 30 | 29 | 28 | 27 | 26

March 23 | 22 | 21 | 20 | 19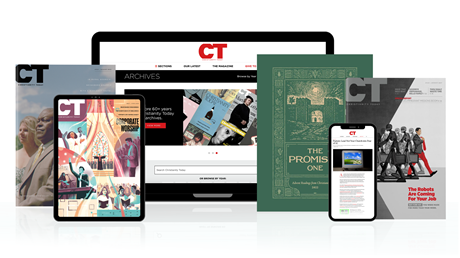 Annual & Monthly subscriptions available.
Print & Digital Issues of CT magazine
Complete access to every article on ChristianityToday.com
Unlimited access to 65+ years of CT's online archives
Member-only special issues
Subscribe
President (on TV) Calls God a 'Feckless Thug' and Worse
President (on TV) Calls God a 'Feckless Thug' and Worse