The pope calls for Assisi summit for better understanding, peace
On Saturday, The Washington Post reported that the Vatican was worried that one of the pope's dearest projects, the promotion of understanding between Muslims and Christians, was falling by the wayside because of current tensions. The article pointed out that so far, "the Vatican has kept an unusually low profile regarding the war."
That changed Sunday. Speaking at St. Peter's Square, Pope John Paul II called for leaders of all the world's religions to gather on January 24 in Assisi, Italy, to pray for peace. His hopes for the summit are both to overcome the armed conflict and improve relations between Christians and Muslims.
"At this historic moment, humanity needs to see gestures of peace and listen to words of hope," The Pope said. "The more insurmountable the difficulties seem, the darker the prospects, so much more intense should our prayer to God become to implore him for the gift of mutual understanding, of concord and peace."
Assisi is the birthplace of St. Francis, the founder of the Roman Catholic Franciscan order. The pope has twice held peace summits at Assisi.
Shelter Now Workers reveal kindness and atrocities in Afghanistan
The eight released foreign aid workers, which include Americans Dayna Curry and Heather Mercer, have begun to discuss their captivity and rescue last week from Afghanistan.
The two Americans, four Germans, and two Australians—along with 16 Afghans—were held for over three months by the Taliban on charges of preaching Christianity.
Curry and Mercer have admitted a few of the charges were true. They admit to being in an Afghan home, giving the family a book on Jesus, and watching parts of a Jesus film with them. But, they said, their discussions with families were merely comparisons of the two religions and not evangelism.
"After we saw the list of our charges, we were completely flabbergasted," Mercer told The Washington Post. "Eighty percent of the charges they had against us were completely false."
The former detainees have also spoken of their treatment by the Taliban, which was very good—but such hospitality did not extend to all Taliban prisoners. The Americans, Germans, and Australians were allowed to sing and pray. They were well-fed. Some guards even professed their affection for them and promised to die protecting them.
However, Afghan prisoners in the jail were harshly beaten and suffered in nightmarish conditions. "We saw some pretty atrocious things, women beaten till they bled," Mercer said at a press conference.
Though captivity was a time of stress and terror for the captives, Mercer, said, "It's also been the greatest privilege of my life, and I wouldn't trade it for anything."
In fact, Peter Bunch, a formerly imprisoned Shelter Now worker from Australia, said all the captives shared a love for the Afghan people and said he hopes to return.
Meanwhile a spirit of thanksgiving has come early for Mercer and Curry's loved ones, though the former captives are not yet on American soil. This weekend, the celebration of their freedom continued. USA Today said that at the women's church, Antioch Community Church, "Associate Pastor Kevin Johnson donned a T-shirt with a large smiley face on its front and roamed the stage with a wireless microphone. 'We just want to thank you as a body,' he told worshipers. 'It was us' who helped free the women."
Related Elsewhere
See our past Weblog updates:
November 16 | 15 | 14 | 13 | 12

November 9 | 8 | 7 | 6 | 5

November 2 | 1 | October 31 | 30 | 29

October 26 | 25 | 24 | 23 | 22

October 19 | 18 | 17 | 16 | 15

October 12 | 11 | 10 | 9 | 8

October 5 | 4 | 3 | 2

September 28 | 27 | 26 | 25 | 24

September 21 | 20 | 19 | 18 | 17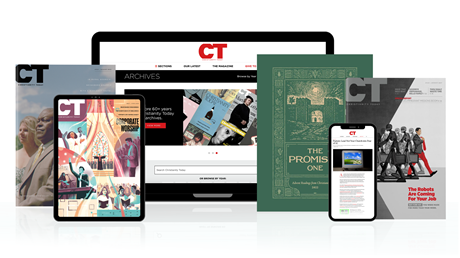 Subscribe to Christianity Today and get access to this article plus 65+ years of archives.
Home delivery of CT magazine
Complete access to articles on ChristianityToday.com
Over 120 years of magazine archives plus full access to all of CT's online archives
Subscribe Now
The Pope Calls For Gestures of Peace
The Pope Calls For Gestures of Peace