British religious hatred law survives House of Commons
A proposed British law outlawing the incitement of religious hatred got a boost from the House of Commons this week. The body voted Monday 328 to 209 to keep the provision in an anti-terrorism legislation package, which passed the Commons on Tuesday night.
The country's Evangelical Alliance has opposed the law, saying it could limit evangelism. Comedian Rowan Atkinson (Mr. Bean, Blackadder) also opposed the bill, saying it would limit comedy. But Home Secretary David Blunkett, who proposed the bill, says they should stop worrying. "Jokes and amusing behavior, the criticism of people's religion, the way in which people express their own religion, will not and is not intended to fall foul of these particular measures," he tells the BBC.
The legislation will have a tougher time in the House of Lords. Meanwhile, The Times of London is still campaigning against the religious hatred provision. "The proposal to expand the crime of incitement to race hatred so that it covers religious belief should not become law," the paper editorialized yesterday. "Moral debates between those who hold different beliefs about religion are vital to the progress of man. Passing laws that might blunt the sharp edges of such debate is dangerous and deceiving."
Heather Mercer and Dayna Curry meet with Bush
"It's a wonderful story about prayer, about a faith that can sustain people in good times and in bad times," said President Bush Monday, summarizing the tale of Heather Mercer and Dayna Curry, the two Shelter Now workers held by the Taliban for three months (text | audio | video). As Mercer and Curry received a special White House tour, they were greeted by just about everyone, including Vice President Cheney, Secretary of State Colin Powell, Defense Secretary Donald Rumsfeld, national security adviser Condoleezza Rice, and White House chief of staff Andy Card. Mercer agreed that it was a story about prayer. "We know we're here because of the prayers of people all over the country, all over the world. And I think if we had a whole lifetime to say thank you, we wouldn't do it right, we wouldn't say it appropriately," she said. They say they plan to return to Afghanistan, where they won't hide their faith. "I think who we are as Christians, as people who love Jesus, is just naturally in the overflow of our lives," said Mercer. "So I don't imagine that when we have a chance to go back, we'll change who we are."
Before they go back to Afghanistan, they'll go home to Waco. A massive "Celebration Gathering" is scheduled at Baylor University December 8 to welcome the two alumnae back home. Their pastor, Danny Mulkey, tells the Waco Tribune-Herald that it won't be "a ticker-tape parade or a civic affair — it's a worship service, 'pure and simple.'"
Stamping out Islam
The United States Postal Service's Eid stamp, celebrating the Muslim feast that comes at the end of Ramadan, isn't selling very well. But that's not good enough for Paul Weyrich, president of the Free Congress Foundation. "I am writing to suggest that the current stamps be withdrawn, to be overprinted with the image of the Twin Towers and then reissued," the Religious Right pioneer wrote to congressional leaders. "I have no doubt a majority of Americans would find the altered stamps a more appropriate commemoration of Islam than the current celebratory version." Think maybe this is the kind of thing the Brits are trying to stop with the religious hatred bill?
Related Elsewhere
See our past Weblog updates:
November 27 | 26

November 21 | 20 |19

November 16 | 15 | 14 | 13 | 12

November 9 | 8 | 7 | 6 | 5

November 2 | 1 | October 31 | 30 | 29

October 26 | 25 | 24 | 23 | 22

October 19 | 18 | 17 | 16 | 15

October 12 | 11 | 10 | 9 | 8

October 5 | 4 | 3 | 2

September 28 | 27 | 26 | 25 | 24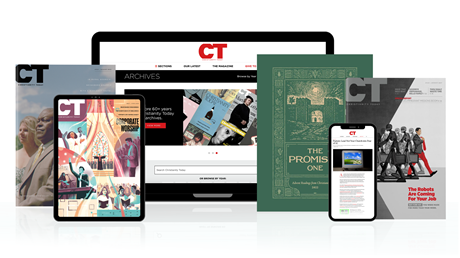 Subscribe to Christianity Today and get access to this article plus 65+ years of archives.
Home delivery of CT magazine
Complete access to articles on ChristianityToday.com
Over 120 years of magazine archives plus full access to all of CT's online archives
Subscribe Now
'Religious Hatred' on Both Sides of the Pond
'Religious Hatred' on Both Sides of the Pond