On day one, the world watched fireballs and smoke. The focus was on "big" things: the second-tallest buildings in America and the world's largest office building attacked by jumbo jets. On day two, things got a lot smaller—we started to see faces and see names of those who were gone, striking our collective psyches in a completely different way. What will day three bring? What will the next year bring?
Several evangelical leaders say they sense revival in the land, reports the Associated Press. Continuing a trend of I-told-you-so prophetic voices, U.S. Prayer Center director Eddie Smith said God had told him revival was on its way, but "served … on a platter of ruin." Pastor Dutch Sheets of Springs Harvest Fellowship in Colorado Springs tells Family News in Focus, "Absolutely, this will drive the nation to prayer. … Typically in the past, these sorts of things (were) wake-up calls." Pat Robertson and other religious leaders are calling for Christians to pray that the tragedy would lead to revival, the AP reports.
In Colorado Springs, the World Prayer Center closed to the public following the attacks, but apparently it's open again. World Prayer Center Pastor Wesley Tullis tells Family News in Focus the center is trying to "coordinate strategic prayer for objectives around the world. "Unless we mobilize the Church of America to be prayer-based, we're going to continue to see ongoing challenges that aren't met by any wisdom of government alone, or any wisdom of the military," he says.
The World Prayer Center may be trying to coordinate the exact prayers churches are offering, but they certainly don't need to mobilize churches to pray. Around the country and around the world, churches continue vigils. New York City churches are packed with people who are shocked, silent, and don't know where else to go, In Chicago, interfaith services offered prayers in English, Hebrew and Arabic. In Boston, Cardinal Bernard Law told parishioners (including the governor and the mayor and the speaker of the House), "Blest are you who are weeping; for you shall laugh." In Pittsburgh, parishioner Lois Stauff says she returned to her Catholic parish for the first time in years. "I couldn't give blood because I'm not able to. I couldn't go to Washington, D.C., or New York. This is the only thing I can contribute." In Washington's New Bethel Baptist Church, Suzette Thomas prayed for children, saying, "While children see buildings fall, let them know that you, God, are still in control." In Ottawa, Christ Church's Shane Parker preached, "These evil acts are an affront to God and a violation of God's will for all mankind." In Europe, American expatriates attempted to unite together in prayer.
Mark Oppenheimer writes in today's Pittsburgh Post-Gazette that these religious gatherings are a necessary part of crisis situations. "Our first instinct as we wait for reassurance that our friends are safe is to find other people who are also waiting. And then, when we hear the worst, we will want to mourn with others. And often, we will want to mourn in a place of faith, with people of faith."
Though attendance at the nightly vigils may wane, some future meetings will certainly be prominent. As Weblog is writing, Bush is declaring Friday "a national day of prayers and remembrance." Apparently as part of that, evangelist (and CT founder) Billy Graham will be preaching at a public memorial service at the National Cathedral tomorrow at noon. Meanwhile, the National Association of Evangelicals is organizing its member churches and denominations for a united National Day of Mourning and Prayer this Sunday.
(Pastors looking for help in preparing Sunday's sermon—and anyone else interested in Christian responses to the attacks—should definitely visit textweek.com's growing list of resources. There are links to special orders of worship, new hymns, sample sermons, official church responses, and other such items.)
But while Christians are speaking to God about the attack, they're also speaking to one another and to the U.S. government. Several statements have already been issued and we can expect several more to come. Many calling for the U.S. government to spare innocent lives in its pursuit of justice, suggesting that a large-scale military response would be inappropriate. "Those culpable must not escape accountability," says a statement written by Jim Wallis of Sojourners, "But we must not, out of anger and vengeance, indiscriminately retaliate in ways that bring on even more loss of innocent life." The statement has also been signed by Evangelicals for Social Action's Ron Sider, the National Council of Churches' Bob Edgar, Wesley Granberg-Michaelson of the Reformed Church of America, and others, and Christianity Today is told that the document will be formally released with more names later this afternoon. (The Sojourners Web site offers a place to discuss the statement).
In a similar warning, Alan McDonald of the Church of Scotland's church and nation committee wrote to the American ambassador of his country, "There are no words strong enough to condemn the actions of those who visited this destruction and death on the people of your country. We do not believe, however, that any retaliation which kills thousands more people will provide an answer."
In yesterday's Breakpoint radio commentary, Charles Colson offered his views of retailiation:
Christians believe that government has a special duty to punish those who, in effect, invaded our soil and committed these dastardly acts. But we must do so in a just manner. As Augustine's Just War theory teaches, any military action must have a reasonable chance of success. In our context, that means being fairly certain as to the identity of the perpetrators. We can't simply strike out for the sake of "doing something" or in a blind rage.

We need to also make sure that our targets are military ones. Civilians, even those who applaud the terrorists' actions, should never be targeted. Finally, our response should be proportionate. After an event such as yesterday's, we are understandably tempted to lash out with every weapon in our arsenal. But we must be careful not to let our response to the harm we have suffered lead us to commit an even greater harm—something that our technological superiority makes possible.
Beyond the question of how the government should respond is how individual Christians should respond in their hearts. Can terrorism be forgiven? asks Julia Duin in today's Washington Times. It's not an easy question to answer.
Meanwhile, names of victims and stories of survivors continue to be disseminated. Evangelical pastor and TV technician Isaias Rivera is among the missing, Archbishop of Wales Rowan Williams was trapped in a church only 200 meters from the World Trade Center but survived, Mychal Judge, chaplain with the New York City Fire Department, died giving a man last rites. Today, Episcopal minister Lloyd Prater shares with Beliefnet his stories of ministering to victims.
Yes, there actually are other important religion news stories happening this week. Some very important stories, actually. Weblog will get to them tomorrow.
Related Elsewhere
See our past Weblog updates:
September 12 | 10

September 7 | 6 | 5 | 4

August 31 | 30 | 29 | 28 | 27

August 24 | 23 | 22 | 20

August 17 | 16 | 15 | 14 |13

August 10 | 9 | 8 | 7 | 6

August 3 | 2 | 1 July 31 | 30

July 27 | 25 | 24 | 23

July 20 | 19 | 18 | 17 | 16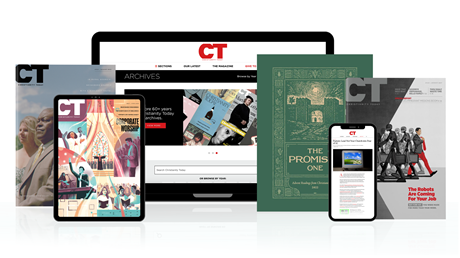 Subscribe to Christianity Today and get access to this article plus 65+ years of archives.
Home delivery of CT magazine
Complete access to articles on ChristianityToday.com
Over 120 years of magazine archives plus full access to all of CT's online archives
Subscribe Now
Will Attacks Bring Revival?
Will Attacks Bring Revival?