New Tribes Mission (NTM) has concluded, based on multiple guerrilla testimonies, that three American missionaries kidnapped eight years ago in Panama were shot by their captors three years later as Colombian troops closed in.
While the remains of Dave Mankins, Rick Tenenoff, and Mark Rich may never be found, NTM has exhausted all leads in the case. Both the mission and the hostages' families accept that the men are dead, said NTM spokesman Scott Ross.
"It's God's time for closure," said NTM vice chairman Dan Germann. "I sat in a Colombian prison in early September with a guerrilla who once guarded Rick, Mark and Dave. His words, 'They are dead,' were final andemphatic, confirming what we had heard from several other insurgents," said Germann. "The years of tears and anxiety for our dear brothers have ended."
Revolutionary Armed Forces of Colombia (FARC) guerrillas snatched the missionaries on January 31, 1993, in the eastern Panama village of Púcuro, near that country's border with Colombia. The three were planting a church among the Kuna Indians. Mankins, then 43, Tenenoff, then 36, and Rich, then 23, and their families were in Púcuro when armed guerrillas burst into their homes. The rebels held the men at gunpoint while the wives packed a few belongings, including their Bibles.
"Nancy Mankins, Tania Rich, and Patti Tenenoff last saw their husbands, hands bound behind their backs, marching into the Panamanian jungle," Germann's press release said. The men were later taken across the border into Colombia. Their wives returned to the United States.
In the eight years since the kidnapping, NTM's crisis committee pursued leads, questioned suspects, launched a huge media campaign and pressured the Colombian and U.S. governments to find out what happened to the missionaries. The Colombian military mounted at least one expedition to search for their bodies, following leads that ultimately proved to be dead ends.
In November 2000, Colombian police arrested José Milcíades Urrego Medina, known as "Commander Rigoberto," in Bogota. Urrego Medina, who in 1993 was second in command of FARC's 57th front that kidnapped the men, refused to give investigators information about the missionaries.
While NTM never found conclusive evidence about what happened to the three, similar testimony has been given by jailed guerrillas interviewed by Colombian, U.S., and mission officials, Ross said. "The story became more clear. I think each individual person on the team, and the wives, resolvedit in their own hearts at different times," he said. The three, NTM has concluded, were killed in 1996 in a military assault on the rebels near Acandí, a mountain village in northwest Colombia just 15 miles from Púcuro.
The Colombian government and FBI will continue to pursue the case. "We knowthe FBI is going to continue the investigation and hope for prosecution on the case," Ross said. "Any leads that happen to indicate [bodily] remains, we feel confident that the FBI will follow through."
Ross said that while the mission and the men's families feel relief at the case's closure, "It's a sad thing. It's another terrorist act of many that have happened in Colombia, as well as around the world. It's a terribleloss for the families and for the mission, but I think everybody is encouraged that we're going forward now."
A memorial service for Mankins, Tenenoff, and Rich will be at 10 a.m.,October 6, at Northland Church, 530 Dog Track Road, Longwood, Florida.
Related Elsewhere
A New Tribes Mission special report includes details and chronology of the case, frequently asked questions on the kidnapping, and obituaries for the three men.
On the eighth anniversary of the kidnapping, the U.S. government demanded information regarding the whereabouts of the three American missionaries
World magazine devoted its February 20, 1998 cover story to the hostage situation.
Two NTM missionaries, Martin and Gracia Burnham, were kidnapped in the Philippines in May. Recent reports on the Burnhams say they are well and may now be in the hands of another group. For developments on the Burnhams, see Yahoo's full coverage and ABS-CBN News.
Earlier Christianity Today coverage of the kidnapped missionaries in Colombia includes:
Colombian Guerilla Offers No Clues to Missionaries' Fate | FBI says that Medina has no information on kidnapped New Tribes missionaries. (Feb. 23, 2001)

Break in Missionary Kidnapping Case | Captured Colombian guerilla may hold key to U.S. missionaries' fate. (Dec. 4, 2000)

Plan for Peace in Colombia Is a Plan 'For Death,' Say Church Activists | Will U.S. military assistance in destroying coca fields only increase violence? (Aug. 15, 2000)

Death in the Night | Colombia's pastors endure extortion, kidnappings, and threats as they plant churches and help the poor in a war zone. (June 6, 2000)

Fate of Kidnapped Missionaries Still Unresolved | Colombia remains thought to end questions are not human after all. (Mar. 29, 2000)

Twenty-five Pastors Killed This Year (Oct. 4, 1999)

Christians Held As Hostages (July 12, 1999)

Colombia's Bleeding Church | Despite the murders of 120 church leaders, Christians are fighting for peace in one of the world's most violent nations. (May 18, 1998)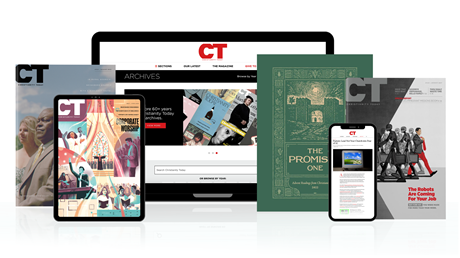 Subscribe to Christianity Today and get access to this article plus 65+ years of archives.
Home delivery of CT magazine
Complete access to articles on ChristianityToday.com
Over 120 years of magazine archives plus full access to all of CT's online archives
Subscribe Now
New Tribes Missionaries Kidnapped in 1993 Declared Dead
New Tribes Missionaries Kidnapped in 1993 Declared Dead