true
By the time that Bono announced the formation of his political advocacy group DATA, met with evangelical leaders about world need, and turned the Super Bowl halftime show into a spiritual event, a book chronicling the Christian message and mission of U2 had already been released.
Walk On: The Spirtual Journey of U2 (Relevant Books) was written by Belfast Presbyterian minister Steve Stockman, who has used the work of U2 in his sermons and writing for 20 years. This week, Christianity Today spoke with Stockman about the influence—and faith—that U2 and its frontman have brought to the world.
What makes Bono stand out among other socially active celebrities?
I think he is unique, and I would like to think he is unique because of his faith. The people who used to talk about political and spiritual things are not around now. U2 is one of the few. Bruce Springsteen is still around, but not with the same relevance he had maybe 20 years ago. Bob Dylan is still around but not in the same way. R.E.M. is now singing about dragonflies, and I don't think they have much to say.
I think the excessive living of some other pop stars has distracted them from the issues of the real world. But I don't think Bono has ever been distracted; he is still pretty well plugged into that. I think his faith has kept him away from excessive living and has also given him a mission.
Bono is unique in that world because he has integrity, he's famous, he has a brain, and he has this spiritual mission of wanting to bring in the kingdom.
Why do politicians listen to a rock star like Bono?
When the political door was opened for Bono, all these politicians said, "Who is this guy?" But when he got in there, he knew his stuff. He didn't come in with a three-line stance that someone outside in the hall gave him to read. He was able to engage with these people.
I recently read an article in which Bono discussed how he was able to approach President Bush and other American politicians with a conservative Christian background.
He said, "These men are based on the Bible. And I know my Bible, so I just talked to them about the Bible. I told them how many verses are about poverty, I told them what Jesus said about poverty, and from the Bible I showed them this should be on their agenda." He won them over with biblical proof.
I certainly do think that when it comes to the life of Bono, his faith has been the thing that has energized his interest in justice issues and poverty issues and AIDS issues.
Why do evangelical Christians like U2?
It probably starts with liking good rock music, but then they also take hold of exactly what the band is trying to do. [After their first album,] they started to ask questions from the place of faith.
Everyone wants to be born again, but what about the process of growing up again? Where does our faith take us, what are those questions, where are those dilemmas? U2 went headlong into the middle of that dilemma. They said, "This is what the world is about, and we will say both what we believe and what we don't believe."
U2 went out and lived in the heart of the storm, and now they can sing about the storm. They have lived in the real world, so their message is more relevant to the real world.
Certainly the new album and the Elevation Tour have been of great encouragement to evangelicals who have gone to the concerts and sensed an infinity with the spiritual energy that Bono is exuding at the moment. I think if you like rock music and you are an evangelical Christian, U2 must be something you can latch on to with pride.
But there's another group within evangelicals who has decided against U2. And I haven't really thought of it, but it would be an interesting thing to see why there's that huge difference of opinion in evangelicals.
When looking back 30 years from now, how will U2 be seen both in a musical and spiritual context? What is their legacy going to be?
I think when you look back at U2, it will be for more than their rock music. I think Woody Guthrie said, "Music has to be more than good. It has to be good for something."
I think modern music is sometimes rubbish. Sheryl Crow's new album is very good, but it is not good for anything. It is not saying anything. It's shallow.
When people look back at U2 they will have to say, at this period of rock music, they are the band that contributed the most socially, spiritually, and politically. They will be remembered as more than just a rock band, but as a rock band that was good for something.
Todd Hertz is assistant online editor for Christianity Today.
Related Elsewhere
Also appearing on our site today:
Bono Tells Christians: Don't Neglect Africa | He urges evangelicals to take a lead in fighting AIDS and poverty.
Inside CT: Bono's Burning Question | Evangelicals and the U2 front man try to figure each other out.
Stockman's Walk On: The Spiritual Journey of U2 is available at Christianbook.com.
In the recent cover story, "Can Bono Save the World?," Time magazine said that Bono knows he has to make the case for African aid with his head, not his heart.
Article continues below
Other articles include:
Rock Star Bono's Agenda For Africa — AllAfrica.com (March 1, 2002)
Bono's crusade comes to DC — Terry Mattingly's On Religion
Bono: 'You can't escape the politics if you're Irish' — CBS News (February 27, 2002)
Over two decades, U2's leader has evolved from heart-on-his-sleeve idealist to irony-drenched rock 'n' roll Liberace to hopeful pragmatist — Salon.com (Oct. 2, 2001)
Bono: The Beliefnet Interview — (February, 2001)
See the official U2 Web site for more information on the band.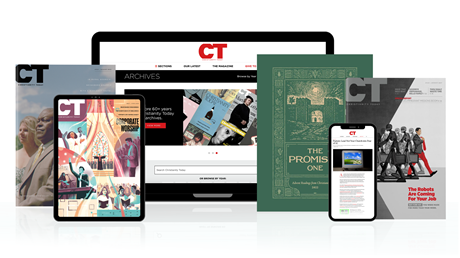 Annual & Monthly subscriptions available.
Print & Digital Issues of CT magazine
Complete access to every article on ChristianityToday.com
Unlimited access to 65+ years of CT's online archives
Member-only special issues
Subscribe
'A Rock Band That's Good for Something'
'A Rock Band That's Good for Something'