"Is The Wittenburg Door worth it?" the Christian satire magazine asked itself in its October/November 1985 issue as it turned 15 years old. "Have we outlived our usefulness? Could our purposes be better served through another method? Would people take us more seriously if we started matching our socks?"
These concerns were precipitated by a letter from a longtime subscriber, who urged the magazine to turn out the lights because it had lost its cutting edge. "One form of institutionalism is the carrying on of a program which has outlived its purpose," said the reader. "To continue to publish the Door would be to prostitute yourselves."
The "Keepers of the Door" were truly shaken by the epistle. It "caused us to go over the edge into a full-blown, mid-life crisis," they wrote. "It took us awhile but, after hours of deep introspection and soul-searching, we came upon a great truth: The Door must go on. It has to go on for one simple, but profound reason—we need the work." The magazine devoted the rest of the issue to examining mid-life crises.
If its 15th year was the occasion for a midlife crisis, the magazine is gasping for breath as it celebrates its 30th. And now it's really time to pull the plug.
30 Years (Or So) of Nailing It to the Church
In its 30th anniversary issue (the March/April 2002 cover is just a big red "XXX," reveling in its double-entendre), The Door admits that it's fudging the numbers a bit. "It's definitely our 180th issue" of publishing more or less bimonthly, it explains. But chronologically, The Door turned 30 several years ago.
The magazine premiered in May 1968 as a four-page, mimeographed "zine" by Paul Sailhamer and Gary Wilburn (both of whom used pseudonyms). Unlike later incarnations it spelled Wittenberg correctly, but its second issue began one of the Door's other hallmarks: publishing late. The publishers soon got so behind in both issues and finances that they handed it off to El Cajon, California-based Youth Specialties, which was hoping to publish a magazine for youth workers—an audience The Wittenberg Door was already reaching in Southern California.
Under editor Ben Patterson, "Italian Correspondent" Mike Yaconelli, and art director Wayne Rice, the magazine promised "to stay on the cutting edge of the youth ministry, providing such features as interviews, articles of interest, reviews, news comment, editorials reacting to current trends in youth work, special guest articles, and much more." That promise lasted three issues. The staff decided the magazine should instead focus on satirizing evangelicals (which appealed to many youth workers), not reporting on youth ministry with a dose of humor.
"We're trying to shoot down sacred cows that maybe shouldn't be sacred cows in the church," the editors explained in their fifth-anniversary issue (June/July 1976). "We're trying to get the church to look at issues that maybe they've just skimmed over in the past because 'everyone else is doing it.' We're trying to ask questions, perhaps, that some people aren't asking. We're trying to give frustrated people a platform from which to speak. And we're trying to do it all with a sense of humor."
And yet, at the same time, the editors maintained a strong commitment to traditional evangelical Christianity. They were, dare we say, much more conservative theologically than many of their readers. "We are evangelicals," Mike Yaconelli (who quickly replaced Patterson as editor), said in the tenth anniversary issue (June/July 1981—no, The Door can't resist the opportunity for an anniversary issue). "We love the church, but we do not love those things in the church which contradict the gospel we believe."
Though critics derided the magazine as divisive, humiliating, profane, liberal, judgmental, slanderous, offensive, and even satanic, the humor almost always reflected a strong commitment to, and thorough knowledge of, the evangelical world. "Lord, I just really want to ask that I will just really be able to just stop and really quit using the words 'just' and 'really' so often in my prayers," said one classic cartoon. A fake ad for "Designer Jeans for the Well-Dressed Christian" offered such versions as "Billy Graham 'Crusade Jeans': They loosen up with age," "Peter Wagner 'Expanding Jeans': They grow on you," and "Ron Sider 'Hungry Jeans': No pockets for carrying money, car keys, or wallets."
The magazine was so inside that it cracked a joke about Bill Bright shaving off his mustache. At the same time, it usually eschewed jokes about those outside the evangelical world. There are notable exceptions. The magazine's first "Green Weenie" award went to the Roman Catholic Church for advertising for prospective priests in Playboy magazine. And the designer jeans article also included "Princeton [Seminary] Jeans: They stretch to fit anybody." But when a reader letter in the August/September 1973 issue suggested giving a Green Weenie to atheist celebrity Madalyn Murray O'Hair, it already seemed out of place. The Door wasn't about mocking unbelievers, however silly they acted. It was about reform.
"If you aim a magazine toward the whole spectrum of belief, then I'd say you have a lousy magazine," the editors said in the fifth-anniversary issue. "We are evangelicals coming from that tradition. Evangelicals are the people that we know and love and are the people who make up the subculture where we believe changes need to occur. That's our market."
From Reform to Inquisition
As time went on, the magazine started looking more professional, using glossy, color pages and dropping the misspelled Wittenburg from its title. But the magazine still saw itself as continuing Martin Luther's work of reformation begun at the original Wittenberg church door in 1517.
That mission changed in early 1996, when Youth Specialties sold The Door for $1 to Dallas-based Trinity Foundation, a watchdog group that monitors televangelists. "For the last few years, the owners of The Door have lost their energy for satire, and as a result, the magazine has suffered," Yaconelli wrote in the March/April 1996 issue. "We trust [the Trinity Foundation], we believe in them, and we think The Door is about to come to life once again." (Yaconelli didn't keep quiet long: he's still satirizing problems in the Christian youth culture and writing on other issues.)
Directly across the page from Yaconelli's resignation, Trinity Foundation president Ole Anthony announced the magazine's new direction. "We are broadening The Door's targeting to include New Agers, the whole Sedona-Taos harmonic convergence thing, self-help groups, Eastern philosophies, and generally all people or institutions in the world of religion that take themselves seriously," he wrote. "That would be … uh … just about all of 'em, right?"
Anthony also clearly separated himself from those he was planning to mock: "Martin Luther … was exposing a religious con game. No other time in history equals ours in that department. It's time to cleanse the temple, and the way to do it is by smashing idols."
The new Door immediately shed its evangelical-only roots, putting Mother Teresa on the cover as "Loser of the Decade" (a rehash of Christopher Hitchens' charges, adding allegations that she taught works righteousness). The next issue put Pope John Paul II on the cover. That was later followed by the Heaven's Gate cult. Inside were jokes about televangelists, Mormons, more televangelists, Hinduism, TV preachers you've never heard of, Zen Buddhism, religious broadcasting megapersonalities like Pat Robertson, the Nation of Islam, and anyone who's ever said "God" on television (the new Door spends more energy on televangelists than the old version ever did on youth ministers).
In other words, Anthony is aiming the magazine toward the whole spectrum of belief. And the result, as The Door editors predicted in 1976, is a lousy magazine.
Not that there haven't been bright spots. Early installments of "The Exegete" by John Bloom (a.k.a. Joe Bob Briggs) offered fresh biblical exposition—and were surprisingly orthodox for someone semi-famous for reveling in the sex and violence of B-movies. And some humor hits its mark, such as half of "Rapture Theories You Might Not Have Heard."
Still, recent non-Door satires are ring truer and funnier, such as Canon Press's The Mantra of Jabez and Right Behind (the authors of those books also run the magazine Credenda Agenda).
Meanwhile, most issues of The Door are full of indications that its keepers don't know what they're doing. Amish jokes are cheap, rarely funny, and you'd think the folks at the Trinity Foundation would admire the radical, countercultural lifestyle of the Mennonite sect. Its sex jokes, like those in "How to know if your pastor is on Viagra," are similarly cheap and lack true satire. The magazine even stooped to running uncredited "religious humor we found on the Internet," as if "the Internet" were the author. The Door should be writing the religious jokes other people steal, not the other way around.
Most of all, humor targeted at the evangelical world simply doesn't work as well if it's surrounded by jokes about the Taliban, "Prayin' La Vida Buddha," and UFO cults. The Door has changed the entire context of its humor. It's no longer about "us," it's about "them." It's no longer jokes about family members; it builds fences and draws lines in the sand.
It was an ombudsman. Now it's an inquisitor. It was Will Rogers. Now it's Don Rickles.
Martin Luther's reforming work continues, but Tomás Torquemada's inquisition does not. Likewise, now that The Door has lost its mission and vision (along with thousands of dollars and subscribers), it's time for the magazine to call it quits. It might be a little too late to take the comedian's advice to leave 'em laughing, but it still has a chance to exit before people say "it used to be a great magazine" instead of "it was a great magazine."
Ted Olsen is online managing editor of Christianity Today
Opinions expressed in Speaking Out do not necessarily reflect the views of Christianity Today.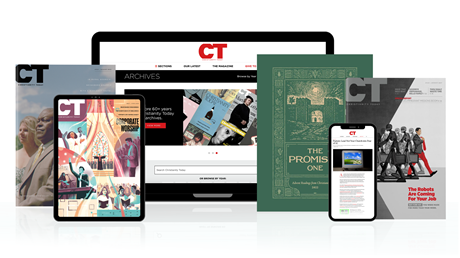 Annual & Monthly subscriptions available.
Print & Digital Issues of CT magazine
Complete access to every article on ChristianityToday.com
Unlimited access to 65+ years of CT's online archives
Member-only special issues
Subscribe
Close The Door
Close The Door