Michael Newdow hopes lightning strikes twice
Californian Michael Newdow is clearly trying to become the next Madalyn Murray O'Hair. The emergency room doctor who famously sued over the Pledge of Allegiance has now filed suit in federal district court charging that government funding of chaplains in the U.S. Congress is unconstitutional. "If congressmen want to go to church, [then] walk down the block like other Americans do and go to church,'' Newdow told The Washington Post. "Don't get my government engaged in it." He also claims he was discriminated against when he applied for the jobs of House and Senate chaplains because he's an atheist.
There's no way this case is going anywhere—the Supreme Court has already ruled that state-funded chaplains are constitutional. "In light of the history, there can be no doubt that the practice of opening legislative sessions with prayer has become part of the fabric of our society," Chief Justice Warren Burger wrote in the 1983 case Marsh v. Chambers. "To invoke divine guidance on a public body entrusted with making the laws is not, in these circumstances, a violation of the Establishment Clause; it is simply a tolerable acknowledgment of beliefs widely held among the people of this country."
But Senate Minority Leader Trent Lott warns Newdow's crusade is no joke. "We should not look upon this as a frivolous case but as another attack on religious liberty," he tells the Post.
Bruce Springsteen, Messiah
There are fans, and then there are fans. Steve Gushee, religion writer for the Palm Beach Post and Cox News Service is apparently a superfan of Bruce Springsteen. "The Boss is an unlikely candidate for sainthood in most religious traditions," Gushee writes. "Still, [his latest album] The Rising is a profound faith statement regarding Sept. 11 that no religious group has equaled. … Thank God, someone is doing the church's job." The church, according to Cox, "offered little to soothe the angst felt almost universally after the catastrophes at the World Trade Center, the Pentagon and on that Pennsylvania farmland." He faults Catholics for being too distracted by the pedophilia scandal and says "Prominent Protestant leaders" such as Jerry Falwell, Pat Robertson, and Franklin Graham "have behaved disgracefully … [offering] recrimination and accusation in place of reconciliation and hope. … Springsteen, on the other hand, sings of prayer, resurrection and new life."
Finally someone dares to speak the truth!!! Knock Falwell, Robertson, Graham, and some Catholic bishops off the list, and absolutely no Christian leaders have said anything healing about 9/11. No one has provided any direction or hope from the ruins of the World Trade Center. Dude, give us a break.
Heroic religion
A couple of years ago, Weblog noted an article examining the religion of Superman and Batman. Now, in the wake of disclosure that The Fantastic Four's Thing is Jewish, The Dallas Morning News examines lesser-known 7 superheroes' religion. Jews still come out on top, but the paper notes that the X-Men's Nightcrawler is planning to become a priest and that Nightwing (the original Robin) listens to dc Talk and reads the NIV Bible.
More articles
Church and state:
Politics:
Life ethics:
Courts:
Crime and violence:
Islam and Christianity:
Schools and education:
University of Maryland reading about gay student riles conservatives | Family advocacy groups object to University of Maryland freshmen being asked to read a play about a homosexual college student, and are monitoring a Texas library's decision to remove from its shelves a book they say promotes homosexuality and abortion (

The Washington Times

)
Yoga:
Missions and ministry:
Denominational rifts:
Church life:
Churches try to bridge differences | A 60-member commission seeking to bridge differences in the World Council of Churches between western Protestant and Eastern Orthodox churches proposed sweeping changes Thursday in the group's voting and worship practices (Associated Press)


Business:
Pop culture:
Art:
'Buddhist' art in cathedral upsets evangelicals | Canterbury Cathedral has been accused of promoting "New Age" beliefs in a new art work which features video pictures of a naked baby to a soundtrack of Buddhist chanting (

The Daily Telegraph

, London)


Modern artwork revives church | Chris Gollon's stations of the cross promises to be disturbing (

The Guardian

, London)


Church will retain Mussolini fresco | Work crews in Montreal are busy cleaning the interior of Montreal's celebrated Church of the Madonna della Difesa, but they won't being whitewashing its most notorious and distinctive feature—a depiction of Benito Mussolini (Broadcast News, Montreal, Canada)
Books and magazines:
Sex abuse cases:
Other stories of interest:
Related Elsewhere
See our past Weblog updates:
August 29 | 28 | 27 | 26
August 23 | 22 | 21 | 20 | 19
August 16 | 15 | 14 | 13 | 12
August 9 | 8 | 7 | 6 | 5
August 2 | 1 | July 31 | 30 | 29
July 26 | 25 | 24 | 23 | 22
July 19 | 18 | 17 | 16 | 15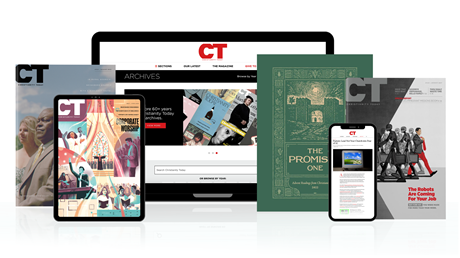 Subscribe to Christianity Today and get access to this article plus 65+ years of archives.
Home delivery of CT magazine
Complete access to articles on ChristianityToday.com
Over 120 years of magazine archives plus full access to all of CT's online archives
Subscribe Now
Anti-'Under God' Atheist Takes on Congressional Chaplains
Anti-'Under God' Atheist Takes on Congressional Chaplains