Senate has faith-based initiative bill; Bush will back it
The White House and Senate leaders have agreed on a faith-based initiative bill, The Washington Post reports today. "In talks with the senators, the White House jettisoned the controversial elements of the legislation, provisions that would have made it easier for religious groups to compete for government grants without compromising their beliefs," reports Dana Milbank. But wasn't making it easier for religious groups to compete as religious groups the whole point of Bush's faith-based initiative? "As long as there are secular alternatives, faith-based charities should be able to compete for funding on an equal basis, and in a manner that does not cause them to sacrifice their mission," Bush said in announcing the initiative a year ago. Does he still believe this?
What we're left with in the Senate bill, according to the Post, is a charitable tax deduction for those who do not itemize on their tax returns, a "Compassionate Capital Fund" to encourage public-private partnerships, and the restoration of funding to the Social Services block grant (a pool of federal money for community organizations). But the effect of the legislation may be much greater. Now that the government has backed down and so much attention is focusing on how legislation won't allow religious groups to compete for federal funds, we may actually see a de facto repeal of charitable choice law we do have. The 1996 welfare reform laws explicitly said religious groups should be allowed to compete for federal funds. Bush's plan was to extend charitable choice, but the underlying principle had already been set—under a Democratic administration. It will certainly be harder for faith-based organizations to compete under the 1996 law if the grant-givers think the law rejected them in 2001.
Bush is scheduled to speak on the Senate bill tomorrow.
Dobson opposes TNIV
Focus on the Family president James Dobson was one of the main opponents of the Inclusive-Language New International Version Bible (NIVI) in 1997. He's been relatively quiet on the Today's New International Version for the last week, telling reporters he's no translation scholar. A press release issued yesterday maintains this tone, but lays down the radio host's opinion. "Being neither a theologian nor a linguist, I am not qualified to make an assessment of the translation accuracy of the recently released TNIV," he said. "However, I have now received sufficient feedback from a large number of evangelical scholars to convince me that this new work is a step backward in the field of biblical translation. Accordingly, I am now adding my name to the list of those who disagree with the liberties IBS has taken with God's Word in the new translation. … I will continue to speak out against any effort that alters God's Word or toys with translation methodology for the sake of "political correctness."
An interesting sidenote: It appears that the Council on Biblical Manhood and Womanhood isn't just opposing the TNIV, it's actually spending money to combat it. The organization bought an ad on the popular search engine Google so that anyone who looks for info on "TNIV" will get an ad that says, "Understanding the TNIV: Learn about the critical problems with this new Bible translation." The ad (which costs the organization $15 for every 1,000 folks who see it) directs readers to the organization's Web site.
Burnham video finally available online
ABC's Good Morning America has finally posted online portions of the November 25 interview of Martin and Gracia Burnham. (The video requires RealPlayer.) Meanwhile, Martin's parents, former Philippine missionaries Paul and Oreta Burnham, have received an extended version of the tape that hasn't been seen in the U.S. Among the parts not seen is a description of the beheading of American hostage Guillermo Sobero. "The Burnhams say they've heard the journalist who filmed the interview, Arlyn de la Cruz, may be expecting Martin and Gracia's release," reports The Wichita Eagle. "Paul Burnham said a CBS news official told him that de la Cruz was on the island of Basilan waiting to cover their release." If so, that's good news.
In the meantime, there's another great Web site on the Burnhams in addition to that of New Tribes Mission. PrayThemHome.com, which New Tribes says was created by "friends of the Burnhams," includes updates, specific prayer requests, and the names of government officials to lobby.
More articles
Politics:
Persecution:
Life ethics:
Church life:
Missions & ministry:
Higher education:
Crime and death:
Catholicism:
Counting church members:
Popular culture:
Other stories of interest:
Related Elsewhere
See our past Weblog updates:
February 5 | 4
February 1 | January 31 | 30 | 29 | 28
January 25 | 24 | 23 | 22 | 21
January 18 | 17 | 16 | 15 | 14
January 11 | 10 | 9 | 8 | 7
January 4 | 3 | 2 | December 31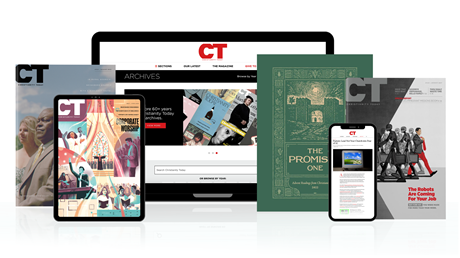 Annual & Monthly subscriptions available.
Print & Digital Issues of CT magazine
Complete access to every article on ChristianityToday.com
Unlimited access to 65+ years of CT's online archives
Member-only special issues
Subscribe
Here Comes (Yawn) the Senate Faith-Based Initiative Bill
Here Comes (Yawn) the Senate Faith-Based Initiative Bill