The battle for Christian radio
Christian broadcasters are calling for the resignation of Wayne Pederson as president of the National Religious Broadcasters (NRB)—even though he hasn't officially become president yet. What has the radioheads so upset is an interview Pederson gave to the Minneapolis Star-Tribune, which was published January 5. When people think of Christian radio, he said,
they think of the political right, and I think that's unfair. We missed our main calling with that. … [What's] disturbing to me is that evangelicals are identified politically more than theologically. We get associated with the far Christian right and marginalized. To me the important thing is to keep the focus on what's important to us spiritually. We're all entitled to our political views and evangelicals tend to gravitate toward more conservative politics, but sometimes in taking our stands we've allowed ourselves to be typecast and the effectiveness spiritually has been diminished. … There's an element in NRB that wants us to be politically oriented—to take stands on public issues, but that's not in our constitution. Our constitution says we're to make the Christian media as effective as it can be. We need to not be pulled into the political arena. We do have a political orientation for [Federal Communications Commission] stuff, but that should not be what we're known for.
For political Christian radio hosts, such talk is blasphemy. "This is a tragic thing for the NRB," Don Wildmon of American Family Radio tells WorldNetDaily. "Mr. Pederson has criticized those he calls the members of the religious right. If one stops to think about it, that includes. … Just about anybody who has worked hard to make the NRB what it is. … I really think Mr. Pederson would best serve the cause to step aside, because if he does not there is a good chance, a real good chance, that either he would be replaced or that another organization more representative of our views would come forth." (Agape Press also reports on Wildmon's comments, but fails to note that it is owned by Wildmon.)
Wildmon may not be making idle threats. He controls 200 radio stations around the country, and has the power deliver.
Even more significant, Wildmon isn't alone. Also criticizing Pederson is the 800-pound gorilla of Christian radio, Focus on the Family. Vice President of Public Policy Tom Minnery tells WorldNetDaily he's "very concerned" about Pederson's comments. "This kind of thing represents a complete break with the recent history of the NRB and the leadership of Brandt Gustavson, who died last year. … I think there needs to be a course correction. There will be an effort at the next board meeting to get the organization on track."
In fact, according to WorldNetDaily, the board members are already being lobbied to get rid of Pederson. And their arms may not have to be twisted. "I think we need to reappraise whether we want him to run this organization," says board member Tim LaHaye.
At the heart of the controversy is what Christian radio is for. Pederson told the Star-Tribune, "NRB should create the media to impact the main culture, rather than just the Christian subculture." Clearly others in the NRB want to continue preaching to the choir. Expect this to come to a head during the NRB convention in mid-February.
India's radical Hindus accuse Christians of aiding antigovernment militants
While tensions continue to rise between India and Pakistan, India's Hindus haven't forgotten about assailing Christians. India's Rashtriya Swayamsevak Sangh (RSS), a fundamentalist Hindu group that has been attacking Christians politically and socially for years (and allegedly encouraging physical attacks), now says churches are aiding separatists. "The Baptist churches in particular are providing arms and other logistic support to various insurgent outfits in the northeastern states," says RSS chief K. S. Sudershan. Though church leaders have responded that the allegations are "all rubbish and the figment of their imagination," the charges will certainly fuel more persecution against the country's Christians since emotions are already running so high over Kashmir. Of course, the RSS chief also repeated his old lie: "The threat to national security apart, the churches have been involved in converting Hindus to Christianity by luring the poor people with money and other temptations." Four days earlier, Sudershan had also denounced evangelistic efforts in the country. "Conversion is a violent act and should be checked," he said. Changing religions should be outlawed, he said, and religious leaders should "spread the message of co-existence" rather than seek converts. Of course, it's kind of hard to spread the message of co-existence when people are burning you alive.
Personalities:
Religious response to terrorism:
Music & popular culture:
Missions and ministry:
Persecution:
Church life:
Education:
Related Elsewhere
See our past Weblog updates:
January 21
January 18 | 17 | 16 | 15 | 14
January 11 | 10 | 9 | 8 | 7
January 4 | 3 | 2 | December 31
December 28 | 27 | 26
December 21| 20 | 19 | 18 | 17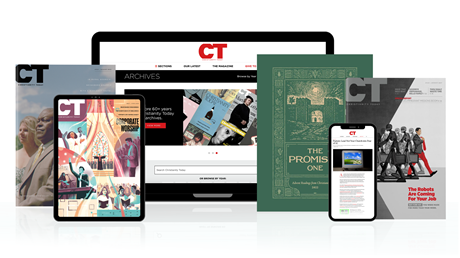 Annual & Monthly subscriptions available.
Print & Digital Issues of CT magazine
Complete access to every article on ChristianityToday.com
Unlimited access to 65+ years of CT's online archives
Member-only special issues
Subscribe
Saying Christian Radio is Too Political May Get Head of Religious Broadcasters Fired
Saying Christian Radio is Too Political May Get ...