Nazis and Christianity: the real story
There's been a lot of talk in the press lately about how Osama bin Laden is as separate from Islam as Adolf Hitler was from Christianity. And every once in a while, you'll come across someone talking about Hitler's Christianity. Fortunately, the Rutgers Journal of Law and Religion has come along to irrefutably correct these dumb comments. The journal is posting on its Web site previously unpublished documents from the Nuremberg war crimes tribunal—starting with a 120-page report, "The Nazi Master Plan: The Persecution of the Christian Churches" (PDF format).
"Important leaders of the National Socialist party would have liked to meet this situation [church influence] by complete extirpation of Christianity and the substitution of a purely racial religion," the OSS said in 1945, according to the report (which was prepared by the U.S. Office of Strategic Services, a precursor of the CIA).
Nuremberg Project editor Julie Seltzer Mandel tells The Philadelphia Inquirer, "A lot of people will say, 'I didn't realize that they were trying to convert Christians to a Nazi philosophy.' … They wanted to eliminate the Jews altogether, but they were also looking to eliminate Christianity."
Persecution in China
"The kind of defiant and violent antagonism to the West that we now associate with Islamists was for centuries linked instead to places like Japan, Korea and China," Nicholas D. Kristof reminded readers in yesterday's New York Times. East Asia has been particularly harsh to Christians, torturing missionaries and burning converts alive, he notes. But the antagonism wasn't really about religion. "Rather, it was about social conservatives trying to protect their way of life from a Western onslaught. … Eventually, Asia did transform itself … In country after country, contempt for the West became something closer to a bear hug."
Not so fast. China is still persecuting Christians, most recently arresting Hong Kong businessman Li Guangqiang for smuggling tens of thousands of unapproved Bibles into the country. But China says that's not really the issue. "It's not a case of smuggling Bibles," Foreign Ministry spokesman Sun Yuxi tells the Chicago Tribune. "The Bibles were a pretext. They smuggled a large amount of cult publications." And by cult publications, Sun may have meant the Bibles—they're not the translation approved by the Chinese government. As for this "cult," the Tribune reports, "According to a 1994 report by Human Rights Watch-Asia, the Shouters sect was targeted as a cult because its fervent evangelical belief in the Second Coming of Christ challenged the idea of a communist utopia." This raises the question (not a rhetorical one; Weblog just doesn't have the answer): what do the government-approved Three-Self churches believe about the Second Coming?
Meanwhile, the U.S. government is getting involved. "The President is deeply concerned about these reports," State Department spokesman Richard Boucher said at the end of Monday's briefing. "The President has asked the State Department to look into this matter. We are doing so. … We have registered our concerns in both Washington and Beijing. Reports of a crackdown on religious practitioners in China are deeply troubling. We call upon China, as a member of the international community, to meet international standards on freedom of religious expression and freedom of conscience." Rep. Tom Lantos (D-Calif.), the ranking Democrat on the House International Relations Committee, is also getting involved and raising religious persecution issues with Chinese officials.
China basically responded to such calls by telling the U.S. government to mind its own business. "No other country should interfere in China's judicial independence," Sun said.
Faced with such disregard for human rights, an editorial says in USA Today, "Now is the time for President Bush to express a little more than 'concern.'"
Predestined for stardom
"The letters in Britney Spears can be rearranged to spell Presbyterians," notes The Dallas Morning News. Then it quotes some Presbyterians commenting humorously. Sounds like someone over at the News has too much time on his hands. Still, you've got to love their headline: "Oops! Is this depravity or what?" (According to the Internet Anagram Server, you can also get "a presbyter sin" and "a berry's pet sin")
Other stories
Archbishop of Canterbury to retire:
Persecution:
Crime:
Charities:
Violence and Christianity:
Church artifacts:
Related Elsewhere:
See our past Weblog updates:
January 8 | 7
January 4 | 3 | 2 | December 31
December 28 | 27 | 26
December 21| 20 | 19 | 18 | 17
December 14 | 13 | 12 | 11 | 10
December 7 | 6 | 5 | 4 | 3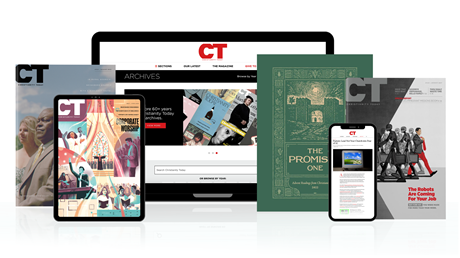 Annual & Monthly subscriptions available.
Print & Digital Issues of CT magazine
Complete access to every article on ChristianityToday.com
Unlimited access to 65+ years of CT's online archives
Member-only special issues
Subscribe
Were the Nazis Bad Christians, or Anti-Christians?
Were the Nazis Bad Christians, or Anti-Christians?