"There's a new face of religion sweeping America," a Scottish news agency reported July 7, "a breed of megachurches where size matters and worship is big business." Case in point is Louisville's Southeast Christian Church, which, in addition to a nearly 10,000-seat sanctuary, features a gym, a fitness club, 16 basketball courts, 4 baseball fields, and a bookstore.
According to the July 9 Christian Science Monitor, First Assembly of Concord (N.C) Baptist Church has gone a step further: it purchased an entire shopping mall. The church has hired a director of development, a former Chamber of Commerce head, to turn the site into a "community village" complete with K-12 school, assisted living center, free clinic, counseling center, and food and clothing depository. Churches in Houston, Plano, and Grapevine, Texas; Asheboro, North Carolina; Glendale, Arizona; and Los Angeles are also reported to be working on combined worship, commerce, and social services facilities.
Both critics and boosters of such projects tend to see them as a new development, a primarily evangelical response to America's full-service consumer culture. Such attractions as climbing walls and aerobics studios do indicate an eye toward the latest trends, but megachurches may be repeating history, too. Europe is dotted with massive worship centers that once served as hubs for culture, commerce, and education. They're called cathedrals.
Not all cathedrals are huge, for a cathedral is by definition "the church where the bishop is," not "the biggest church around." Still, centuries after their construction, cathedrals still rank among the largest buildings in the world. They frequently took more than 100 years to build and required the labor of dozens of masons, glaziers, metal workers, carpenters, sculptors, and other craftsmen. Many cathedrals can hold thousands of worshipers, though they were built in an era when mid-sized towns had only about 5,000 residents.
Commerce grew up and around cathedrals. During construction, laborers required shelter and food services. The transportation of construction materials, sometimes from hundreds of miles away, greased the skids for trade in other goods. Weekly markets sprang up near cathedral walls, and commercial fairs, held a few times a year on the feast days of prominent saints, brought even bigger crowds. Tradesmen also sent their children to cathedral schools, the precursors of modern universities.
Cathedral complexes thus became the focus of civic life as well as religious observance. In his history of Exeter Cathedral, David Nash Ford notes that, by the 1270s, "the cathedral close had become one of the busiest parts of the city. Now a huge building site as well as a place for prayer, it was also a centre of commerce, sport and revelry, despite the objections of the Dean and Chapter." Norwich, England, gained "city" status with its cathedral, dedicated in 1100, and saw its commercial fortunes rise. Meanwhile Norwich's pre-cathedral marketplace, Tombland, lost its prominent economic place to the new structure.
In the Middle Ages, as now, not all observers liked the idea of business and church getting cozy. Humbert of Romans, writing around 1250, expressed particular concern about the proximity of markets to religious centers:
[Markets] are held on feast days, and men miss thereby the divine office and the sermon and even disobey the precept of hearing Mass, and attend these meetings against the Church's commands. Sometimes, too, they are held in graveyards and other holy places. Frequently you will hear men swearing there: 'By God I will not give you so much for it,' or 'By God I will not take a smaller price,' or 'By God it is not worth so much as that.' Sometimes again the lord is defrauded of market dues, which is perfidy and disloyalty. … Sometimes, too, quarrels happen and violent disputes … Drinking is occasioned.
Thus the legend runs of a man who, entering an abbey, found many devils in the cloister but in the market-place found but one, alone on a high pillar. This filled him with wonder. But it was told him that in the cloister all is arranged to help souls to God, so many devils are required there to induce monks to be led astray, but in the market-place, since each man is a devil to himself, only one other demon suffices.
Humbert's critique may or may not apply to modern megachurches, but history offers other lessons to ponder as well. Naysayers who claim that comprehensive Christian enclaves represent isolationist "cocooning" should note that cathedrals, stone walls and all, helped to integrate society and shape emerging urban culture. Megachurch enthusiasts, on the other hand, shouldn't ignore the fact that cathedrals today attract more tourists than worshipers.
Elesha Coffman is managing editor of Christian History magazine.
Related Elsewhere
More Christian History, including a list of events that occurred this week in the church's past, is available at ChristianHistory.net. Subscriptions to the quarterly print magazine are also available.
Article continues below
Related articles include:
Oh come all ye faithful—The Scotsman
Christian-style capitalism grows in the South—Christian Science Monitor
First Assembly plans to revamp Concord Parkade shopping center—The Cabarrus Business Magazine
History of Exeter Cathedral in Devon, part 2—Britannia.com
Humbert of Romans (and other sources)
See Christians History's "Medieval U | How accounting, Aristotle, and the first teachers' unions transformed higher education" from issue 73: Thomas Aquinas.
Purchase Christian History issue 49, "Everyday Faith in the Middle Ages" online.
Christian History Corner appears every Friday at ChristianityToday.com. Previous editions include:
2002 Is Not 1789 | Before trying to figure out what the framers of the Constitution really thought, remember that they were from a wildly different country—the past (July 5, 2002)
Between Extremes | Church leaders didn't like Pelagius's ideas about free will, but they've never been able to avoid them completely (June 28, 2002)
Severe Success | Bernard of Clairvaux was a tough act to follow—yet thousands of Christians walked his path. (June 21, 2002)
Coming to America | Commentators who call proposed INS policies an unprecedented invasion of privacy forget what foreign visitors were asked 80 years ago, and why. (June 14, 2002)
When Pacifists Attack | 350 years ago, George Fox launched a powerful, peace-loving movement with an assault on established Christianity. (June 7, 2002)
Captive Christians | Views from inside Roman, English, and German prisons give a sense of how kidnapped missionaries might feel. (May 31, 2002)
Of Church, State, and Taxes | If you want to know what the establishment of religion looks like, check out church history, not American tax law. (May 17, 2002)
Mom, We Salute You | Mother's Day and Memorial Day were meant to go together. (May 10, 2002)
Christ, Culture, and History | Is the "main character" in the church's story God, transforming faith, or an inspired yet wayward community? (May 3, 2002)
Moving Targets | Evangelizing on-the-go Americans only seems harder than it used to be. (Apr. 26, 2002)
The Profligate Provocateur | In the twelfth century, an intellectual challenge to church authority proved much more dangerous than a sex scandal. (Apr. 19, 2002)
'Hier Stehe Ich!' | When Martin Luther stood up for his ideas at the Diet of Worms, did he really say, "Here I stand"? (April 12, 2002)
National Makeover | Washington's struggle to sell the American image overseas illustrates how sharply today's reality differs from seventeenth-century ideals. (Apr. 5, 2002)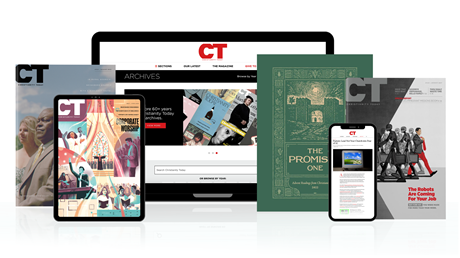 Annual & Monthly subscriptions available.
Print & Digital Issues of CT magazine
Complete access to every article on ChristianityToday.com
Unlimited access to 65+ years of CT's online archives
Member-only special issues
Subscribe
Big Church Revival
Big Church Revival