Priest killed as he finishes preaching
Larry Penzes, the 50-year-old priest of Our Lady of Peace Church in Lynbrook, Long Island, New York, was shot to death at the altar yesterday while celebrating Mass. Eileen Tosner, a 72-year-old parishioner, was also killed. Their murderer reportedly just walked in, pulled a .22-caliber rifle out of his coat, and opened fire. Others in the congregation—there were about 40 at the time, most of them elderly—chased the shooter out of the church and took his gun. He reportedly ran home. Police arrested Peter Troy, a 34-year-old with no apparent connections to the church.
"National Catholic officials said they could recall no other killing of a priest in this country while he was celebrating Mass," reported The New York Times, though "the killing of Father Penzes prompted some to compare the circumstances of his death to the killing of the archbishop of San Salvador, Oscar Arnulfo Romero, who was shot while saying Mass in 1980. In 1985, a deranged man killed a priest in Onalaska, Wis., inside his church."
"This appears to be a fatal mix of a grievance, mental illness and a firearm," says an editorial in Long Island's Newsday. "Penzes was known as a man with a large heart, who succeeded in drawing large numbers of people into active roles in the parish. At 50, he had many productive years ahead of him, but a spasm of violence, aided by the barrel of a rifle, has cut him down and broken the heart of his people."
The editorial has an implied call for gun control, but a column in the paper calls for spiritual reflection. This sad event, writes Matthew Carolan, "reminds us of why we must pray. Because there is evil in the world. And because we do not know the day or the hour, but only that we must someday die. … For a time, fear of what happened yesterday may frighten some people away from their houses of worship. Security may be re-evaluated. These would be understandable reactions. But, at some point, faith in one's community must be restored. Otherwise, worship will be impossible."
That sentiment was also made by some of the church's parishioners. "If we're not safe in a church, that's pretty bad," Karen Aker told The New York Times. "This is where people get peace. It's where they go to pray. This is awful." Indeed it is.
Other stories on religion and murder:
Eugene Rivers accused of discriminating against Muslim
Ex-con Gerald Jones has filed a discrimination complaint with the Massachusetts Commission Against Discrimination against one of America's best-known ministers, Eugene Rivers, reports The Boston Globe. Jones says he was kicked out of Rivers's Ella J. Baker House, which includes rehabilitation for convicts among its programs, because he was a Muslim. Andre Norman, a Baker House worker also named in the complaint, says Jones left because of a drinking problem. "The charges are groundless, but it's a free country and people can sue who they wish," Rivers told the Globe. The Baker House, a frequent example for supporters of Bush's faith-based initative, has posted its nondiscrimination policy on its Web site. The Globe doesn't note that Rivers's father was personally recruited to the Nation of Islam by Malcolm X.
Young Asian churches are booming in America
In the northwest, where Asian populations are growing quickly, The Seattle Times noticed that a lot of young Asian-Americans have formed their own churches. "Although experts don't have exact numbers, they say that in this region, and nationwide, more pan-Asian-American Christian churches are being established, mainly by those in their 20s to 40s," reports Janet I. Tiu. (Actually, Weblog would wager that someone out there has more exact numbers.) "Some are not just pan-Asian but intentionally multiracial. … The new congregations typically prefer casual worship styles. Denominational affiliations don't particularly matter to them, but an egalitarian sense of brotherhood and sisterhood does. They are community- and social-justice-oriented, although not necessarily political, and they are open to diversity while retaining a thread of common experience."
More articles
Sex & marriage:
Missions & ministry:
Interfaith relations:
Religious freedom:
Colorado Senate prayer:
Education:
Evolution:
Abuse:
Pop culture:
Books:
Other stories of interest:
Related Elsewhere
See our past Weblog updates:
March 12 | 11
March 8 | 7 | 6 | 5 | 4
March 1 | February 28 | 27 | 26 | 25
February 22 | 21 | 20 | 19 | 18
February 15 | 14 | 13 | 12 | 11
February 8 | 7 | 6 | 5 | 4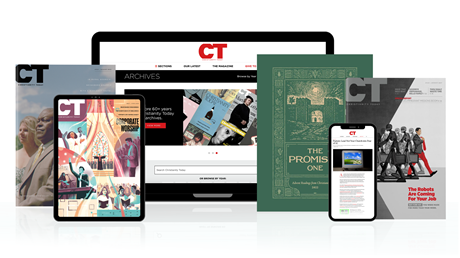 Subscribe to Christianity Today and get access to this article plus 65+ years of archives.
Home delivery of CT magazine
Complete access to articles on ChristianityToday.com
Over 120 years of magazine archives plus full access to all of CT's online archives
Subscribe Now
Long Island Priest Shot During Mass
Long Island Priest Shot During Mass