Missionaries among wounded in deadly church attack
Five people were killed yesterday when grenades exploded during a service at the Protestant International Church in Islamabad, Pakistan. "These are the worst killings against Christians in the nation's history," reports the BBC. It's unclear whether there were one or two attackers and whether the attacker(s) survived. Today's papers are full of horrifying and ironic detail. The Washington Post reports, "Blood was splattered on the walls of the church up to its 30-foot ceiling. Glass and debris covered the floor, and outside, single-sheet copies of the day's hymns fluttered in the breeze."
"The blasts sundered bodies of worshipers and sent blood flying across the simple hall where the worshipers were listening to the sermon, having just finished singing 'This Is Holy Ground,' reports The New York Times. "After the outburst, a man's black loafer lay by the long table where white coffee cups were arranged for the post-service congregants." The sermon, says the Los Angeles Times, was on forgiveness and restoration, based on Psalm 103. "And we do forgive them," said Denis Sherbeck, who led the church's singing and prayers. "Like Jesus hanging on the cross said, 'Forgive them, for they don't know what they're doing.' And they really don't know what they're doing."
Among the dead were a Pakistani, an Afghan, two Americans (Barbara Green and her daughter, Kristen Wormsley), and one person who remains unidentified due to the extent of his injuries. At least 40 parishioners were injured, but a German aid worker says "it's a miracle" there weren't more casualties. Indeed: several of the grenades (police estimate between 10 and 12 were thrown) did not explode.
Weblog is still looking for stories of those who attend the church—the Karachi paper Dawn has a partial list that's not very helpful—but so far has only turned up that of Chris and Nasim Ali. The couple, originally from Pakistan but now based in Carol Stream, Illinois (home of Christianity Today), works with Teen Challenge in Islamabad. The Daily Herald (a suburban Chicago newspaper) reports that the Alis were called back to the U.S. after the September 11 attacks, but quickly returned to the mission field. "The second they found out they could go back, they went," says Kathy Marshall, who attends church with them at Calvary Church, an Assemblies of God congregation. "They said, 'God will protect us. This is where God has led us, and he will protect us.'" Both were injured, neither seriously.
The major papers don't talk much about the church itself, but there's an important story there. The Protestant International Church is one of many (between 600 and 1000) English-language congregations around the world that provide a spiritual home for expatriates. And this church has been in the news before: during the detaining of the Shelter Now workers in Afghanistan, the church served as a kind of spiritual base camp.
Billy Graham apologizes again
News and commentary on Billy Graham's 1972 Oval Office comments about Jewish control of the media has never been a flood, but it has been steady since the comments came to light two weeks ago. One news outlet that has largely stayed away from the controversy is The New York Times, which seems odd considering its high Jewish readership. Yesterday, however, the paper finally had an article on the topic—and published a fresh apology from the elderly evangelist to go along with it. "I cannot imagine what caused me to make those comments, which I totally repudiate," Graham said Saturday in a written statement more than six times longer than his earlier apology for the comments.
Whatever the reason, I was wrong for not disagreeing with the President, and I sincerely apologize to anyone I have offended. I don't ever recall having those feelings about any group, especially the Jews, and I certainly do not have them now. My remarks did not reflect my love for the Jewish people. I humbly ask the Jewish community to reflect on my actions on behalf of Jews over the years that contradict my words in the Oval Office that day. … Racial prejudice, anti-Semitism, or hatred of anyone with different beliefs has no place in the human mind or heart. … Of greater import or concern than any tapes made in the White House, each of us must face the fact that God has "tapes" that record not only our actions but also our thoughts and our intent. … On the appointed day of God's judgment there will be nothing in any of our hearts that will not be disclosed. That is why we all need God's forgiveness."
The apology seems to have been accepted. "The brevity of [Graham's first] apology and Mr. Graham's refusal to discuss the matter further have angered many of the same Jewish organizations that for so long counted Mr. Graham as their best friend among evangelical Christians," reported David Firestone. But now those same Jews are coming around. Firestone notes that one of Graham's most vocal critics for the 1972 comments, Anti-Defamation League head Abraham Foxman, accepted Graham's apology. The Charlotte Observer says local rabbis have also embraced it. "Billy Graham's first apology, to me, reeked of saying the least he could possibly say and get away with an apology," said Rabbi James Bennett. The new apology "sounds like a genuine effort at repentance, that 'I don't agree with those words that I uttered.'"
In related news, leaders of the boycott against Cincinnati are asking Graham to stay away from the city. He is scheduled to hold his next mission there in June. The boycott organizers claim the city is not addressing issues of racial discrimination and "economic apartheid," and other religious organizations (including the National Progressive Baptists) have canceled meetings there in response. "The unique thing about this mission is that he was invited by leaders of the community to promote the gospel and racial harmony," the Billy Graham Evangelistic Association's Jeff Anderson told The Cincinnati Enquirer. "That invitation from those leaders has not been withdrawn, so we will proceed as planned."
Related Elsewhere
See our past Weblog updates:
March 15 | 14 | 13 | 12 | 11
March 8 | 7 | 6 | 5 | 4
March 1 | February 28 | 27 | 26 | 25
February 22 | 21 | 20 | 19 | 18
February 15 | 14 | 13 | 12 | 11
February 8 | 7 | 6 | 5 | 4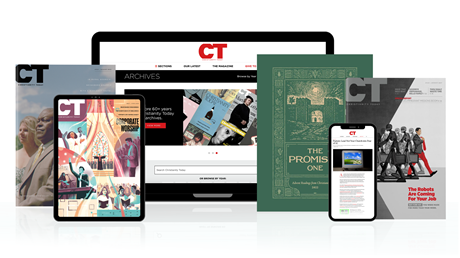 Subscribe to Christianity Today and get access to this article plus 65+ years of archives.
Home delivery of CT magazine
Complete access to articles on ChristianityToday.com
Over 120 years of magazine archives plus full access to all of CT's online archives
Subscribe Now
Read These Next
Trending

Died: Pat Robertson, Broadcast Pioneer Who Brought Christian TV to the Mainstream

With CBN, "The 700 Club," Regent, the Christian Coalition, and a run for president, he changed evangelicals' place in public life.

FrançaisIndonesianрусскийУкраїнська

From the Magazine

When Politics Saved 25 Million Lives

Twenty years ago, Republicans, Democrats, evangelicals, gay activists, and African leaders joined forces to combat AIDS. Will their legacy survive today's partisanship?

Editor's Pick

PCA's 50th Anniversary Comes During a Season of Grief

Presbyterians expect less fight and more fatigue as they gather following the Covenant shooting and the deaths of Harry Reeder and Tim Keller.
Five Killed, Dozens Wounded in Pakistan Church Attack
Five Killed, Dozens Wounded in Pakistan Church Attack