true
Superchic[k], a rock group run as a collective, is so open to welcoming new members that it bears more resemblance to Bob Dylan's sprawling Rolling Thunder Revue than to most other CCM bands.
Of the eight members pictured on the band's debut album, Karaoke Superstars (2001), half no longer tour with the band. But they haven't necessarily quit. At concerts, the number of musicians on stage has varied anywhere from five to nine.
To compound the issue, Superchic[k] has loose definitions of who is actually part of the band. In fact, maybe you are without realizing it. "We are more a movement than a band, really," founder Max Hsu says. "The onstage lineup changes all the time."
Hsu's original concept was to represent the band with animated characters so that the focus would be not on the performers but on the message. Instead, Superchic[k] chose to operate as a collective. Some members appear on stage; others make musical, technical, or conceptual contributions behind the scenes.
Emphasizing a few players as rock stars, Hsu says, would work against the band's message that everyone has gifts.
"Such thinking encourages kids to think some people are more important than others," Hsu says. "We don't make a distinction between the guy who sells merchandise and the lead singer. The person who vacuums the floor of the Christian bookstore where our album is sold is making a difference."
Even without counting bookstore custodians, Superchic[k] is a large organization. The central touring group of the band includes bassist Matt Daly, lead singer Tricia Brock, her sister Melissa on guitar, Hsu (who plays keyboards and turntables), drummer Brian Fitch, guitarist Justin Sharbono, and, as the album says, "whoever's in the van when we leave."
On its Web site (www.Superchick.net), the band jests that it may soon become "a 30-person carnival." It might not be a joke. The band is constantly recruiting. There's even a specific audition section on the Web site. Hsu has been known to recruit new members in fast-food restaurants and at concerts (where the Brock sisters joined the group).
Superchic[k] isn't out to just increase its own roster. It wants to start a revolution of garage bands. If you don't join Superchic[k], members say, then start your own band. They did. Hsu and company recorded Karaoke Superstars in a basement, built their own Web site, and managed themselves before signing with inpop Records.
"We are not the most amazing musicians in the world" guitarist Sharbono says. "But we are able to do it, and the way we see it, anyone can."
Superchic[k] doesn't just tell kids to go start a band—it teaches them how. The Web site's "band camp" section offers tutorials on playing instruments, home recording, designing graphics, self-management, and more.
A Twinkie with Vitamins
Together for over three years, the band released its first album last year (the second is due in August).
Hsu conceived of the band about five years ago as he met thousands of teens while touring the country with his former group, Church of Rhythm. "It was basically a year of watching people feeling miserable," he tells CT. He was shocked to hear so many stories of low self-esteem, peer pressure, eating disorders, anxiety, and attempted suicide.
"It is brutally hard to be in high school today," Hsu says. "You feel like it is a bubble and nothing matters outside of it. What makes it worse is that the values are so set in stone by TV and Hollywood. We've created this global village that only beautiful people live in."
Hsu's response was to form Superchic[k], a band aimed at helping teens graduate from high school with their self-esteem and individual identities intact.
The name Superchic[k] comes from a fan's AOL screen name, but for band members it is a lifestyle. When you become the person God wants you to be and you are secure about who that person is, you are a Superchic[k].
Or, as bassist Daly says, you achieve "Superchic[k]ness." "The issues that are dealt with are not just a girl thing, but a lifestyle," he says. "Superchic[k] is about being who God wants you to be, not about being a girl."
The band appeals to teens with fun, high-energy rock (the band calls it "pop-punk, hip-hop, disco-funk") and slips serious messages about self-worth into clever and humorous lyrics. Hsu describes it as a Twinkie with vitamins.
"We make it safe to be ordinary," says lead singer Tricia Brock. "I don't have to pretend to be anything to be a Christian. I am okay in God's eyes."
Though dressed up with a fun name and peppy tunes, the message of loving one's self is serious business in a culture of Britney Spears midriffs and Seventeen magazine sex quizzes. Karaoke Superstars applies the theme to such issues as sacrificing beliefs for popularity, setting unrealistic standards, persevering in adversity, and overcoming fears.
"When you first record, you don't know if somebody will really get fully what you are trying to say," guitarist Melissa Brock says. "But they really do understand it. Girls come up and tell us all the time, 'I didn't think anyone understood how I wanted to live.' "
Self-Assured Barlow Girls
The band's song most embraced by fans, "Barlow Girls," is based on real-life sisters the band met three years ago at Wisconsin's Life Fest. Members were impressed with the Barlows' outlook on themselves, purity, and dating.
It can be tempting for teenagers to look for self-worth in the attention of the opposite sex, the song says, but the Barlows concentrate on discovering who God wants them to be. The girls don't date because they want to see who they will become.
"Girls are clinging to the term 'Barlow Girls,' " Tricia Brock says. "They want that standard to live by. They wanted someone to say it was cool to be pure. And now they have a name for it. Those girls are proud of living this way."
But Superchic[k] fans are not limited to girls or Christians. Regardless of their sex or faith, teenagers need to know—as hard as it is to accept at 15—that they aren't worth less because they have acne or don't look like a character on Dawson's Creek.
And such identity issues don't always end when you graduate from high school. "So many people ask me how I can write about teen issues," the 32-year-old Hsu says. "But you know, these are my struggles too."
Todd Hertz is CT's online assistant editor.
Related Elsewhere
The official website for Superchic[k] was designed and is maintained by band members themselves. It is not just a promotional tool but also a means to allow musicians to audition and inspire and teach kids.
ChristianityToday.com reviewed Karaoke Superstar when it debuted last year. For more reviews and interviews see out Music channel.
Christianity Today sister publication Campus Life profiled Superchic[k] last fall. The magazine's readers also voted Superchic[k] the best new band of 2001.
Interviews with band members include:
Superchic[k] is Super Sonic — Breakaway
The Making Of A Gen-X Hero — FamilyChristian.org
Interview with Superchic[k] Tricia Brock — Youthwalk.org
Superchic[k] and Superchic[k] Bonus — Brio
Have something to add about this? See something we missed? Share your feedback here.
Our digital archives are a work in progress. Let us know if corrections need to be made.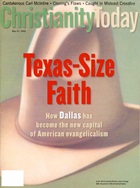 This article is from the May 21 2002 issue.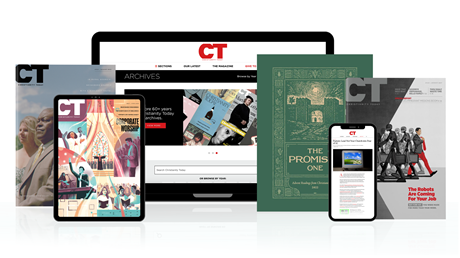 Annual & Monthly subscriptions available.
Print & Digital Issues of CT magazine
Complete access to every article on ChristianityToday.com
Unlimited access to 65+ years of CT's online archives
Member-only special issues
Subscribe
The Rolling Superchic[k] Revue
The Rolling Superchic[k] Revue