U.S. reward for Burnhams' captors sparks response in Philippines
So far, most of the response to the U.S. government's $5 million reward for the capture of the Abu Sayyaf guerrillas holding missionaries Martin and Gracia Burnham has been very positive. "At least 200 calls have been received by the [U.S.] embassy from civilians volunteering information on the whereabouts of the bandits" in the two days since the reward's announcement, reports The Philippine Inquirer. Philippine newspapers are also praising the action. "The U.S. offer … can be understood in two ways," says an Inquirer editorial "First, as an admission that the military option is not working, or second, as an indication that the war against the Abu Sayyaf has reached a new and critical stage. … One year after the Burnhams were abducted, the most successful economy in world history may have finally realized that it was time to unleash the ultimate weapon in non-nuclear warfare: money." And it will be effective, says Max V. Soliven in The Philippine Star: "By putting a price on the heads of Abu Sayyaf chieftains … you can bet Washington, D.C., will at last be causing those kidnappers, murderers, and self-styled jihadis sleepless nights."
Abu Sayyaf leader Abu Sabaya is laughing it off. "That's a nice offer. It shows that we are important not only in Islam but to its enemies as well," he said on the radio yesterday.
But not everyone is happy about the reward. "In failing to seek the prior concurrence or consent [of the] administration, the U.S. Embassy might be seen as committing an insensitive act toward the country's sovereignty," opposition Senator Blas Ople said. Another national representative complained that the money should instead be going to the Filipino soldiers pursuing the militant Muslim abductors, while yet another representative said the reward shouldn't have been announced by an American. The Inquirer says such criticisms are ridiculous. "American citizens are among the hostages, the U.S. government is putting up the money, the offer is international in scope." Nevertheless, The Daily Tribune reports that the reward "is likely to spark conflict between President Arroyo and Vice President and Foreign Affairs Secretary Teofisto Guingona Jr."
While talking on the radio about the reward, Abu Sabaya said the group was planning to free its third hostage, Filipina nurse Ediborah Yap, as part of a deal with a local politician for "livelihood" assistance. Also, he said, "She has become a good Muslim. As a reward, we will release her. … This is our way of thanking her for the help she extended to our men who were wounded." Philippine Armed Forces chief General Roy Cimatu dismissed the claim as propaganda.
Earlier this week, Weblog noted news reports that the U.S. troops were still planning to withdraw from the Philippines July 31 with or without the Burnhams. That news was quickly followed by reports that in the meantime, U.S. involvement may be stepped up. "The Pentagon is debating a recommendation by its Pacific commander to move U.S. military advisers already in the Philippines closer to the search for the couple," the Associated Press reported yesterday. Adm. Thomas B. Fargo, chief of the U.S. Pacific Command, wants to put Green Berets in combat zones "to go with patrols and give on-the-spot advice." In addition, 50 to 60 more U.S. troops might be sent to the Philippines in the next two months.
And in other Burnham-related news, one of the family members is talking about the ransom. Kind of. "There was a ransom paid by somebody," Martin's sister Felicia Burnham-Retchke told a television interviewer. "We don't have money to pay ransom as a family. Martin and Gracia don't have any funds … to pay ransom. The mission there in the Philippines does not have any money . …Somebody paid a ransom and Martin and Gracia are not here." She wouldn't say who paid it, but that whittles down the list a bit.
Where Jesus meets football
Non-American readers of Weblog (and maybe even an American reader or two) are probably interested the World Cup, which started today. Anglican Media Sydney has put together a great little weblog compiling news items and resources for "a Christian perspective on the world's biggest sporting event." (It doesn't include CT partner site Sports Spectrum, however.) And if you haven't seen CT's past tiny pieces on soccer, here you go.
More articles
Persecution:
Life ethics:
Education:
Courts and law:
Abuse scandal:
Sex & marriage:
Middle East and the war on terror:
Bible:
Missions and ministry:
Church life:
The media:
Other stories in interest:
Related Elsewhere:
See our past Weblog updates:
May 29 | 28
May 24 | 23 | 22 | 21 | 20
May 17 | 16 | 15 | 14 | 13
May 9 | 8 | 7 | 6
May 3 | 2 | 1 | April 30 | 29
April 26 | 25 | 24 | 23 | 22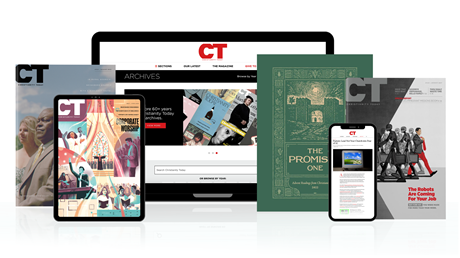 Annual & Monthly subscriptions available.
Print & Digital Issues of CT magazine
Complete access to every article on ChristianityToday.com
Unlimited access to 65+ years of CT's online archives
Member-only special issues
Subscribe
Reward for Abu Sayyaf Gets Response, U.S. Military May Step Up Efforts to Free Burnhams
Reward for Abu Sayyaf Gets Response, U.S. Military ...