true
Sounds like … U2. You don't compare their anthemic modern rock to other artists. You compare other artists to this pioneering Irish band
At a Glance … there are a few glaring omissions, but overall this is a generous compilation that features plenty of goodies for longtime fans and some of the most important music from the 1990s.
If there was ever an artist I reviewed that needs no introduction, it's U2. You don't have to be a music historian to figure out that the Irish quartet has had a more significant and enduring impact on popular music worldwide than any other artist from the '80s; bands that showed similar promise have either since ended their career or watched their fanbase dwindle with time. It's all too appropriate to rank U2 with the greatest rock bands of all time: The Beatles, The Rolling Stones, The Who, Pink Floyd, Queen, and Genesis to name a few. Like those bands, U2 has become a benchmark artist with a unique sound to which other acts are compared. They're the "tastes-like-chicken" of anthemic modern rock. As the title explains, The Best of 1990-2000 is the band's second greatest-hits project, chronicling their all-important second decade of music. 1987's The Joshua Tree and 1998's Rattle and Hum may have made the band into worldwide superstars, but it's the second decade that cemented a place for U2 among the rock-and-roll elite – which is ironic, considering they were close to calling it quits before 1991's equally essential Achtung Baby.
Isn't it fascinating then that on top of all that success, U2 has such close ties to the Christian faith? To be clear, they eschew the term "Christian artist," though it certainly applies if you intend the term for any artist with a sincere Christian faith. Lead singer Bono, guitarist The Edge, and drummer Larry Mullen actually joined forces as a band in a small group Bible study, although bassist Adam Clayton isn't a believer. They are, however, among the most respected musicians in the world today, particularly Bono's dynamic, passionate vocals and The Edge's incomparable atmospheric guitars. It surely infuriates many listeners when they try to reconcile the excessive celebrity antics of Bono and the band with their spiritually themed lyrics or their publicized charity work to reduce third-world debt and relieve victims of the AIDS virus in Africa. In his Encyclopedia of Contemporary Christian Music, Mark Allan Powell rightly notes that U2 mentions Jesus (not in vain) more on their 1997 Pop album than releases that same year by Michael W. Smith and Sixpence None the Richer. Say what you will about them (Powell calls them "a Christian band that talks dirty"), U2 is truly something of a paradox, a band rooted in Christian faith that regularly demonstrates genuine humility and generous compassion while also maintaining a rock-star attitude. They've probably had more of an impact on today's Christian music than any band other than The Beatles; numerous Christian artists-ranging from the obvious (Delirious, The Normals, Caedmon's Call) to the surprising (Carolyn Arends, Plus One, Rachael Lampa(!)) refer to The Joshua Tree as having a pivotal influence on their craft.
Perhaps part of the secret to U2's wide appeal is the subjectivity of the songs. Many of them are cryptic enough to be interpreted in a variety of ways, making them meaningful to everyone, regardless of faith. Their 1991 hit "One" is a perfect example. Bono has previously indicated it's a conversation between a father and his son who's afflicted with AIDS; but it's written in such a way that it can be interpreted simply as an anthem about carrying each other's burdens in unity, compassion, and servanthood – unquestionably Christian themes, but certainly not unique to Christianity. Also from Achtung Baby is the song "Mysterious Ways," a cryptic alternative rocker if there ever was one. There are a number of interpretations, but the most popular one I've seen is that it's inspired by Oscar Wilde's play "Salome" (the stepdaughter of King Herod mentioned in Matthew 14), in which he writes, "One cannot know how God acts. His ways are very mysterious ways … One cannot know anything. All we can do is submit in everything." Another interpretation I've seen is that the woman in the song is a metaphor for the promptings of the Holy Spirit, and the bridge seems to support that theory as well: "One day you'll look back and you'll see / where you were held now by this love / While you could stand there, you could move on this moment, follow this feeling." Meanwhile, Achtung Baby's "Until the End of the World" is almost certainly about the betrayal of Jesus from the perspective of Judas, complete with depictions of the Last Supper and the garden of Gethsemane. In light of the spiritual allusions, is it all that unthinkable that the seemingly sensual rocker "Even Better Than the Real Thing" is actually a spiritual love song about accepting Christ into our lives?
These Christian themes aren't immediately apparent when listening to U2, but they aren't too much of a stretch either, and they run through the other three albums released last decade. The theme of broken lives in need of spiritual healing seems to be at the core of two tracks from 1992's Zooropa, the electronic and monotonous "Numb" and the glorious "Stay (Faraway, So Close!)." Also from that album is "The First Time," which is often perceived as a song about the Trinity (again, feminizing the Holy Spirit), and the love God freely offers. Pop's "Staring at the Sun" could be about the doubts we wrestle with in pursuit of the light of Truth. The imagery is even more striking on tracks from All That You Can't Leave Behind. The hit single "Beautiful Day" is much like one of those "after the storm" gospel songs, seeking joy amid the frustrations of daily living and alluding to the Great Flood in the bridge. "Stuck in a Moment You Can't Get Out of" is like a soulful four-minute summary of Ecclesiastes, touching on the meaninglessness of worry and materialism and concluding with "this too shall pass."
Fans will be thankful for the inclusion of goodies and rarities on this compilation. For starters, two key singles have been included from projects outside the standard U2 catalog. The darkly symphonic rock of "Hold Me, Thrill Me, Kiss Me, Kill Me" from the film Batman Forever is probably about the perils of celebrity and pride, though there are allusions to C.S. Lewis' Screwtape Letters in the video. There's also the politically inspired "Miss Sarajevo" from the experimental Passengers project. Those disappointed with the band's Pop album probably will appreciate new remixes of "Gone," "Staring at the Sun," and "Discotheque," as well as Zooropa's "Numb." Though not everyone will find these versions superior to the originals, the producers do manage to tweak the tracks enough to make them sound a little more at home with the other tracks. Additionally, there are two new tracks. "The Hands That Built America" appears in the upcoming Martin Scorcese film, Gangs of New York, and it pays tribute to the Irish who left their homeland and helped shape the Industrial Revolution. "Electrical Storm," the current radio single, is about love and reconciliation in the midst of fear and uncertainty (i.e. 9/11). While it's something of a typical U2 song, it's also extremely infectious. Fans also will want to rush into stores to pick up the special limited-edition copy of The Best of 1990-2000, which contains a companion promo DVD of U2's upcoming video collection, as well as a 74-minute disc of 14 B-sides and remixes. This is a generous collection indeed.
I know some people have questioned this compilation, noting that it spans only four albums of material. True, but also consider that this already packed compilation is still missing maybe three or five important tracks. No other track exemplifies Achtung Baby better than the video hit "The Fly," and it would have been nice if there were a couple more hits from All That You Can't Leave Behind. That may be intentional to keep with the general spirit of the 1990's for U2. It was a new era for a band that hit the pinnacle of success, then struggled to figure out where to go next, to top themselves, and to react to the newfound superstardom established by The Joshua Tree. Rather than produce more of the same, U2 decided to lampoon the excesses of the rock star life by embracing it and turning it on its head, beginning with the multimedia frenzy of Achtung Baby and culminating with ridiculously extravagant PopMart tour. Besides, they may very well include latter singles such as "Elevation" and "Walk On" in the band's next ten-year anthology. And make no mistake that there'll be another one in 2010; a new album from U2 is currently expected to release before the end of 2003.
So is U2 a Christian band? It all depends on your interpretation of their lyrics and your definition of "Christian band," but I wouldn't characterize them as all that different from P.O.D., Lifehouse, and Sixpence None the Richer. U2 isn't in the business of ministering through music; they simply write about what (and Whom) they know. Though there are things about U2 that will cause some Christians to struggle with the band, the glorious songs represented on The Best of 1999-2000 shouldn't be among them. They simply reflect a somewhat darker and more experimental, but no less spiritual period from one of rock's most important and enduring acts.
Browse All Music Reviews By: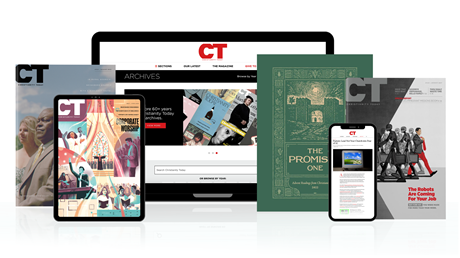 Annual & Monthly subscriptions available.
Print & Digital Issues of CT magazine
Complete access to every article on ChristianityToday.com
Unlimited access to 65+ years of CT's online archives
Member-only special issues
Subscribe
The Best of 1990-2000
The Best of 1990-2000